Are you teaching about turkeys this November? Here are some fun turkey classroom resources that will work perfectly this time of year! Some of the activities include free printables.
Turkey Cookies
I made these turkey cookies with my first graders during a Thanksgiving celebration and they absolutely LOVED creating them. Even better? I made it into a little data collection activity by making them into a turkey cookie glyph.
In short, a glyph is nothing more than a symbol. For the cookie, each topping was symbolic of a piece of information about the student. For example, orange icing for girls and yellow icing for boys. The number of 'feathers' (colored candies) relates to how old the student is. You can get the glyph materials HERE.
Turkey Science
Cara and I made an entire science resource themed to the month of November. One of the four units is all about turkeys. Besides learning about the body parts, habitat, and life cycle of a turkey, we also included a few STEM activities that are not only educational, but also engaging!
How did the Turkey Cross the Road? For this activity, Turkey is trying to escape the farmer so he doesn't become Thanksgiving dinner. The students are provided a variety of materials and must work together as a team to get turkey (who's riding atop a Matchbox car) from the barnyard to the highway. Students will discuss, plan, sketch, attempt the escape, and conclude how their design worked.
A Gobblin' Guest. Turkey has successfully escaped the farmer and has now invited himself to your Thanksgiving dinner – as a guest! Students must design a seat that's sturdy enough to accommodate him.
All activity sheets for these two activities are HERE.
Turkey Poster and Vocabulary Terms
Learn all about the parts of the turkey with this poster, vocabulary terms and comprehension check. This is a FREE download.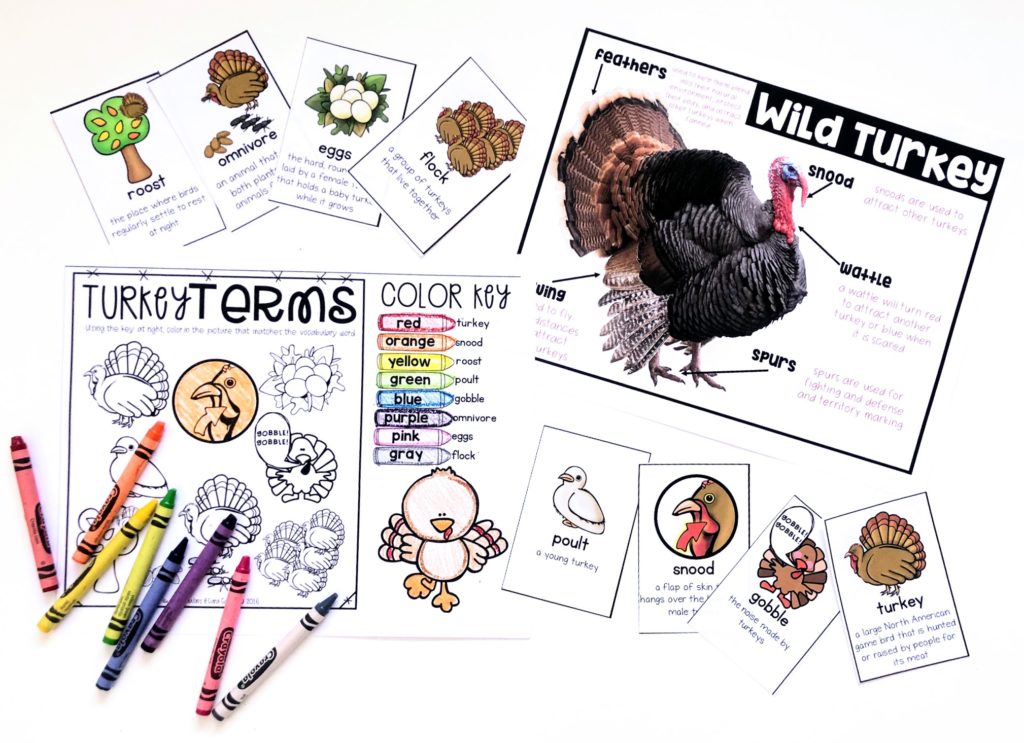 Turkey Read-Alouds
There are SO many fun turkey-themed book to read this time of year. I shared a round up of my favorites, plus activities you can use with each book.
Turkey Writing Craft
This is a simple turkey craft that you can use for spelling and/or writing. This type of activity works well as a follow-up to a read-aloud, for early-finishers, writing centers, or even as a Fun Friday activity. Personally, I think all times are good times for arts and crafts in the classroom, though 🙂
More Free Turkey Classroom Resources
Good news! MORE free turkey classroom resources can be found HERE! If you're still looking for fun things to do, be sure to check that post out!
Stay in the know!
These FREE resources are an instant download upon a confirmed subscription.