Today, I'm sharing Valentines picture books and activities to use with each! Be sure to watch the video for detailed instructions on how to use each!
This post contains affiliate links which provide me a small commission should you choose to make a purchase. It in no way affects the price point for you, but keeps Babbling Abby up and running!
Where can I get the books?
As always, be sure to check your local or school library for copies of these books, but Amazon is always a click away in your time of need 😉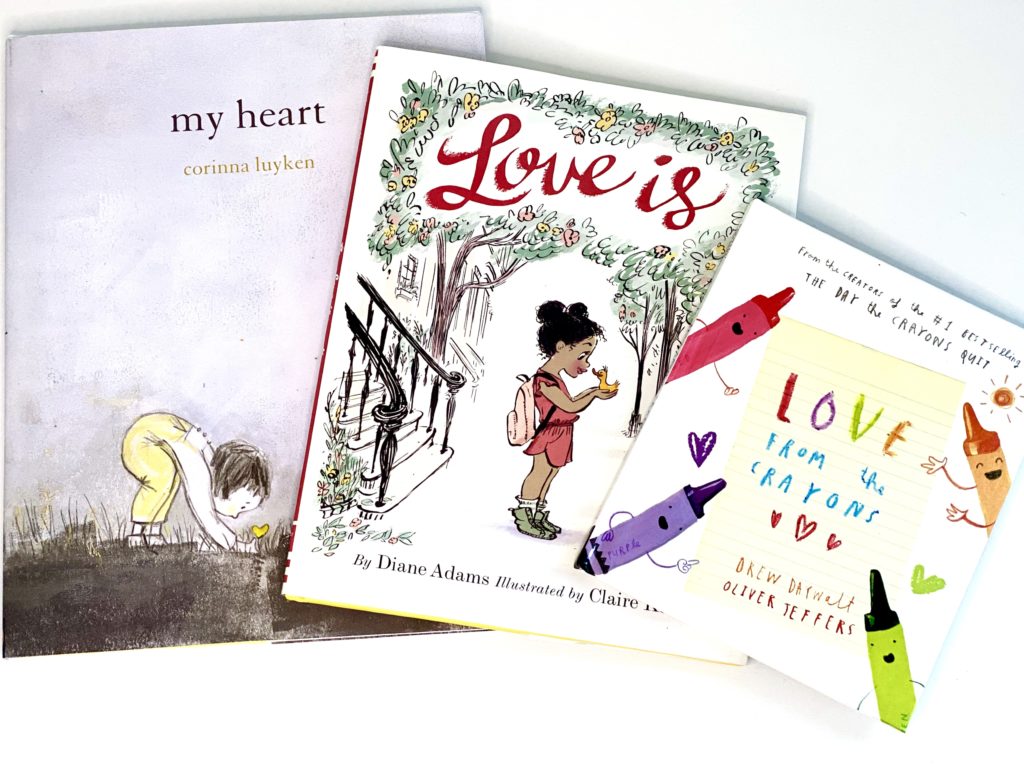 Activities to use with these stories
This quick video share several different activities that are perfect for using with these books. Many of the printables you see pictured can be downloaded for FREE!
Love Is… by Diane Adams
Love Is is the charming tale of a little girl who raises a duckling from infancy to adulthood, eventually having to let her return to the pond. While the illustrations are simple, they're beautiful and aptly share how perfect love is sweet and sunshiny, but also difficult and challenging at times.
This is a great story for making text connections. Whether your students are connecting the story to others that they've read or their own life experiences, there are plenty to be made after reading this book. You can see more activities, including the text connections activity, for Love Is HERE.
Additionally, here are two different options for incorporating some writing responses after reading the story. One is a simple heart craft and the other is a mini-book (shown unassembled below).
They are simple, yet engaging and meaningful follow-ups to pair with this story.
Love from the Crayons by Drew Daywalt
Love from the Crayons is a small book with a big message. I think all Crayon fans will agree: love comes in all colors!
Furthermore, the illustrations are the sweetest – as they always are with the whole Crayon series! They make it easy to talk about color words and how we can use them to share our own ideas about the many colors of LOVE.
I included two different options for this activity. Option One is for the younger crowd and they simply add a color word to their page. The other one is for older students. They must describe why their hearts are a certain shade.
My Heart by Corinna Luyken
Using a series of metaphors, My Heart tells how our hearts change day to day. The monochromatic illustrations with pops of yellow provide the perfect backdrop for this precious story.
You and your students will enjoy the reminder that our hearts experience all kinds of emotions and are shaped by different situations. Of course, they will also love searching for the hearts within each illustration.
Because My Heart is told in metaphors, it naturally lends itself to teaching about them! You can identify them after you've read the book through and follow up with an activity where students are to write and illustrate one from the story or one they've made up on their own.
Organization
This is such an old school, yet effective way to store your book materials after you've finished reading! Better yet, you'll have them all prepped and ready for the next time you use them. (I discuss this in more detail in the video.)
Free Printable Activities
If you want a copy of many of the activities featured in the video, you can download them for free right here. These Valentines picture books and activities will for sure add a little sweet to your studies 🙂
The official book companion set for Love Is… can be found HERE. It includes sticky note comprehension reminders, journal prompts, vocabulary terms, problem and solution definition posters, text-dependent questions, differentiated comprehension checks and the reading guide.
More Valentine activities
Lastly, if you're looking for more great things to do in February, this post is a wonderful round-up of activities!
Stay in the know!
These FREE resources are an instant download upon a confirmed subscription.