What could be better than holiday anchor charts & class posters?! I love the kid-handwriting that adorns them. I love to dream about how beautiful it will be hanging on my wall. I love to watch the licorice-flavored Mr. Sketch marker glide smoothly across the poster board, while little Sally waits for her turn with a cherry red mark on the tip of her nose looking like a deer in headlights when she's caught smelling it 😉
BUT.
The reality is that sometimes my creativity is low or my handwriting is meh or I sped through making it with my kiddos, and I just wish I had an easy way to whip something up that was engaging, fun, and purposeful and just waiting for that extra-special touch that only your kids can give it.
Well, NOW I CAN.
Because there are templates for such a thing! And these holiday anchor charts & class posters are ready with little prep! Woo to the hoo!
I've made monthly sets of these for September, October, and November – but December is BY FAR my favorite! The themes include: reindeer, Christmas, Holidays Around the World, traditions, and a fun "We Light Up When…" one!
Your kids will LOVE these and your classroom will look all the more merry and bright with them on your walls or outside in the hallway.
I've also bundled this resource, as I will be adding onto it through August of 2017.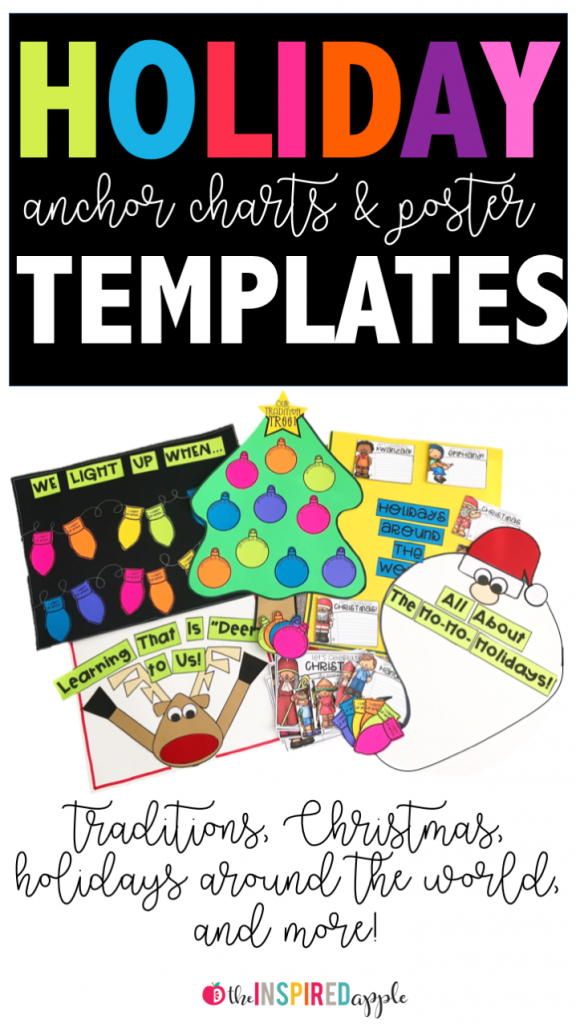 Stay in the know!
These FREE resources are an instant download upon a confirmed subscription.