Welcome to a new series on The Inspired Apple! We're going to call it Not a Food Blogger. But, I love to bake, so here goes!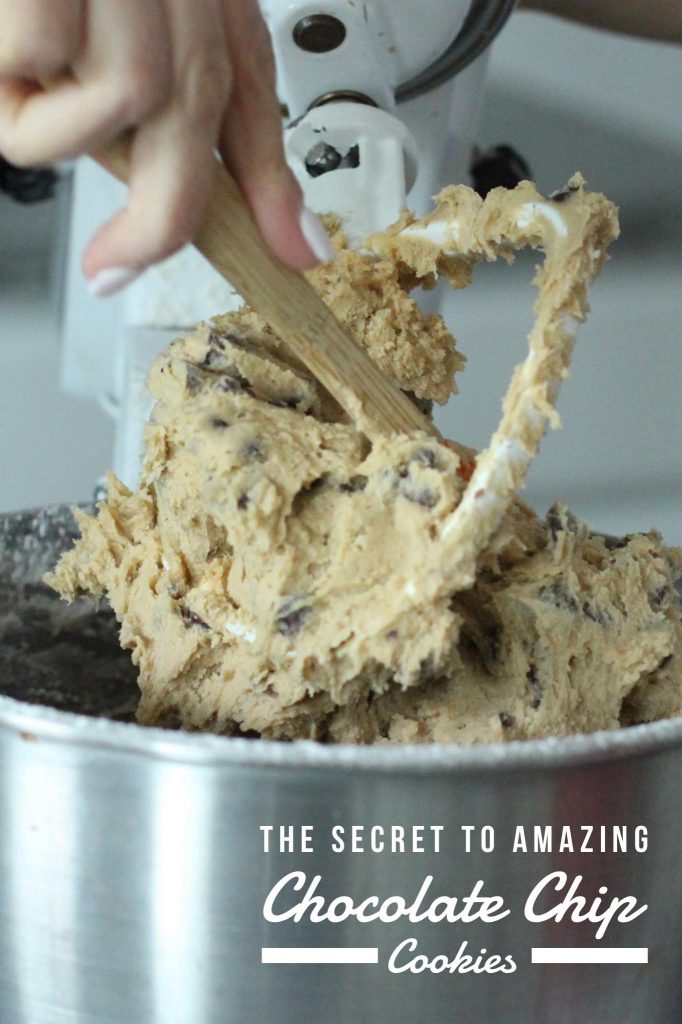 So, school's out and you're sure to have a little extra time on your hands to indulge in things you might not typically do during the chaos of the school year – from reading a book to sleeping in late to creating something amazing in the kitchen – all deserve your attention during your down time.
One of my favorite things to do – that is relaxing and enjoyable – is to bake. I love the process of creating something yummy and, of course, I love eating said creation. Whether I want a sweet snack for my kiddos, am baking a treat for wine night, or am providing a dessert for a new mom, homemade chocolate chip cookies are my unequivocal go-to. They're easy, delicious, and 99% of the time the ingredients are already stashed in my pantry.
BUT, did you know there's an actual secret to making the best – and I do mean BEST – chocolate chip cookies? Well, there is. And, I know it's truth because my mama told me and like all mamas, she's always right. I have countless reviews from friends who've texted me after they've tried one: WHAT IS YOUR RECIPE?! I MUST HAVE IT!  The proof is in the pudding…or cookie, if you will. Best news? You don't have to go out and buy any special recipe to make your cookies the best. No specially imported vanilla or only-found-at-the-only-store-not-in-my-town chocolate chips. Nope. Your regular ol' Kroger will have everything you need and whether you purchase name brand everything or do it up store brand style, your chocolate chip cookies will be winners. Promise.
I love telling those who ask that they probably already have the recipe on hand. No secret recipe necessary. Mine comes directly from the back of the chocolate chip packaging (spoiler alert: the recipes back there are all the same when you compare).
The secret is the butter. Not the brand or type of stick butter – I've used all brands, salted and unsalted – and the results are still yummy. Nope the secret is in the softening of the butter. Yup, that's it. That's the secret. Now, raise your hand and admit that you've popped your sticks of Land-o-Lakes into the microwave and poured that butter soup into your mixing bowl. Me, too, friend. Me, too. And, you know what? When I do that, my cookies are always flat and crunchy. If that's how you like your cookies, carry on, but I prefer the outer edge of my cookie to have a slight crips and the middle to be a soft delight of baked dough and chocolate morsels.
So, a good two hours before you're ready to start baking, take two sticks of real butter out of your fridge and set them on your countertop to soften. This is not a process we want to speed up. We want the butter to come to room temperature and be slightly squishy yet firm when pinched without our finger going through completely.
Here's a somewhat creepy picture of me holding the butter because, as the name of this series goes, not a food blogger.
With about thirty minutes to go in the softening process, gather your other ingredients and preheat your oven to 375 degrees. Also, assemble your favorite cookie batter bowl lickers. Mine are always down for helping when they know a scoop of cookie dough is in their future.
Once you've let your butter to do its thang, a good rule of thumb for adding the first few ingredients is this mantra: shortening, sugar, eggs, vanilla. Remember this any time you're cookie or cake baking, as per my mama. Her caliber of baking exceeds mine by thousands, so trust me here.
You're going to want to cream these ingredients together until everything is well-mixed. (I have a standing KitchenAid mixer that I adore. It's twelve years old and still going strong.) Then, it's time to sift the flour, baking soda, and salt into the mixer. As you can see from the picture below, my assistant wanted to turn the mixer on and failed to do so slowly, so we had an impromptu flour shower.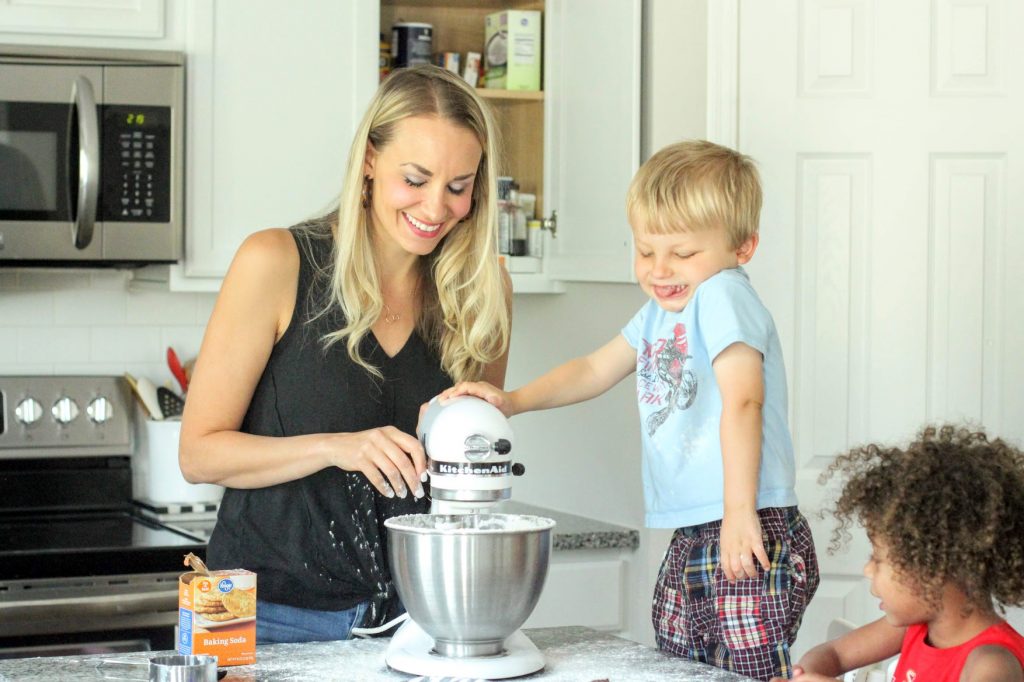 Add the chocolate chips last and voila! The most perfect cookie dough on the planet. All because you let your butter soften on its own terms instead of hastily melting it in the microwave.
I use a small cookie scoop to portion out the dough equally, though a spoon and your finger will work just fine. I also use a micro-textured cookie sheet which helps ensure even baking. Then, I pop those little balls of pre-chocolate chip cookie awesomeness into the oven for 10-12 minutes (this all depends on your oven) and wait.
During the wait time, my assistants request a taste and I always oblige.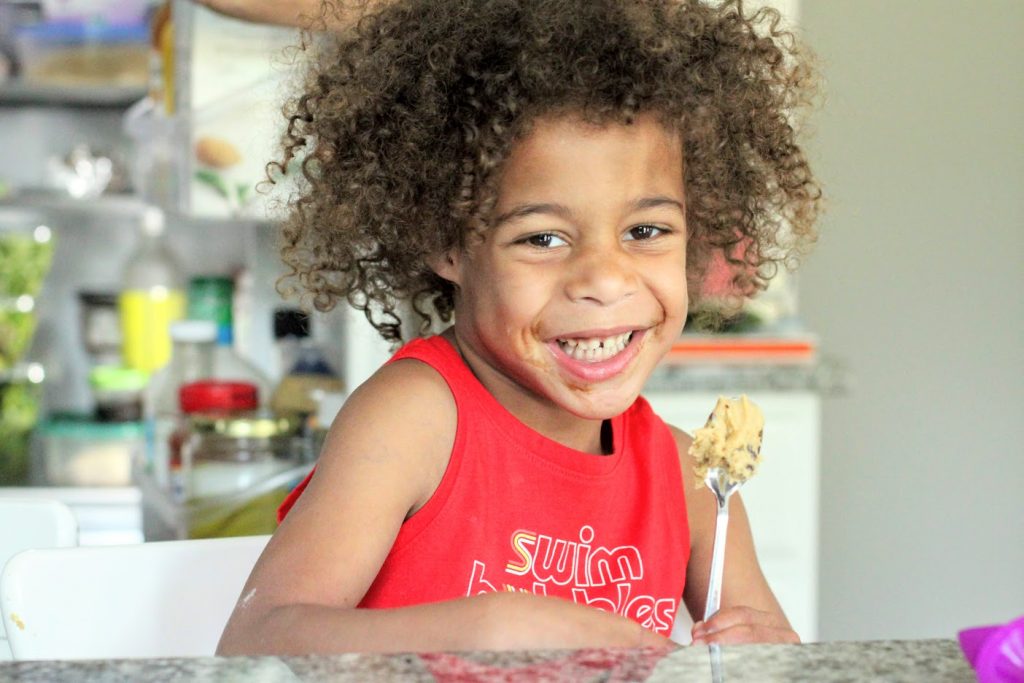 Okay, so maybe there's a second secret to making your cookies absolutely delectable: make sure that when you pull them out of the oven, they're slightly browned around the edges and slightly under-baked at the center. Then, pop them on the counter and allow them to finish baking outside of the oven for another 5 minutes. Remove them from the cookie sheet and cool them on a baking rack. Or have one immediately. Your call.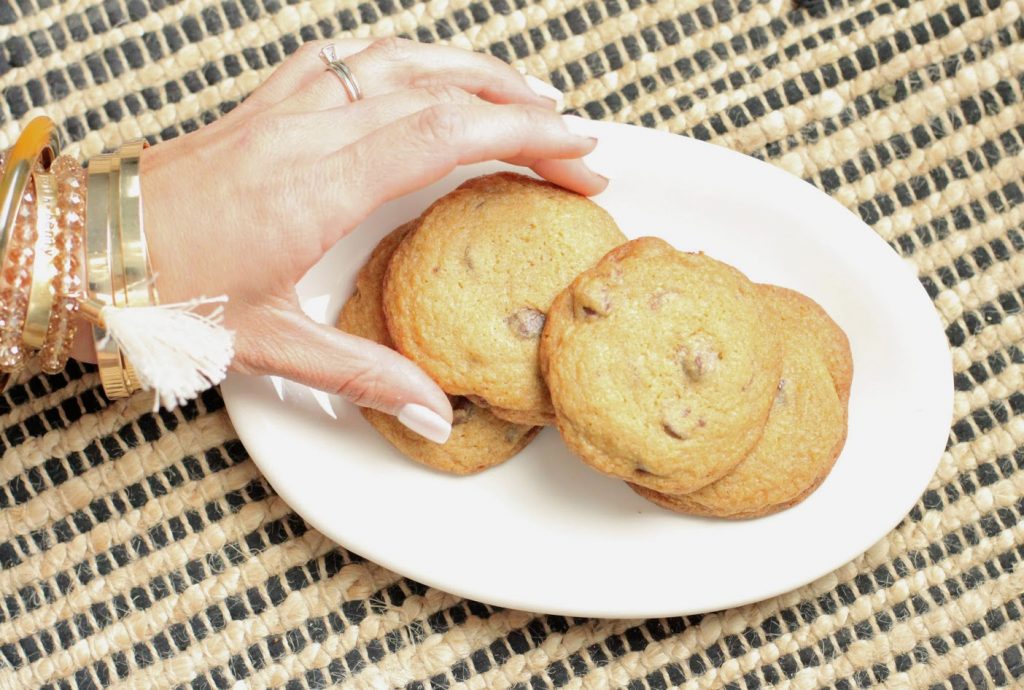 So, instead of your usual cut-and-bake cookies, these are definitely worth a try! If you give it a shot, be sure to DM me on Instagram @babblingabby or tag me in your post! I'd love to see!
I've linked some of my favorite baking tools below. They are affiliate links, so I earn a small commission should you decide to make a purchase, though the price remains the same for you no matter what! Click the pictures to shop.
Happy baking!