We're not shy about our struggles. In fact, we told our entire church body this past March about how mental illness and misunderstanding almost broke us. We shared so that we could shine brighter than bipolar and rip the proverbial bandaid off the stigma that bound us to struggle in silence and isolation for so many years. By the grace of God and family and friends and meds and therapists and doctors, we found our way back to each other.
Couple's therapy certainly served a purpose in saving our marriage. It put a trained professional in front of us whose objectivity helped each of us to see ourselves and each other differently. We were forced to ask and answer hard questions – about our relationship, our personal histories, how we processed life, and even our life inside the bedroom. Hubba hubba. Only slightly awkward.  If you've ever considered going but are fearful of anything I just named, GO ANYWAY. It was uncomfortable at times, for sure, but it was necessary work in mending the mess we'd made in our marriage. I'd highly recommend it. (If you're still on the fence about couple's therapy or cannot convince your spouse to attend, you could always try out individual therapy first. Also extremely helpful. Brandon and I both saw therapists independent of our couple's therapist for a period of time.)
After we became Marriage Therapy Graduates – or whatever distinction you achieve after you've spent hours detailing the intricacies of your life to a stranger for several weeks – we knew we still had a lot of work to do. In fact, the hardest work is definitely in the details of your everyday life together. It's how you connect, how you balance your relationship with work and family, how you give grace, how you react to conflict, how you parent, how you spend time together, and on and on and on. This is the kind of work complicated by work schedules and sleepless nights with sick babies and financial strain and downright human nature. Men really are from Mars and women really are from Venus, it turns out.
And, while the advice I'm about to give you is SO terribly trite – it's also the truth. It's not groundbreaking or novel or the based off of the latest research. But, it works for us.
DATE YOUR SPOUSE.
Put on something nice, grab your keys,  and go on an actual date. Outside of your house. The kind you went on when you were seventeen and you didn't have to first check the mirror for snot or spit-up stains from your kiddos beforehand. The kind of date that makes you stare across the table at your significant other and think that you might actually might want to make out with him/her later. That kind of date.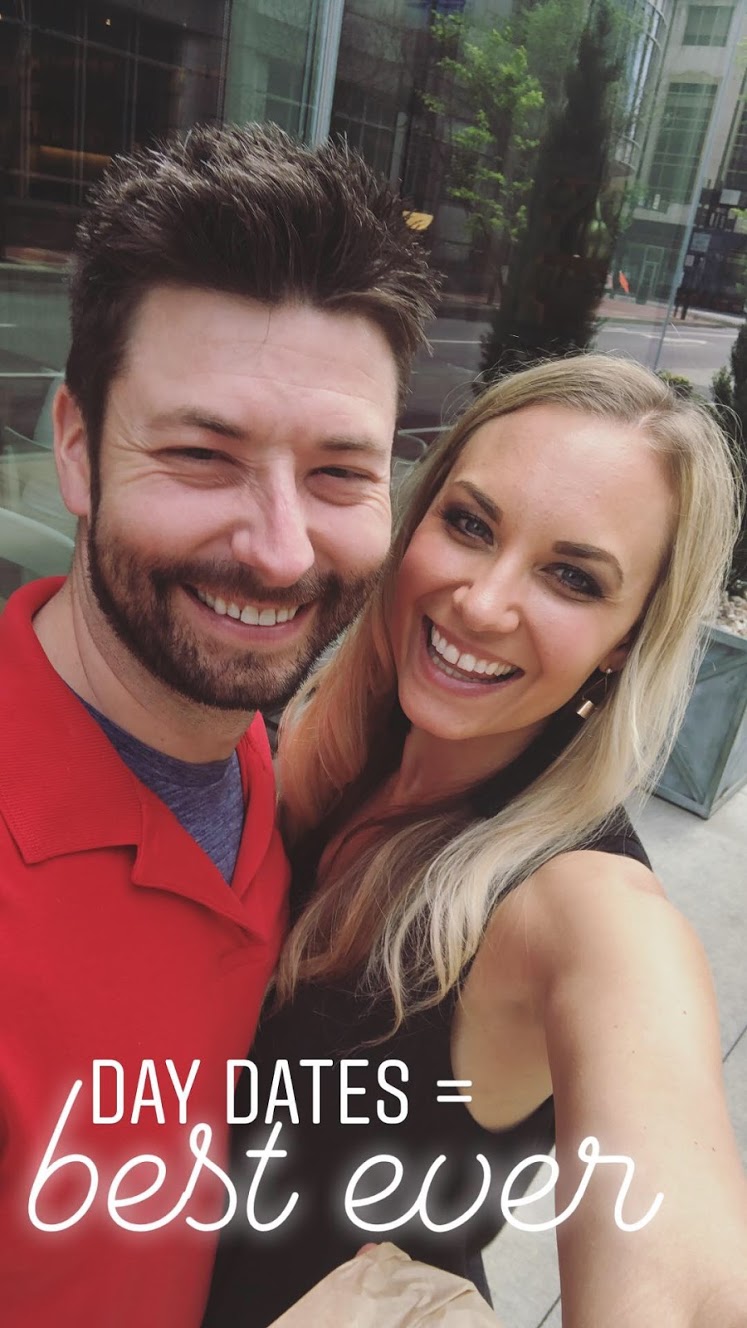 Get coffee, walk at the park, hit up your favorite restaurant, people watch from a bench while eating ice cream, see a movie, go to the library or bookstore, window shop at an outdoor mall, hike, sit and talk over a charcuterie board, participate in a shared hobby. Just do it. Date your spouse.
If you find yourself already making excuses about time and money, think about this: your marriage is worth investing in. It's worth giving up a few trips to Starbucks or Target. It's worth finding a babysitter and spending a little cash on a dinner that doesn't have to be microwaved. It's worth making a list of questions to ask your spouse so you have things to talk about or don't forget (I've don't this before! #mombrain). I promise you. You and your spouse can be a priority without sacrificing too terribly much.
My favorite benefit of this outside of the obvious connection I'm making with Brandon and eating a good meal (that's our favorite kind of date) is that happy marriages are good for the whole family. Research says so. Oh, and it keeps us out of therapy. Like I said, couple's counseling definitely served a purpose in our lives, but if we can prevent ourselves from being return guests, I'm okay with that.
What's your favorite date? Do tell!
PS. Mu husband, Brandon, write a blog about his journey with mental illness and mental health. Read more HERE.