This time of year, it's always fun to make every part of the day engaging and festive! That's why I think you'll like the activities in this post, including 20 days worth of holiday morning work for December.
I like to incorporate a little holiday fun during the month of December because changing up our regular routine with some holly jolly fun is typically what keeps my kiddos engaged and on-task when they're full of the "Christmas Spirit," if you know what I'm saying. Let's be real – they're anxiously anticipating the guy in the red suit and you're just trying to keep it together until break, one peppermint latte at a time.
Here's a few activities you can include in your day that are on-theme and educational. Win win.
The Gingerbread Hijinks
A fun seek-and-find hunt for clues throughout the school (or classroom) to find where the sneaky gingerbread man took your cookies
Holiday-Themed Morning Work for December
20 pages of math and literacy activities
Interactive Pocket Chart Math Poem
Practice counting and subtraction with this fun Christmas light poem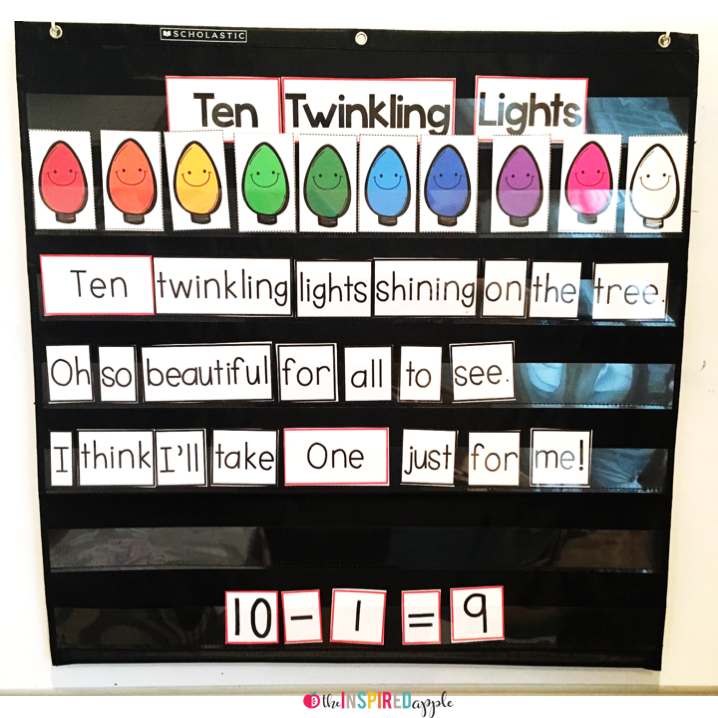 Home-School Connection
Send home an ornament for families to tell about their holiday traditions at home
Themed Writing Center
Christmas-themed writing paper along with holiday vocabulary words to create a center
Sight Word Mini Books
Easy to color, cut, and complete mini-books
Reading Response Printable
Add this printable to a listening or reading center for students to use alongside their favorite holiday reads
How do I get these activities for my classroom?
Click your grade level:
Kindergarten Christmas Activities
First Grade Christmas Activities
---
Don't forget about this holiday post, either! It has a link to a FREE printable to use with preschool, kindergarten, first grade, and second grade. You use Christmas Tree Brownies from Little Debbie to teach graphing. Your students will love it, and it's sure to add a festive flair to your classroom this holiday season!
Stay in the know!
These FREE resources are an instant download upon a confirmed subscription.