Maybe only my fellow teachers who graduated in the early 2000s will relate to this, but I feel like this meme is always necessary as we transition into the month of May…
I cannot find the original source of this meme!
Lo and behold, it's gonna be May! (snicker, snicker 🤣)
How is that even possible?! I mean, I'm not complaining…it's just like one day you're counting down until the holiday break and BOOM! the next day you're in the final stretch to the last day of school! Crazy!
Speaking of crazy, I know that the month of May can have you feeling a bit out of sorts. There are standardized tests, field trips, class celebrations, assemblies, meetings, and schedule changes to accommodate daily! Is there any day of May that is seemingly normal?!
Because of that, I like to go into May prepared with a whole slew of activities to keep us on-task, organized, and – most importantly – L E A R N I N G !
I created an activity calendar that includes reviews, Derby activities, cross-curricular science lesson plans, literacy activities, FREEBIES, class posters, fun stuff, awards, and MORE! Seriously, you'll have plenty to choose from to make your May breeze by!
---
---
I'm going to share some images of the activities included in the calendar, so you can better preview and understand each one.
This mini-unit is full of activities to complete a week or a few days before the nationally recognized Kentucky Derby! Whether you're a Kentucky girl like me or not, there is a LOT to learn about the culture of the Derby. Check out the preview below or click the link to learn more!
This post will share all about the twenty day's worth of review activities for my kindergarten, first grade, and second grade buddies. They're all standards-aligned and will easily help you complete report cards or pinpoint areas of weakness before the end of the year! You can also download a free sample of the reviews, too!
This cross-curricular resource includes FOUR full weeks worth of detailed lesson plans that include book suggestions, visual examples, printables, experiments, craftivities, and MORE!!!! May covers a lot of fun topics that are perfect for wrapping up the year: Dinosaurs, Ocean Life, Ocean Animals, and Kitchen Chemistry! (Cara and I created this together and you can read more details about it HERE!)
Teaching about dinosaurs this month? Be sure to hop over here to grab this fun an FREE craft to do in your classroom!
End of the Year Read Alouds | End of the Year Books
Books, books, and more books! These reads are excellent choices for helping close out your school year, while still teaching standards-based skills. Learn more here.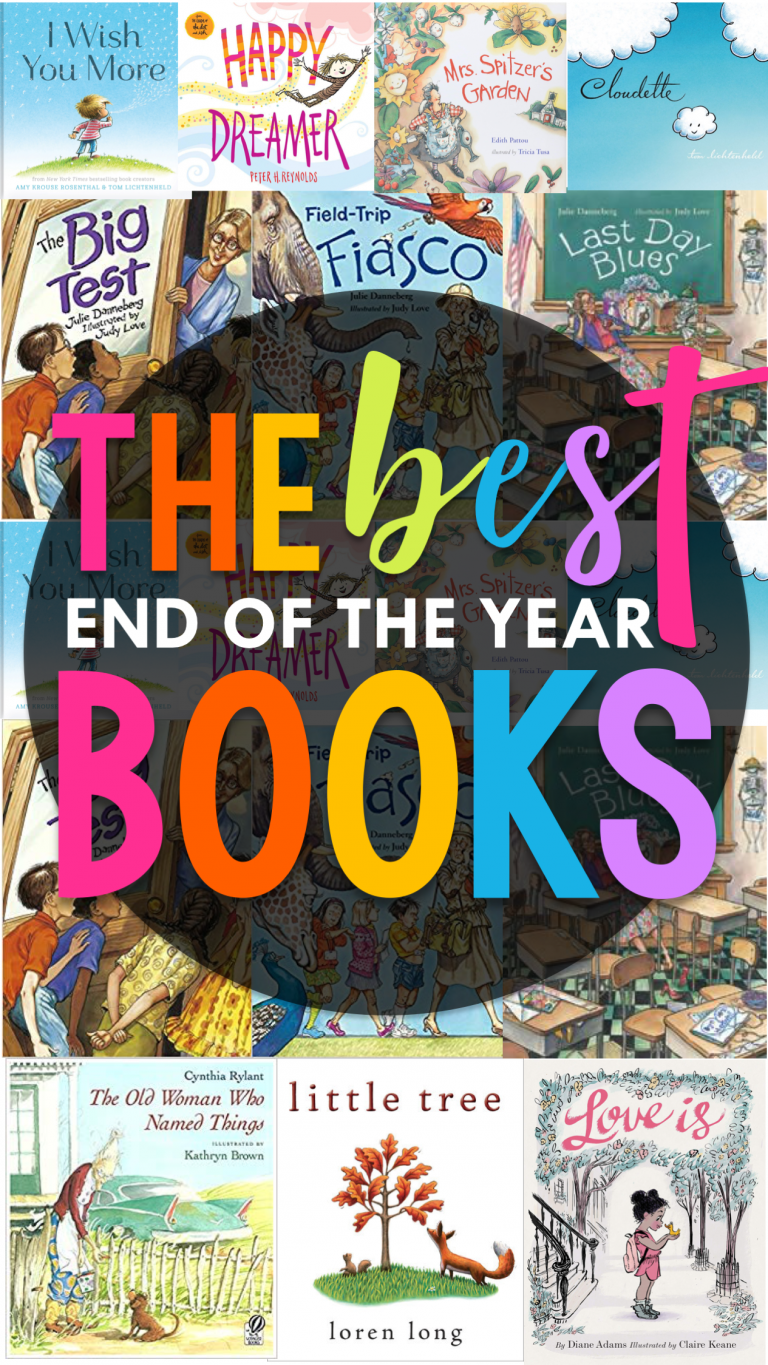 Busy Bodies FUN Standards-based Activities
Sometimes you just need to have a little F-U-N! Each activity is connected to the Common Core standards in some way and is considerably more fun than keeping your kiddos busy with another worksheet or coloring activity. Each activity includes directions for two activities/extensions. More details here.
How fun is this?! Super simple to create and such a great way for your students to celebrate their school year.
Are you planning end of the year awards? You students will LOVE the Golden Pencil Awards! Just think of it as the Grammy's of the school year 😉 They are a great way to encourage, uplift, motivate, and CELEBRATE your kiddos as the year ends. I did a video detailing them here and you can see tons of pictures in this post.
If you haven't read Unplugged, you have to check it out! It's about a plug named Blip who is separated from his computer during a blackout. Blip finds out that the world outside of his device is actually pretty interesting and entertaining! This is a GREAT read before summer as your kiddos prepare to have some extra time on their hands…and encouraging them to unplug! Pair it with this craftivity!
I hope you've found some fun and helpful activities and resources to add to your May calendar!