Hi, I'm so glad you're here! I love and respect all of my readers dearly and value their personal experiences, so I do want to preface this post with a bit of a disclaimer:
If you're currently trying and/or struggling to get pregnant, are in the throes of infertility, are infertile, or are triggered by discussions of pregnancy, this post may not be for you. Feel free to hop over here and read about what Benny did in the Target parking lot instead!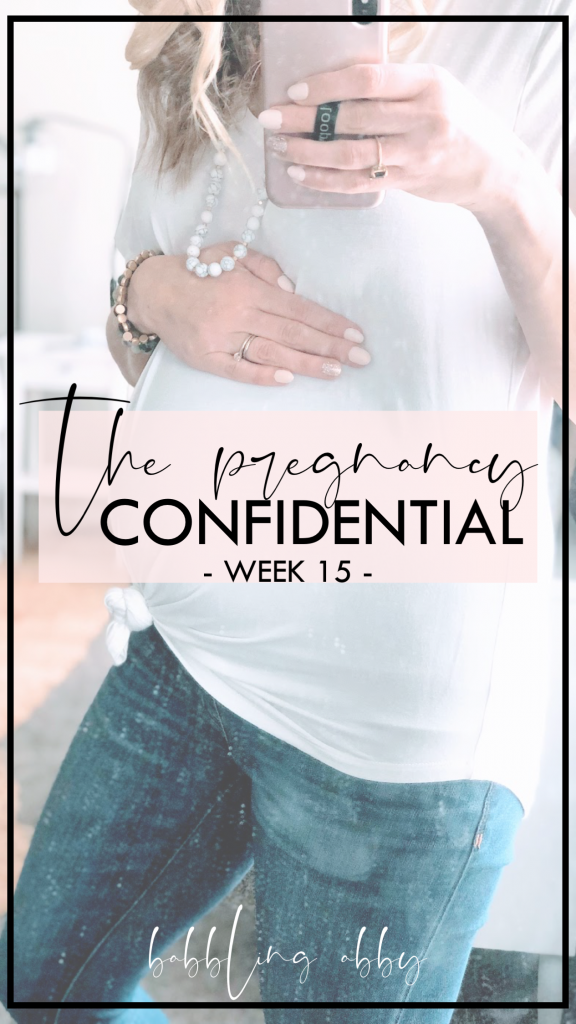 ---
I have an admission to make. One I often feel terrible about sharing.
Lean in real close and I'll tell you.
Wait. But, first. This is where the No Judgment Zone begins. Right here this second.
Maybe you should put your right hand in the air and repeat after me:
I vow not to judge Abby for the statement she's about to make.
Okay, we good?
Great.
Here goes.
I don't like being pregnant.
Mmmmm mmmmm, no siree.
Being my third pregnancy, I've finally determined exactly why. (Also, even though this is my third pregnancy, it's my fourth kiddo. My daughter became ours through adoption ❤️.) Anyway, the bottom line is this: I don't like being pregnant because I feel out of control, for lack of a better word. I feel like I can't control my body, my weight, my cravings, my sleep, my emotions, etc. For a certified Type A like myself, this is haaaaaard.
To begin, morning sickness/all-day-sickness is the absolute worst and keeps me in a heap on the floor for a solid four to five weeks of miserableness. I'm not even kidding. I'm a waste of life between weeks nine and fourteen. Foods that I usually love send me out of the room gagging the second I smell them (I'm talking to you, CHICKEN.) Coffee and tea sound wretched and my current disgust for both makes waking up in the morning extra hard knowing that I won't enjoy a cup to start my day. The feeling of "I'm going to throw up…" doesn't subside until I legit hit the first day of the second trimester. After that, totally gone. Pregnant bodies are so bizarre.
Then there's the whole cravings thing. I eat and drink things I'd never eat otherwise, in quantities I couldn't even admit to. Okay, fine. I'll admit to a few. Half a pint of ice cream, followed by half a box of Dots. (In my defense, I was watching the latest episode of This is Us and it was intense and I feel like maybe the binge was warranted…maybe.) Sip upon sip upon sip of sugary sweet tea. Breakfast sandwiches and orange juice from Dunkin three days a week. Who even am I?!
This brings me to my next pregnancy woe. Weight. I mean, it's no wonder that I gain 50-60lbs while pregnant, but it's like I have no control over it. And, I'm sure you're thinking, Well, lay off the dang Dunkin, sister! I WISH I COULD. It's just what Pregnant Abby does. She's ruthless. I'm sporting a 25-week bump and I'll be 16-weeks tomorrow! Gah!
My pregnancy will never be Insta-worthy, and not that that's a goal of mine, but you're just never going to see me sporting a cute bump in bikini with zero swelling, flawless skin and perfect hair. Well, you're never going to see me in a bikini, period. But, you may see me rockin' a large and in charge bump with marginally good skin and hair (but that typically doesn't happen until the third trimester. For real – best hair and skin ever when pregnant with Benny!). The body changes are hard for me. My body like to protect my babies with an ever-growing tire right around my midsection, which isn't the most flattering place to gain baby weight. Sigh.
Also, I have the motivation of a slug. A really, really slow and unmotivated slug. This is also contrary to Normal Abby, who's usually laser-focused, committed to a daily to-do list, and very accomplished before noon every day. Lately, I'm lucky to shower before 2pm, and I don't think I've made a to-do list in…weeks??? FIX IT, JESUS.
Gals, despite not enjoying pregnancy, I do believe pregnancy is a miracle. I think bodies that make babies are magnificent and that women are crazy amazing for their ability to do so. So, I try hard to give mine grace while it grows and gains and gestates. Making humans is hard work, so if the reward for that is drive-thru fries and a milkshake, I'll make a nine month exception.
And, just so you know: that soon-to-be squishy little nugget in my belly – him or her – I'm obsessed already. He or she is what makes all the uncontrollable craziness worth it.