If you're anything like me, you LOVE some good literacy center activities. You love seeing your kiddos engaged, exploring new skills, and excited about their learning. You're also probably like me in that you're a big fan of centers that are easy to introduce, skill-oriented yet basic enough for kindergarten and first grade students to complete independently, and low-prep. Bonus points if you can use them all year long, right?!
Good news! I've found a way to achieve these goals and they're all yours for FREE.
WHAT ARE CENTERS IN A FLASH?
This is a set of 25 literacy center activity posters designed to compliment Kindergarten in a Flash and First Grade in a Flash ELA flashcard sets. However, you can use alphabet, word, or picture cards you currently own OR create your own sets specific to your curriculum using index cards or the like.
Each poster is numbered for organizational purposed and includes picture and written directions. There are even two editable pages where you can type your own directions right in the PDF or print them off and handwrite the directions yourself.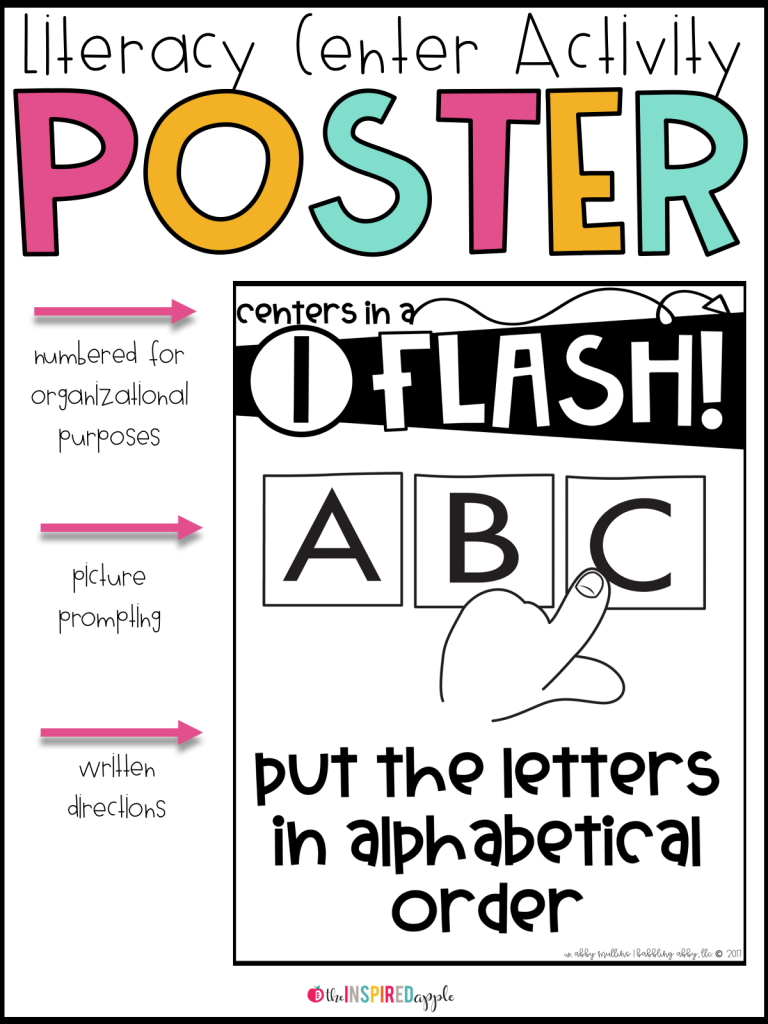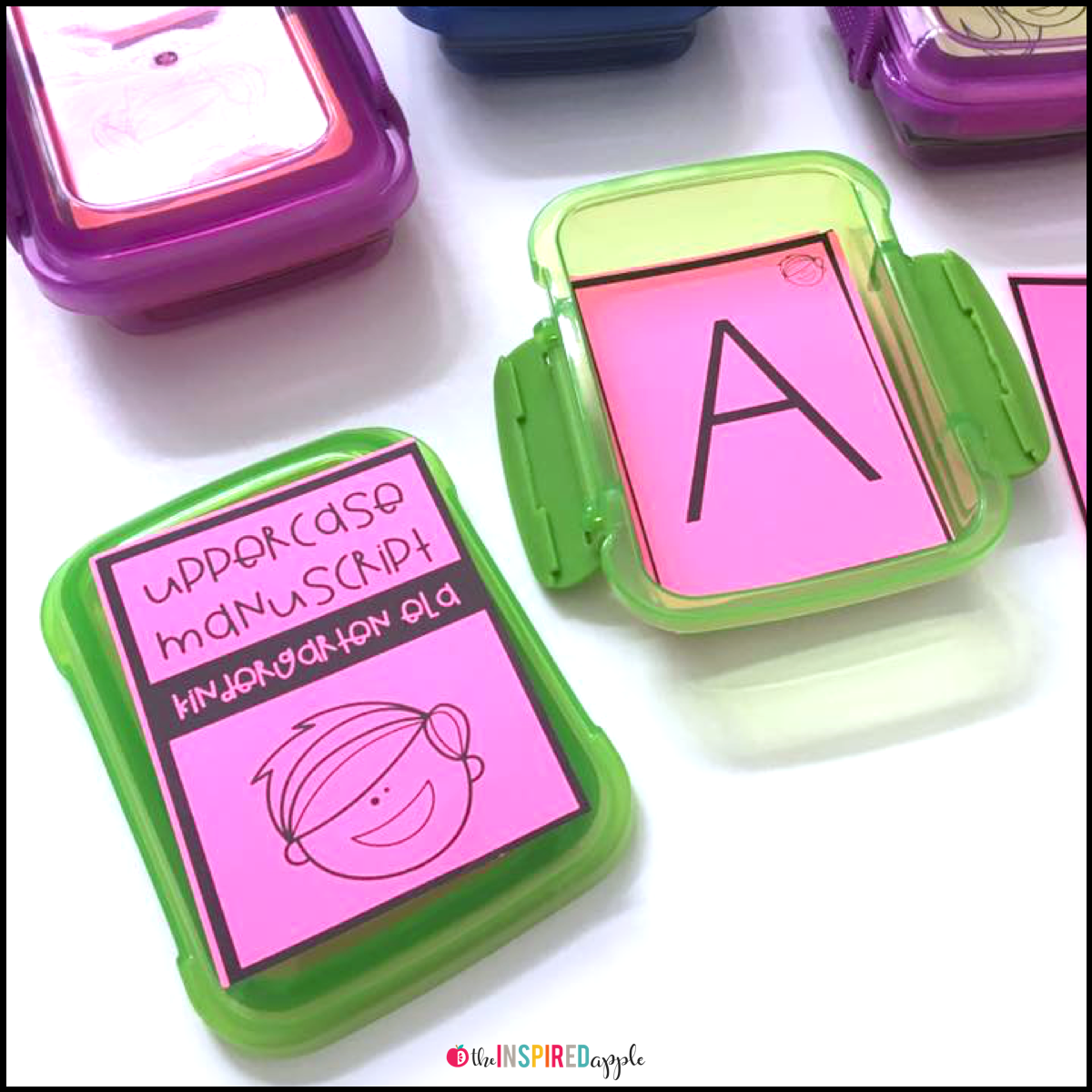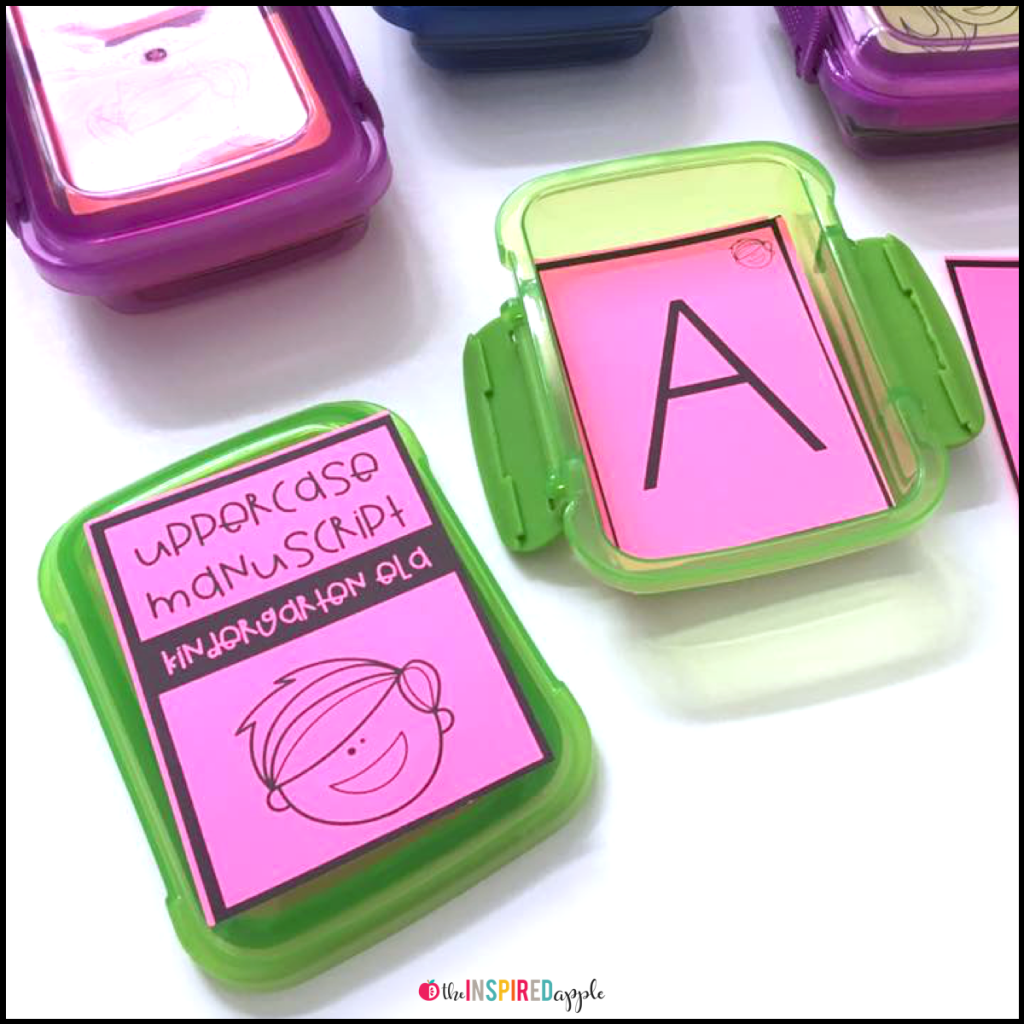 CREATING + ORGANIZING CENTERS IN FLASH
Because there isn't a whole lot to these centers, prep and organization is easy-peasy. Begin by printing each poster.  Keep it simple and print them in black and white or grab your favorite shade of Astrobrights paper and go to town! Laminate each page or slide them into sheet protectors for durability. If you're planning to introduce them to your small group, pop them into a binder and pull them out as needed. Pair each poster with the appropriate set(s) of flashcards, writing paper and pencils when necessary, along with a few other tools.  You can keep the center super simple or jazz it up!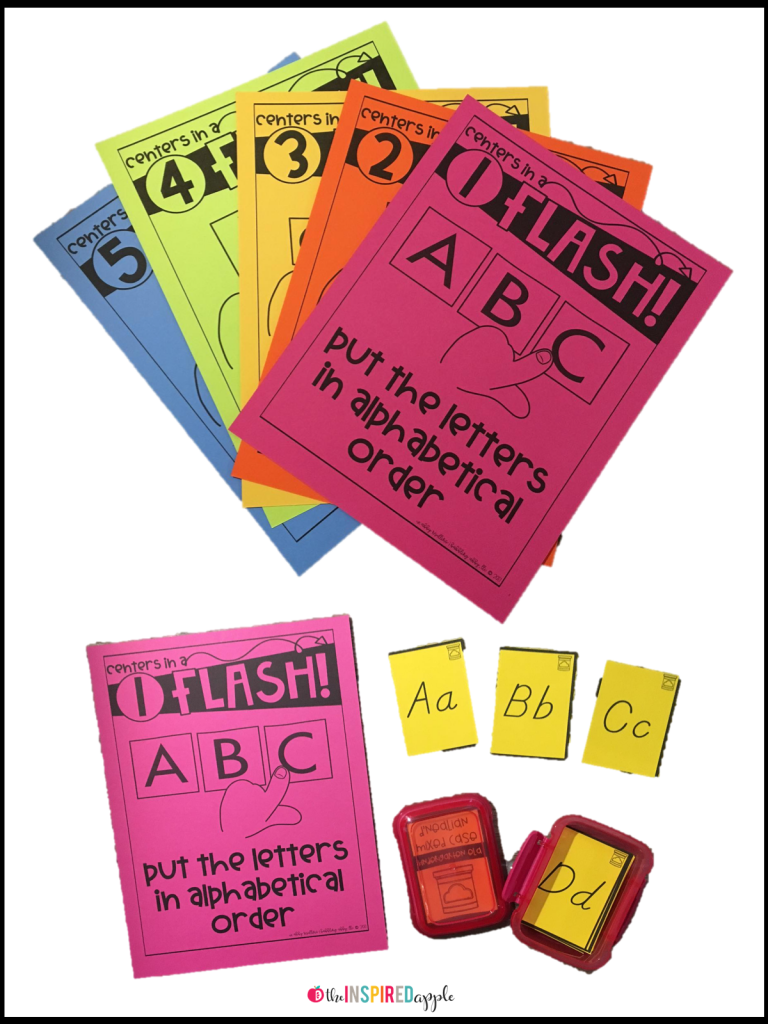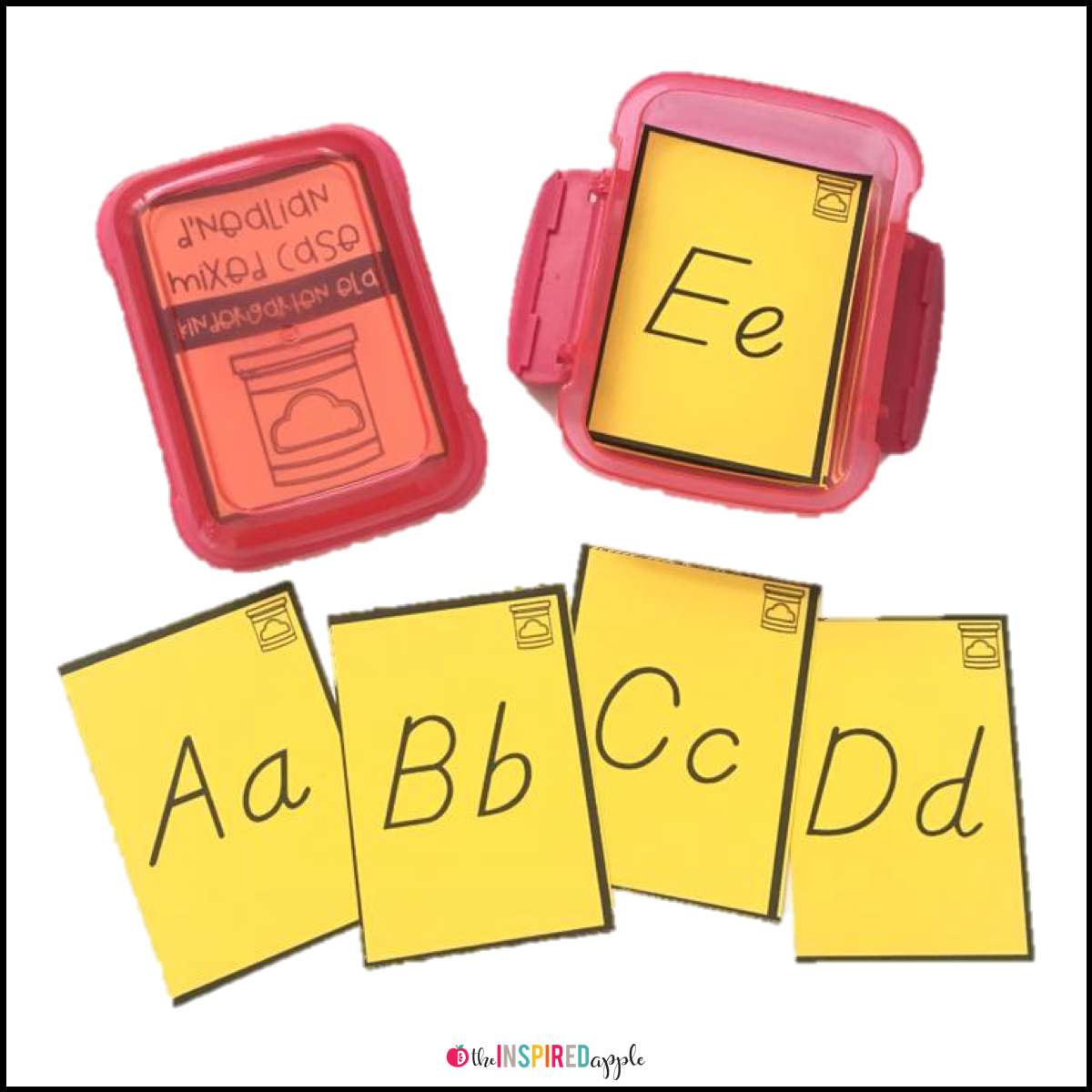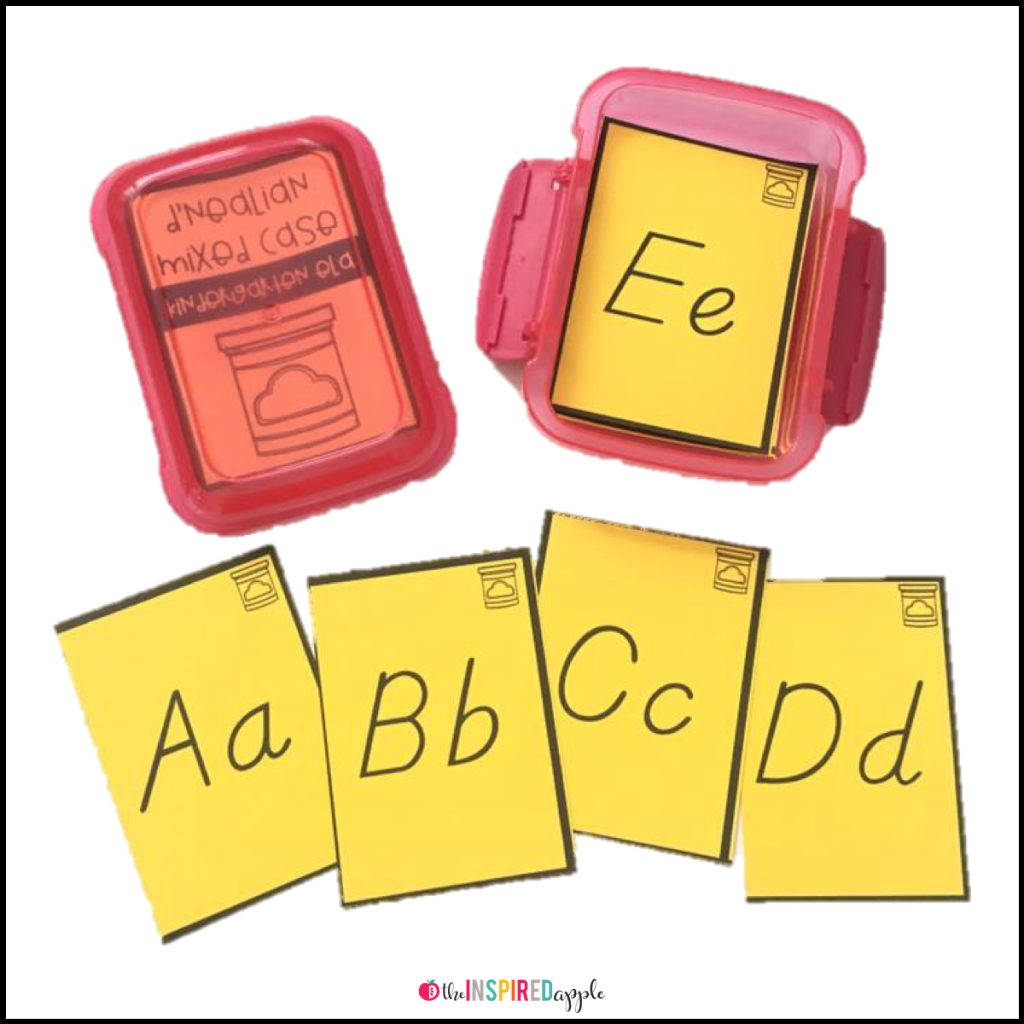 USING CENTERS IN A FLASH
Even the most basic literacy center activities need to be introduced to your students with detailed directions the first few times. I like to introduce centers during small group so I have a chance to observe and guide them as they practice the skill.  Then, you can easily add the new activity to center rotations once you feel like students can confidently complete it by themselves or with a partner.
If you're short on time, you can also project the poster on an interactive whiteboard, which would eliminate printing them altogether!
WHERE CAN I GET THE FLASHCARDS I SEE IN THIS POST?
I currently have two sets of ELA flashcards available right now – one for kindergarten and one for first grade. Each are a bundle of 50 flashcard sets that work perfectly with these activity posters and many other classroom activities. You can also purchase them individually by clicking any of the links below. (Note: some sets contain more than one set – i.e. the CVC sets include a set for all of the short vowels.)
DO YOU HAVE ANY FREE SETS I CAN TRY OUT?
I sure do! I would love for you to try them out! Just click on one of the graphics below to download two free sets of flashcards to use with the activity posters.
HOW DO I GET THE POSTERS?!
For access to this set of free literacy center activity posters, just sign up in the box found at the end of this post and click YES! I WANT THESE! Scroll to the bottom now!
 SAVE THIS POST FOR LATER.
Don't want to forget this post? Pin the image below!
This post contains affiliate links.
25 Free Activity Posters
Subscribe to access this resource.