This post shares 5 free games for preschool and kindergarten! Use them for math and reading activities. Practice uppercase and lowercase letter recognition, recognizing number to 30, subitizing, letter sounds and memory! All FREE to use with kids ages 6-and-under for in school, home school, or distance learning instruction.
This post contains affiliate links.
5 Free Games for Preschool and Kindergarten
So, it's the point in the year that I need to be a circus performer to garner their attention for longer than a millisecond. Since their attention to 'school at home with mom' is waning, I changed up our weekly routines a bit. Unpredictability is definitely one of my favorite tricks to pull out of the Teacher Toolkit.
So, today, was a game day! I created five free games for preschool and kindergarten and decided to spend the day learning how to play them. That way, we'll be able to play them individually over the next few weeks. (School is almost over…right?!)
Find the Number Game
This is a SUPER easy game. All you need is the game board, numeral cards 1-30 and bingo daubers/dotters. However, any old marker or crayon will do the trick, too!
Conveniently, we used the Very Long Dog Number Cards 0-30 because they were already printed. The free printables included in this post also include 1-30 cards.
I showed my kids the number card, and they had to locate it and dot it on their papers. I made sure to shuffle the cards so that they weren't in order. The free printable downloads include pages with the numbers in order from 1-30 and a page where their mixed to make it more challenging.
Fruits and Vegetables Memory Game
Y'all. I had no idea how much my kids would LOVE this game! Even big brother took a break from his sixth grade math activities to play on Ben's team. (We played boys vs girls so that Beck, who's eleven, could help Ben and I could help Faith.)
After tying the first game, naturally there was a tie breaker! I'm not kidding – they LOVED this. And, I think they would've kept playing had I not said we had to move on!
Memory is a great game to play for several reasons, including improving:
attention to detail
cognition
focus
critical thinking
concentration
Alphabet Bingo
Today, reviewed uppercase letters by playing alphabet bingo. There are four different upper- and lowercase options included, plus small alphabet cards for calling out the letters.
Tip: we used the lowercase letter cards as covers for our game. You could easily do this with coins, too!
This is just another FUN way to review the alphabet. We'll likely do lowercase tomorrow! Benny ended up the winner of this game.
Dice Dash Subitizing Game
Next, we used the Dice Dash game board and a simple 0-2 spinner to practice subitizing quantities 1-6.
I gave them each their own game board, though if you're playing with more than one kiddo they could share a board. They took turns spinning and then moving a penny according to the number indicated on the spinner.
Directions:
Spin the spinner.
Move the number of spaces indicated.
Subitize or count the dots on the die in the space.
Repeat until you get to finish!
Star Sounds
This is another simple game for practicing letter sounds. We played using one board with fruit snacks as our game pieces #whateverworks. We also used an online spinner for this on my phone, which worked SO WELL. I highly recommend it over the spinner below. LOL. I couldn't find the link when I search from my computer, but if you Google 'online spinner' from you phone, the Google one should appear. If not, there are countless other options.
Directions:
Spin the spinner.
Move the number of spaces indicated by the spinner.
Say the name of the picture in the space.
Say the

sound

you hear at the beginning of the word. (Alternatively, you could also say the letter it begins with.)
If you land on a star with a picture, you get to advance one more space.
Need more fun activities for preschool and kindergarteners?
I have tons of free resources available for the 6-and-under crowd! CLICK HERE to check them out!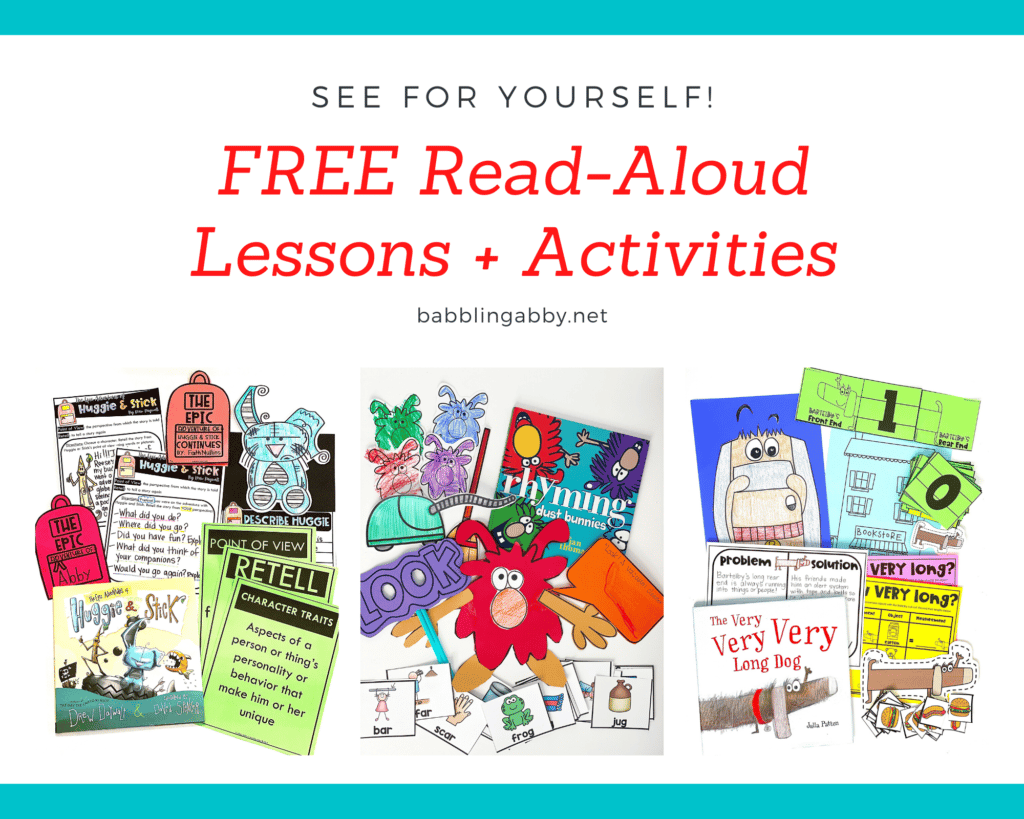 I hope you are able to use these free games for preschool and kindergarten. If you use something in your classroom or home, I'd love to see! Tag me on Instagram @babblingabby!
Download free games
*****PLEASE READ*******
Use the form below to sign up for my email list to get access to the free The Very Very Very Long Dog activities. You MUST confirm your subscription using the email sent as soon as you fill out and submit the form.
If you've previously signed up, no big deal. Once you fill out the form, you'll do the same process and receive an email with the downloads. You still must confirm your subscription EVEN IF you've previously subscribed. This is the easiest way for me to mass distribute these resources, and it gives me a way to keep in touch with you when I post fun new things!
Tip: Be sure to add abby@babblingabby.net to your address book or safe list so that these emails get delivered to your inbox and not spam!