These are Babbling Abby's Favorite Finds Edition Two, most of which you can shop right from the comfort of home or find in-store at your favorite retailers. Included are kid art frame, Erase Your Face makeup remover cloths, micro brow pencil, scrub sheets, and a flexible phone tripod. This post contains affiliate links which provide me a small commission should you choose to make a purchase. It in no way affects the price point for you, but keeps Babbling Abby up and running!
Late Night Laundry Links
I hate doing laundry! Sure, I can run it through the washer and dryer (though one load may cycle through…a few times), but it's the folding and putting away that I despise! To motivate myself to get it done, I started an Instagram series called Late Night Laundry Links. So, I fold laundry and share product recommendations and links to some of my fave finds! This post will share some of those finds.
Flexible Tripod
Do you take the majority of your photographs and video on your phone? Because if you do, this flexible tripod is a must-have. It's portable, easy to use, and its flexible legs can stand on or wrap around almost anything to make taking pictures a breeze. Bonus? It also includes a wireless remote shutter, so you don't have to do the whole run-between-phone-and-the-frame dash using a timer. At under twenty bucks, you can't beat it. Click to shop flexible tripod.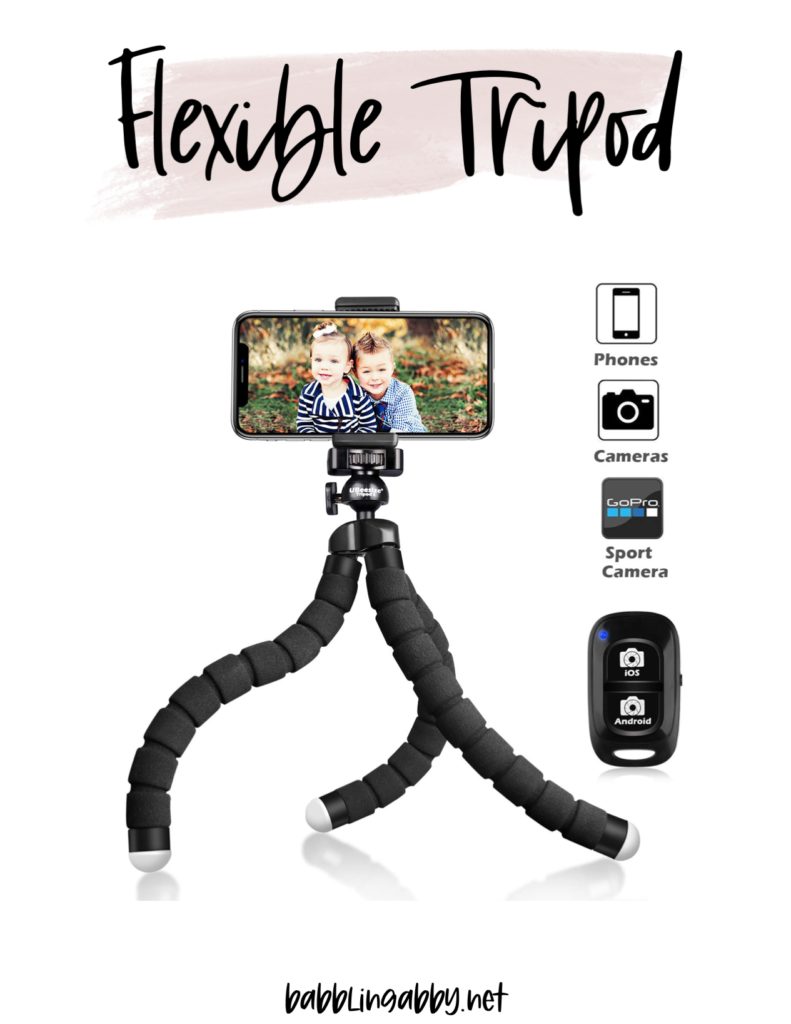 Kid Frame
So, I LOVE kid art. So precious. But, it can also take over the house…or at least the side of the fridge! 😅 Not only does this frame tastefully put your favorite paintings and collages on display, but it also STORES the artwork. The frame is about 2″ deep, so there's a dedicated place to hold your favorite keepsakes. My kids are so proud to see their work framed in our home. Click to shop frame.
Magic Erase Sheets
Am I the last person to hear about these?! I LOVE the normal Magic Erasers, and use them for everything, but these are the best for getting into tiny crevices! Each booklet contains several, thinn, disposable sheets made of the same material the Magic Erasers are. I like to use them for scrubbing the sink, fixtures, stove, and microwave . They're not made for reuse like the erasers are, so I just pitch them when I'm finished. Click to shop Scrub Sheets.
Erase Your Face Cloths
While we're on the topic of erasers, I L O V E this one. Like, could shout its praises from the rooftop. I talked about my love for them in my Beauty Favorites, but in brief, these have been a major game changer for my skin care. They're not just any ol' washcloths. They truly erase your face – remove all of your makeup – without harsh chemicals or scents. They're washable, thereby reusable over and over again. For $9.99, you get four cloths – way less than the investment in cleansers.
NYX Micro Brow Pencil
This is another beauty favorite. It's the equivalent of more expensive brands and works perfectly. Because it's so small, it gives you good control while penciling in your brows making it a breeze to shape them. You can get one for under five bucks on Amazon or wherever you purchase makeup! Click to shop brow pencil.
If you enjoyed Edition Two of Babbling Abby's Favorite Finds, you might also like my Favorite Finds Edition One, Beauty Finds, and Hair Faves!
Stay in the know!
These FREE resources are an instant download upon a confirmed subscription.