These are Babbling Abby's favorite hair products, most of which you can shop right from the comfort of home or find in-store at your favorite retailers. Included are recommendations for blow out spray, hair water, texture spray, dry shampoo, wet brush, blow dryer, curling wand, and hair straightener. This post contains affiliate links which provide me a small commission should you choose to make a purchase. It in no way affects the price point for you, but keeps Babbling Abby up and running!
Wet Brush
I love this brush! You can use it on wet hair, with minimal pulling and tearing. And, I much prefer a brush to a comb. I don't have the patience to use a comb! Ha! I've used this one for years and only recently had to replace it because one of my kids threw it and broke the handle. They are very affordable and you can snag them at Target or Amazon. Click to shop Wet Brush.
Blow Dry Primer
It's taken me thirty-six years, but I've only been washing my hair twice a week! Not only is my hair healthier, but it also saves me time in the morning when I'm getting ready since I don't have to blow dry it every day. However, when I do wash my hair, I always prep it with this Redken Pillow Proof Blow Out spray. Not only does it serve as a heat protectant, but it also cuts down on dry time. I love the smell and it's very reasonably priced – especially when I'm only using it a couple times a week. Click to shop Pillow Proof.
Blow Dryer
I have cycled through blow dryers FAST. Usually, I'll just grab a cheapo one, and it lasts me for maybe two years. And, that's being generous. This one, though? I've had it for almost four years and it's still going strong. Also, it is POWERFUL! It helps cut down on dry time substantially. I've always regretted leaving it at home when I've travelled and am left to borrow one or use the hotel loaner. They don't even compare. While it's a more pricey investment, it's definitely worth it. Click to shop BaBylissPRO blow dryer.
Texturizing Spray
I use this product on freshly dried hair and also on second…third…and fourth day hair! I do not spray this directly on my roots, though. I'll give it a good spray all over and lift up sections of my hair ensure good coverage. It dries in seconds and provides some necessary lift and volume for my otherwise fine hair. You can snag it at Target for ten bucks. Click to purchase Kristen Ess Texturizing Spray.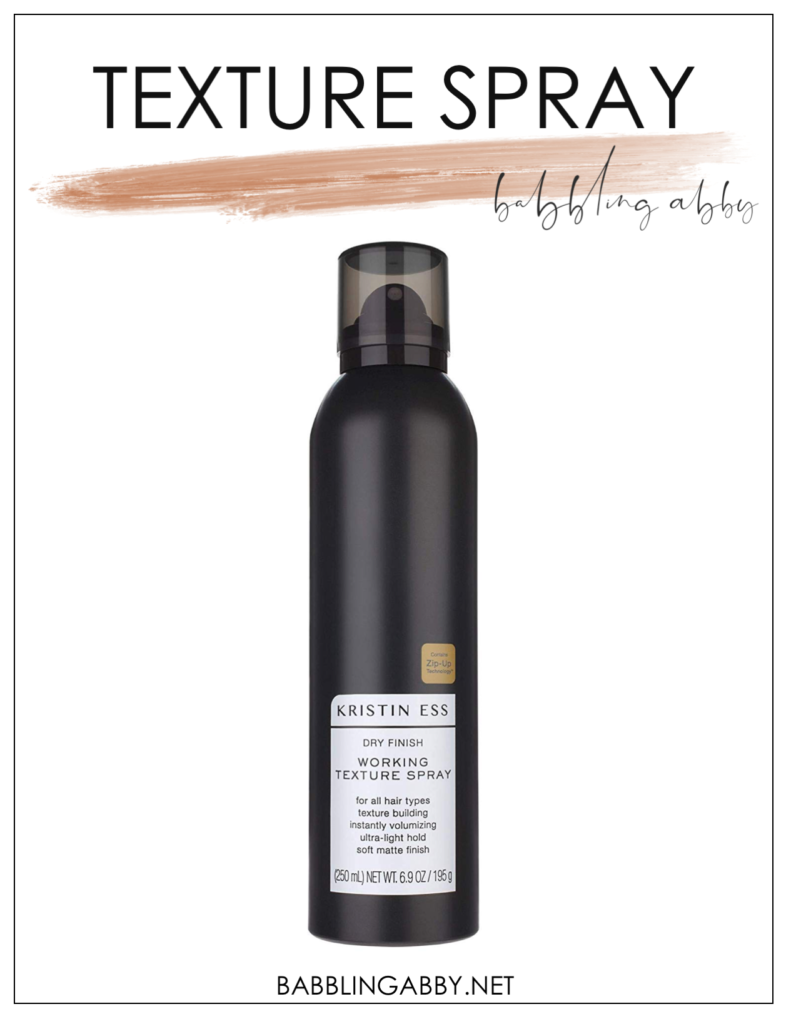 Curling Wand
So, I've tried to use my straightener to produce loose curls and CANNOT MASTER IT. However, I've found a curling wand to be a great alternative. For freshly washed hair, I'll curl it in three sections – bottom, middle, and top – holding up the uppermost layer with a clip until I'm ready to use it. This wand isn't very expensive and the curl lasts all day (better than a regular curling iron, in my opinion). Click to shop curling wand.
Hair Straightener
Whether I want to straighten my hair all over OR straighten just the ends after using the curling wand, this Chi fits the bill. It heats quickly and gets SUPER hot. Definitely use a heat protectant before using. While a more pricey purchase, you can't beat Chi's reputation in the hair tools world! Click to shop Chi hair straightener.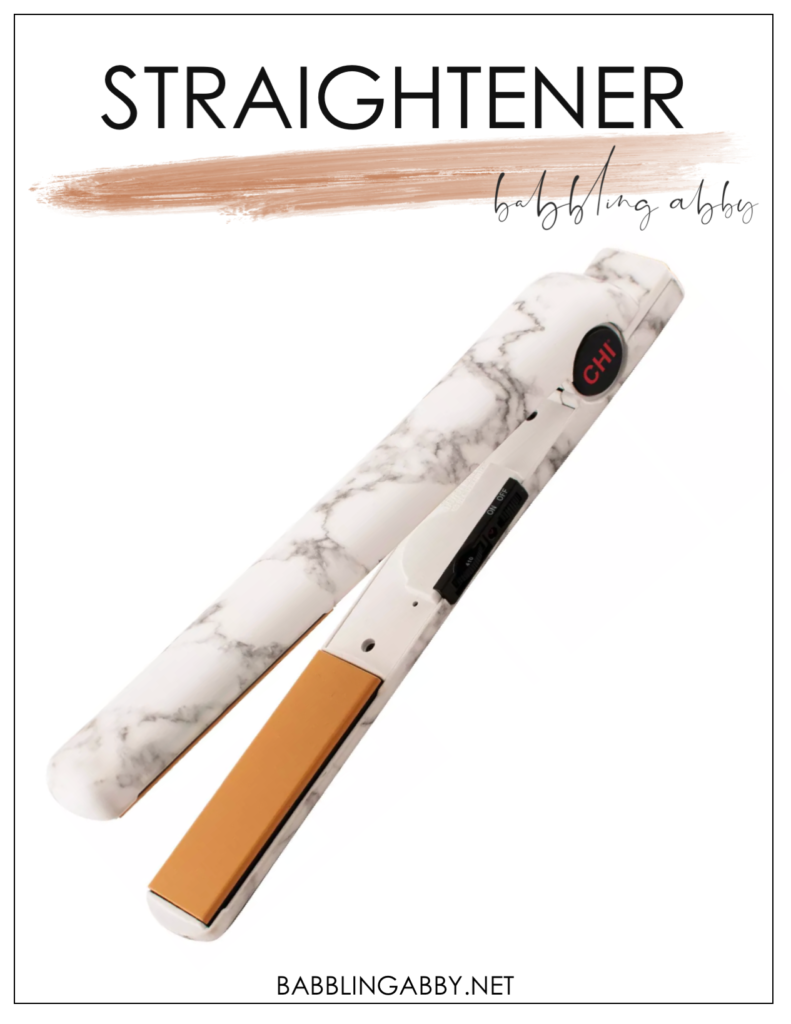 Hair Spray
Honestly, I'm not very picky when it comes to hair spray. I'll just grab whatever is on sale and has a strong hold. However, I've come back to this TresEmmé Tres Two Hair Spray Extra Firm control for awhile now. The price point is perfect, you can grab it basically anywhere, and it's usually on sale a few times a month. It does the trick without weighing down my hair. Click to shop hair spray.
Hair Water
Hair water?! YES! HAIR WATER! It's a thing! So, if you sleep with your hair up in a ponytail (like I do), this is the best product for getting out hair tie or scrunchy creases the next day. Now, you're probably thinking: can't I just spray some regular ol' water on my hair? Likely. BUT. This comes out as a super fine mist, so you're not oversaturating your hair. Also, it smells amazing, which is great for refreshing next-day hair. I'll give an all-over spray to the affected area, and give it a quick blast with high heat from the blow dryer. Totally works to make those ponytail creases disappear in seconds and extend your hairstyle another day! Click to shop Hair Water.
Dry Shampoo
I've sampled many dry shampoos throughout the years, and this Suave one is not only CHEAP, but it works great! Like I said, I'm all about the bi-weekly wash, so dry shampoo is definitely a necessity to extend my style between washes. I spray it directly on my roots and am very generous. I'll then work it in with my fingertips. Sometimes, I'll go underneath my hair and get to the roots there, too, but definitely on the top of my head. It also provides a little volume and lift, too! Click to shop dry shampoo.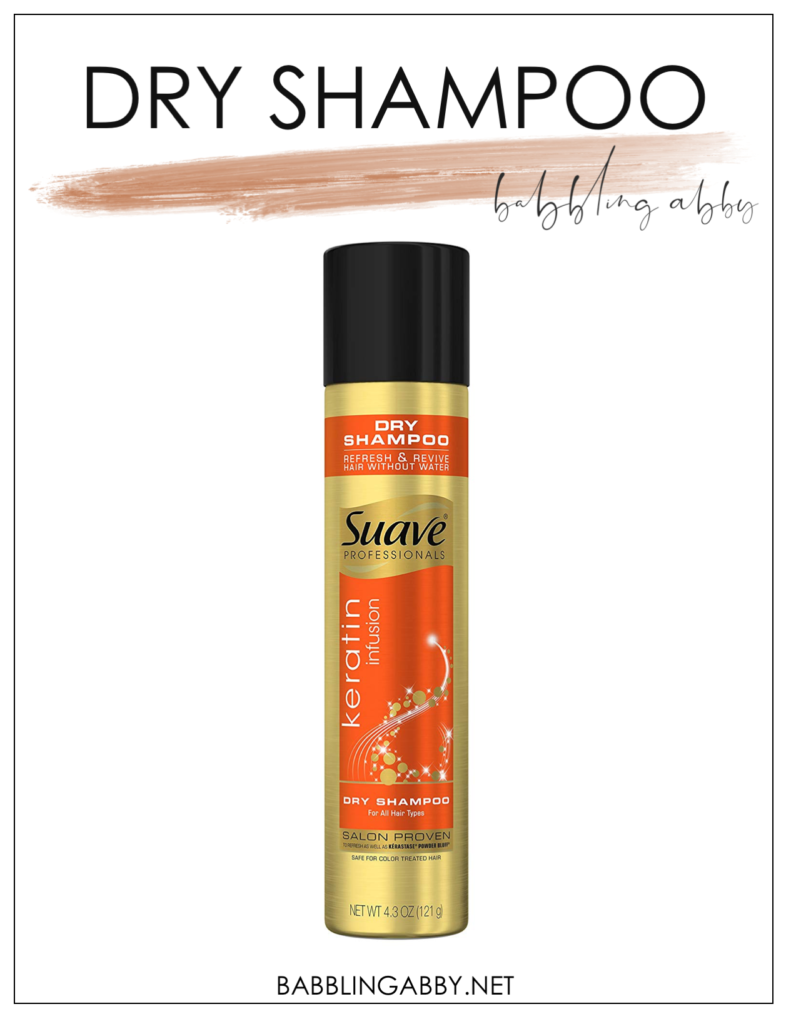 Shop Babbling Abby's Favorite Hair Products
Below you can shop the entire post easily. I hope you enjoyed Babbling Abby's Favorite Hair Products! If you end up trying anything, I'd love for you to share and tag me on Instagram @babblingabby!

Looking for my beauty recs? Check out this post to see my favorite, affordable finds!
Stay in the know!
These FREE resources are an instant download upon a confirmed subscription.