This cheddar almond bacon appetizer is a major palette pleaser, and the perfect dish to serve when entertaining any time of year.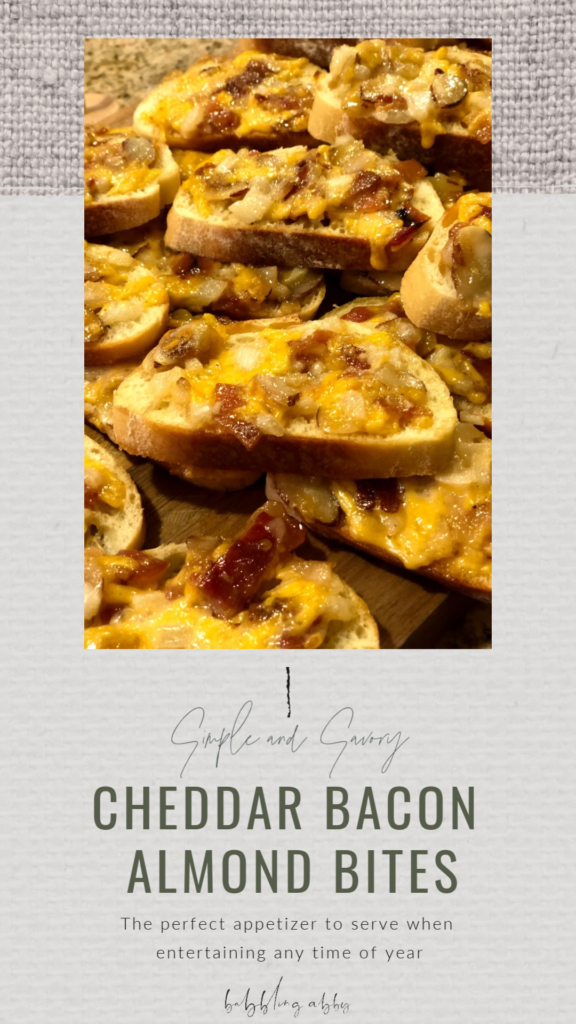 A recipe blast from the past
For Valentine's Day several years ago, my mom gifted me and my sisters a binder full of her favorite recipes. It was such a sweat and welcomed gift because the recipes were all reminiscent of our childhood. The casseroles from family dinners, birthday cake specialties, sweet treats for special occasions, and, of course, a collection of yummy things she typically plated for parties and holiday gatherings.
One such recipe she referred to as the Cheddar Almond App. She'd serve it up at neighborhood Bunco nights, and it always seemed to surface at the holidays, too.
And, here's why.
It's simple, savory, and delicious. A yummy mixture of shredded cheddar, crispy bacon, slivered almonds and creamy mayo, this dish comes together in minutes with a few other additions you probably already have on hand.
Why you should give them a try
Every time I make these, people are asking for the recipe because they're just that good. I think a lone bite remained after a recent get-together, and I was never happier since I hadn't snagged any during the party. Who can resist bubbly, cheesy bacon-y goodness served on crusty french bread?! Not me.
Did I mention how easy it is to make these? Were talking ten minutes to mix and assemble. Ten minutes to bake into a scrumptious little bite of finger food bliss.
Novice baker? No problem. I assure you, you cannot mess these up. Slice. Chop. Measure. Pour. Mix. Slather. Bake. It's the easiest.
To make now or later?
I guess that depends on what time the party is???? But, for real. Grab the ingredients the next time you're at the grocery and give them a shot. Whether you're taking them to a holiday shindig, a football party, or just want to serve them up before dinner tonight, THE cheddar bacon almond appetizer is here to make your tastebuds happy!
Cheddar Bacon Almond Appetizer Recipe
Print or pin this recipe for reference. You'll be so happy you did!
Cheddar Almond Bacon Appetizer
Course: Appetizers
Cuisine: American
Difficulty: Easy
A creamy mixture of cheese and almonds, spread atop crusty French bread and warmed to a bubbly crisp, this Cheddar Almond Appetizer will win over your guests.
Ingredients
1 cup mayonnaise

1 cup shredded sharp cheddar cheese

1 medium onion, chopped

1 cup slivered almonds, chopped

6 strips of bacon, pre-cooked and crumbled

2 teaspoons Worcestershire sauce

1 loaf of french bread, sliced into 1/2 inch rounds
Directions
Preheat oven to 400˚.
Combine mayonnaise, cheddar, onion, almonds and bacon into medium-sized mixing bowl.
Drizzle Worcestershire sauce over mixture and mix thoroughly.
Spread a heaping tablespoon of mixture onto French bread round and place in a single layer on a baking sheet.
Bake at 400˚ for 8-10 minutes until bubbly.
Serve warm.
Notes
If you wish, you can half the French bread rounds to yield double the amount of Cheddar Almond apps.
Unbaked appetizers may be frozen in a single layer on baking sheet.
PS. Did you know I have the *best* recipe that yields perfect pancakes every. single. time? I DO! Pancakes are seriously amazing any time of day, any time of year. I promise you'll want this recipe!
Be sure to follow me on Instagram to keep up with the latest at our house!
Stay in the know!
These FREE resources are an instant download upon a confirmed subscription.