There's nothing I love more than incorporating food into learning! When I saw these Christmas Tree Brownies by Little Debbie, I thought: I could SO use these in the classroom! While they make the perfect holiday snack, these tasty little treats can easily be incorporated into preschool, kindergarten, or first grade math. Check out this fun, affordable, and delicious Christmas graphing activity for kids! (And, if your school discourages the use of food, there's an option for you, too! No worries!)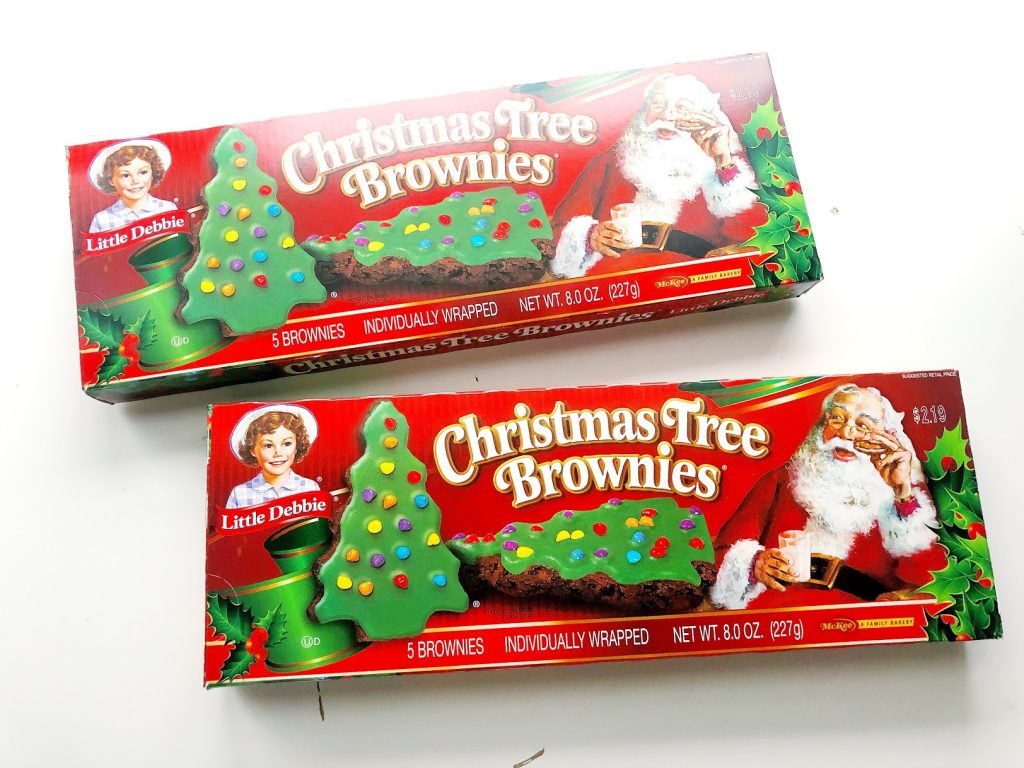 Start with a Story
You know I'm a big fan of picture books. I incorporate them into learning whenever I can (which is always). So, to begin this lesson, I would select a related text to read to my students. My personal favorites are The Great Spruce by John Duvall and Pick a Pine Tree by Patricia Toht. Both are beautifully illustrated stories centered around Christmas trees.
After reading one of the above mentioned picture books, I would for sure use the opportunity to throw in some ELA skills! A quick and easy way to do that, is to pull out some vocabulary words and have a discussion with some higher level questions . (The Great Spruce ELA activities | Pick a Pine Tree activities)
Christmas Tree Graphing Activity for Kids
Materials
Little Debbie Christmas Tree Brownies (1 per student) FYI: I've purchased them at Kroger, Target, and Walmart before. (If you're able to snag a box somewhere else, please leave a comment with the state and store you purchased them in so we can help each other out!) Of course, Amazon will come through for you, too 😉
Printable (copied double-sided)
Colored writing utensils, such as markers, crayons, or colored pencils
Directions
Have students decorate the tree on the printable with the same color and number of ornament candies found on the tree.
Then, have the students graph the ornament colors on the graph.
Complete the data sheet printable.
Extension: pass out white boards and dry erase markers and have students create and share addition equations using the data (i.e. Write and solve an equations by adding the number of blue and green ornaments together; add together the number of green ornaments with a friend's yellow ornaments, etc.)
Eat the brownie, of course! Preferably while listening to Rockin' Around the Christmas Tree.
Alternate Option
If you cannot eat in school or your classroom, you can still do this activity since you can see the candy ornaments through the clear wrapper! Simply send home with your students to enjoy at home!
OR
You could always not have a treat at all and students could simply decorate the tree on the printable and then record the data based on that tree.
I hope you'll find a way to use this Christmas graphing activity for kids in your own classroom! If you do, shout it out on social media at tag me @babblingabby on Instagram or The Inspired Apple on Facebook.
If you're looking for other fun Christmas activities visit this post! It's all about literacy and math activities you can use with your students. It includes holiday-themed morning work, too!
Use the button below to download the free printables mentioned in this post!
Join The Inspired Apple
Try a sample of this resource for free!