Teachers! Don't miss this post full of free and simple Don't Blink activities to use right alongside the book – including a video read-aloud and free printables!
And if you'd like to find additional lesson plans for K-1 like this one, be sure to check out and download my free reading activities for picture books!
Have you read Don't Blink by Amy Krouse Rosenthal?! What?! NO?! Well, you must add this adorable picture book to your bedtime stories shelf. This post not only includes a video read-aloud, but also several free printables to use right alongside the book. Additionally, this post includes ideas and activities for distance learning with preschoolers and kindergarteners.
This post included affiliate links.
Don't Blink! Picture Book
So, we snagged the adorable picture book, Don't Blink!, at the Scholastic Book Fair. The big-eyed owl caught my attention. I'd never heard of it before, and we read it that very night that I brought it home. Omiword. Best. Bedtime. Story. Ever.
Seriously, my kids have made me read this story night after night after night. Basically, it tells your kiddos that if they DON'T BLINK, then they don't have to go to bed. But, if they blink, then you turn the page and as soon as you get to the end of the book, the story is over and it's BEDTIME!
Of course, in a blink, it's time for bed! However, the story is so engaging, your kiddos won't even care. And, they'll probably make you read it over and over again! It's that fun. You can purchase this book HERE by clicking the graphic below.
Don't Blink! Video Read-Aloud
I love to read this story so much that I created a video of me reading Don't Blink by Amy Krouse Rosenthal! Just be sure you follow the directions in the story!
Don't Blink Activities
During the pandemic, we based a lot of our distance learning activities around this story today.
Supplies You'll Need for the Following Activities:
Black marker or black Sharpie
Owl Directed Drawing
After reading the book, we did a directed drawing of the cute owl character in the story.
I love how different and sweet kid drawings turn out! The directed drawing directions are part of my free download, which you can get at the end of this post.
Letter Matching
Next, they cut out the letters in the title of the story. The letters they cut out were all uppercase letters. They matched the letters to their lowercase counterparts.
"Do Not" Sight Word Mini Book
We made sight word mini books using the words "do" and "not." I also created a blank version and a "don't" version. Your kids or students can create their own mini-book or, if you're studying contractions, you can use the "don't" version. These books are great because not only do they highlight sight words, but they're also predictable.
I have a whole set of sight word mini-books for purchase if you're looking for additional words or practice. The "do not" books can be downloaded for free at the bottom of this post.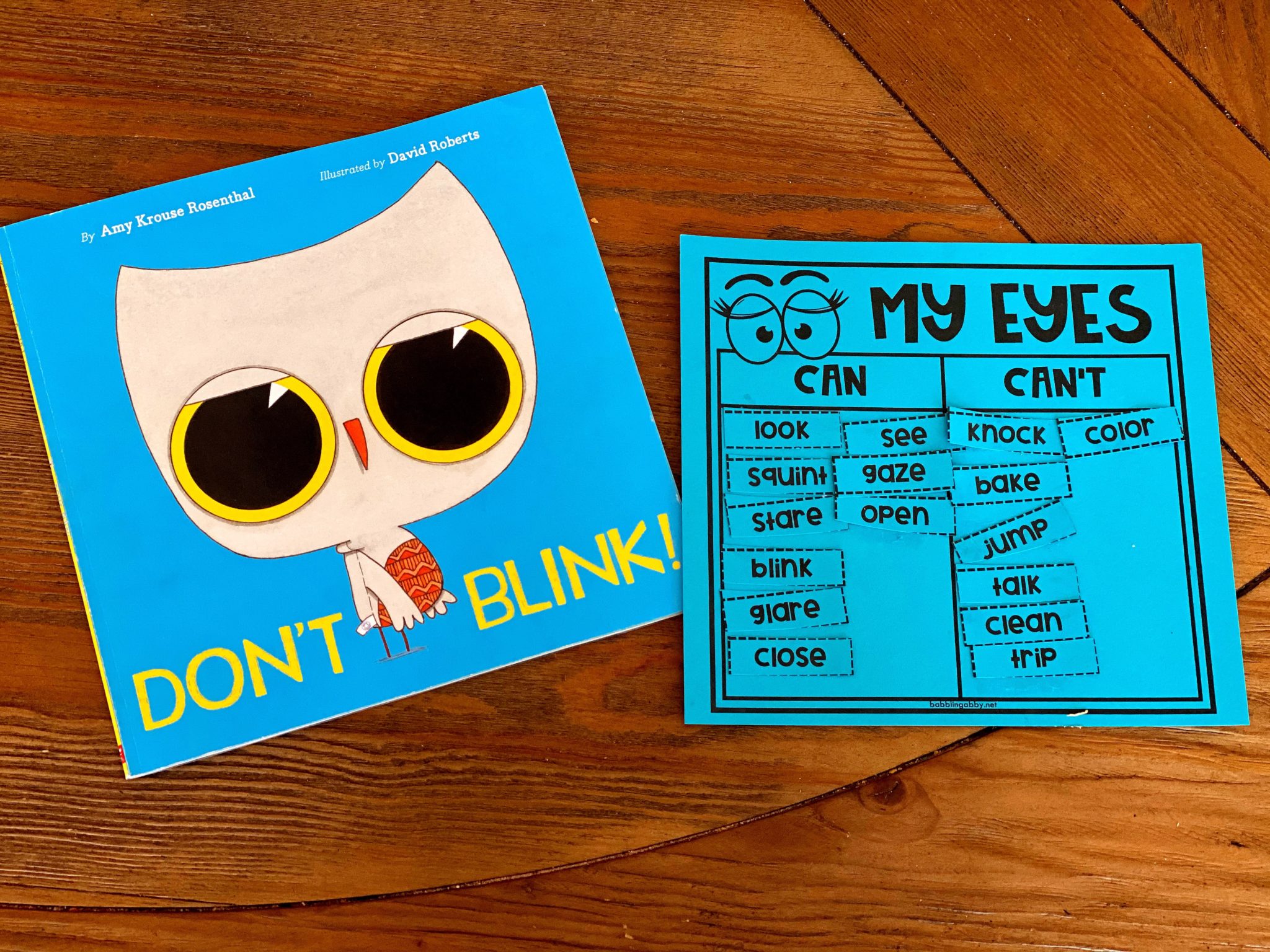 Eyes Can & Can't Sort
Now, for my little ones, who are not reading yet, we did this activity together. However, this would be great for independent readers, too. If you're teaching first graders, you could definitely incorporate a little verb mini-lesson, too!
I cut out the words, and they selected a word from the pile. I read the word, and we discussed whether or not it was something that our eyes could or could not do. They pasted the words accordingly.
Opposites Movement Activity
Because the story is so adamant about not blinking, I created a little do not opposites activity. I read some commands and the kids had to do the opposite. Super easy and it got them up and moving.
Letter Work
We've been sticking with the kids' normal preschool letter work, so this week we worked on the letter Y. We started with our Letter Y circle chart. The kids helped me name words that begin with Y and I drew them in the circle.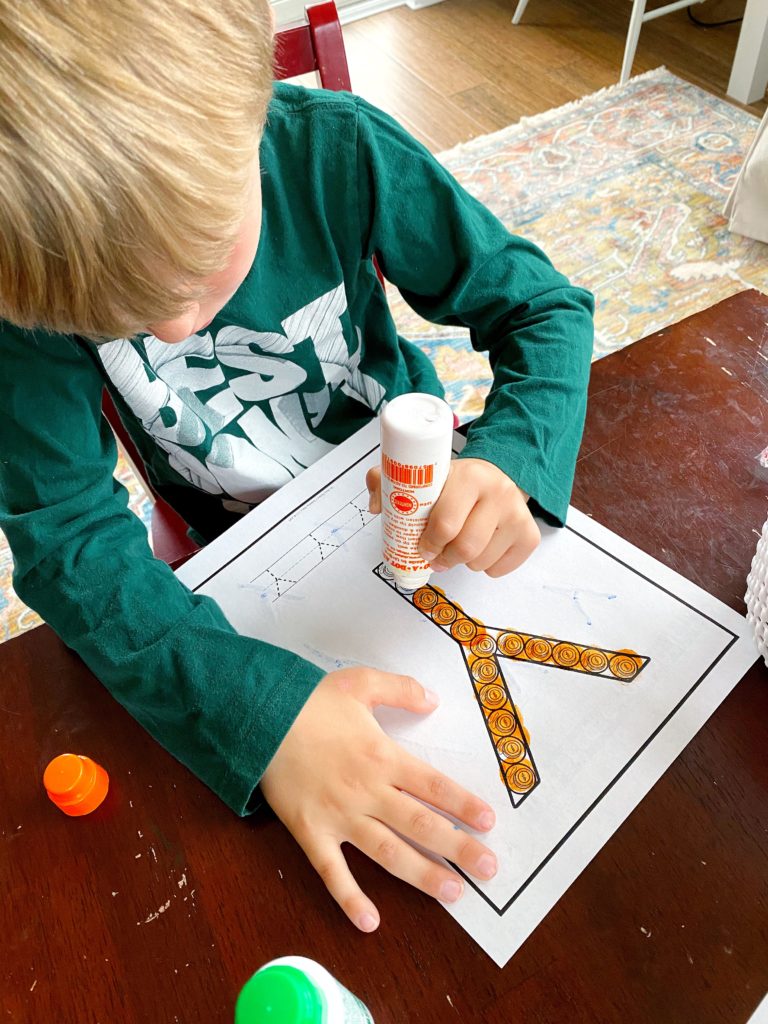 We followed that up with a dot-the-letter and letter formation activities. Download Y letter work here.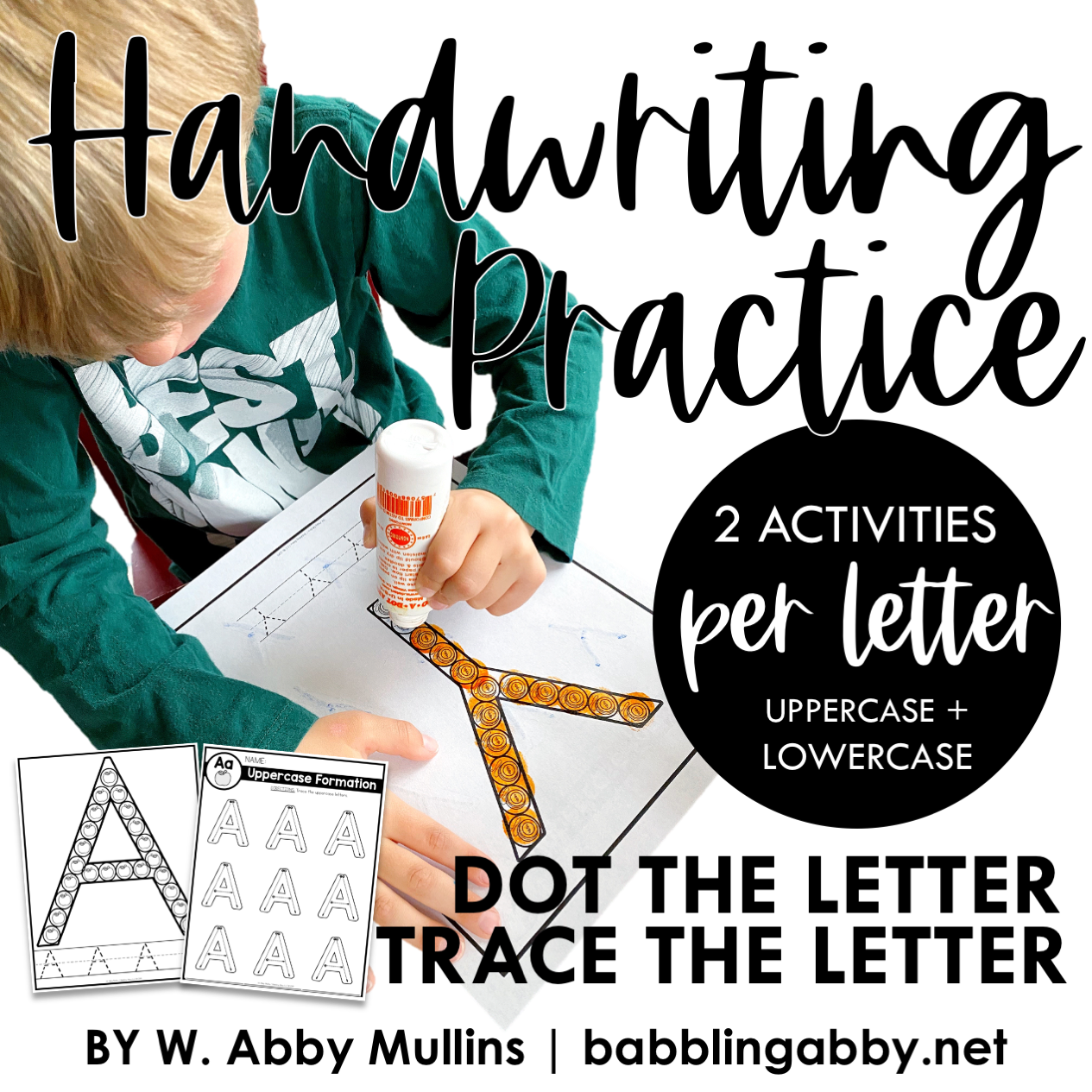 If you're looking for a more comprehensive handwriting activity, you can find a full set of activities HERE.
Number Recognition Sticker Activity
So, this is a SUPER simple activity. All you need is a piece of paper, markers, and stickers. I wrote numerals 1-20 in two different colors on a gigantic sticky note. This is not necessary, just what I had on hand that was large enough to accommodate the numerals.
I wrote two different sets of numbers so that both kids could play at the same time. I gave them each a sheet of twenty stickers, too.
Then, I called out a numerals in order from 1-20. Once they found the numeral, they put a sticker on it.
You could easily do this with any piece of paper and any type of cover (stickers, colored tape, markers, etc.).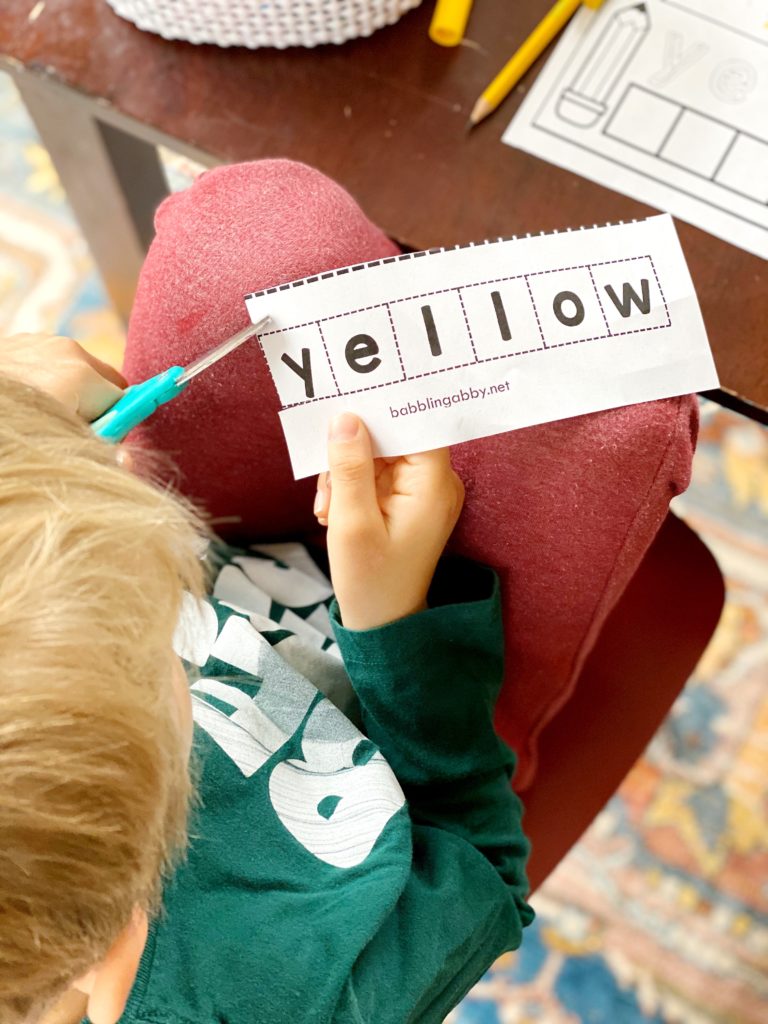 The Color Yellow Activity
To go along with our study of Y this week, we also are studying the color yellow. We did a simple color, trace and build activity. Download the yellow page here. This activity is part of my larger color resource: Color Word Activities.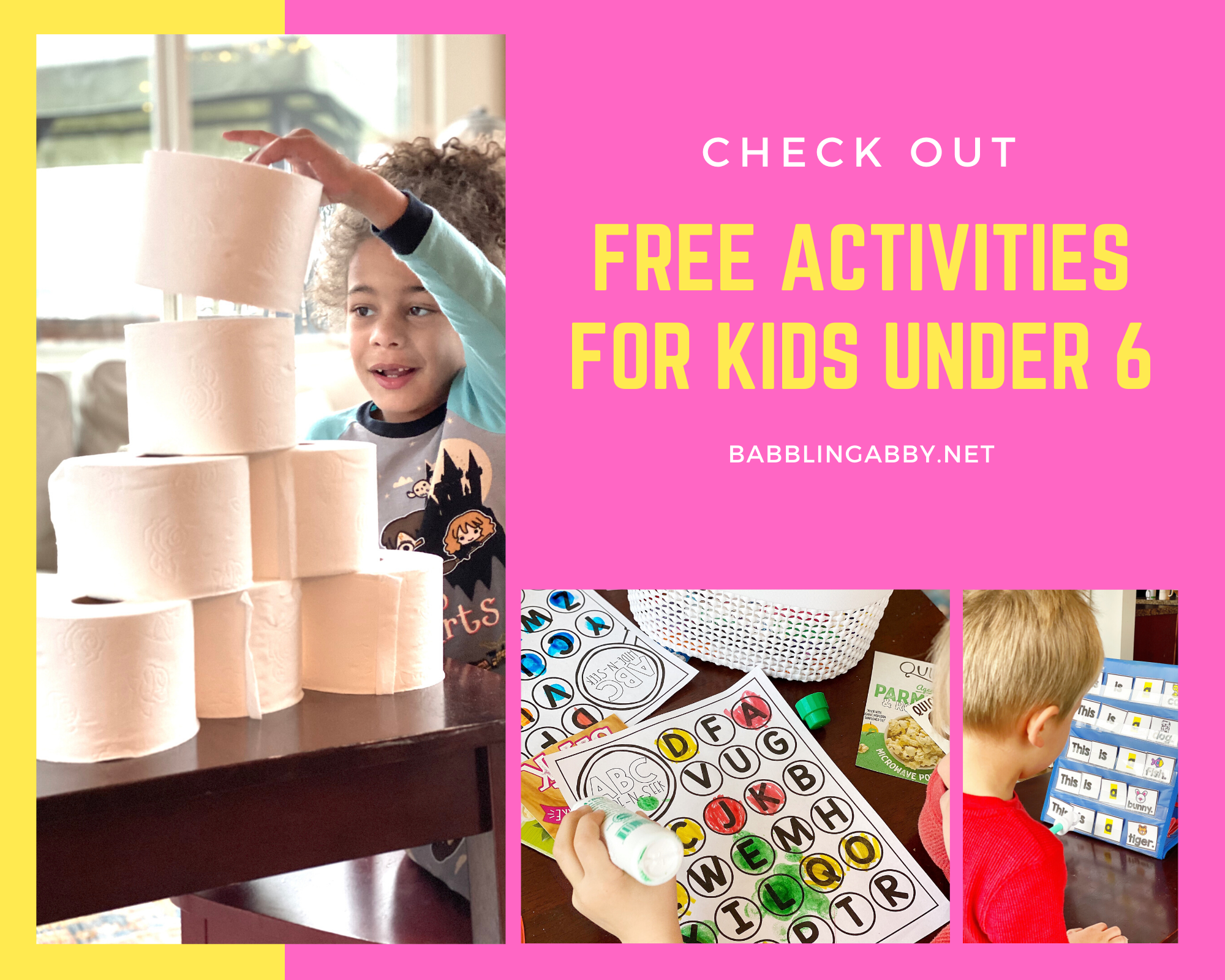 Need more activities?
I have tooooooons of FREE activities for working with preschoolers or kindergarteners at home or during distance learning. You can search them HERE.
Download the FREE Don't Blink activities
Use the form below to sign up for my email list to get access to the Don't Blink Activities and other free printables. You MUST confirm your subscription using the email sent as soon as you fill out and submit the form.
If you've previously signed up, no big deal. Once you fill out the form, you'll receive an email with the downloads.
Tip: Be sure to add abby@babblingabby.net to your address book or safe list so that these emails get delivered to your inbox and not spam!