Are you looking for a fun and easy way to help your students learn about different ways to protect the environment? Well, these Earth Day activities are an easy-peasy way for students to put the option to reduce, reuse, and recycle into practice!
Stage the activity by printing these little slips of paper that show items that can be reduced, reused, and/or recycled.
Then, explain to your students that you were going to throw these items in the garbage, BUT you thought maybe they could help you determine if they could actually be saved!
Have a kiddo choose a crumbled piece of paper and open it. Then, he or she will determine whether or not that item can be reduced, reused, and/or recycled. Then, he or she will justify the way they will save the item and color in the response(s). For example, "I can reduce the use of magazines by reading articles online. I can reuse the magazines for craft projects. I can recycle the magazines by putting them in the bin for our recycling team to pick up!"
Lastly, the student will paste the object to the poster. I made mine to look like a recycling bin by cutting mirroring shapes out on either side and adding a little washi tape outline. This poster can then be easily referenced throughout your Earth Day studies, too!
You can grab these Earth Day activities for your classroom HERE.
If you want to remember this activity, be sure to pin the image below so you don't forget!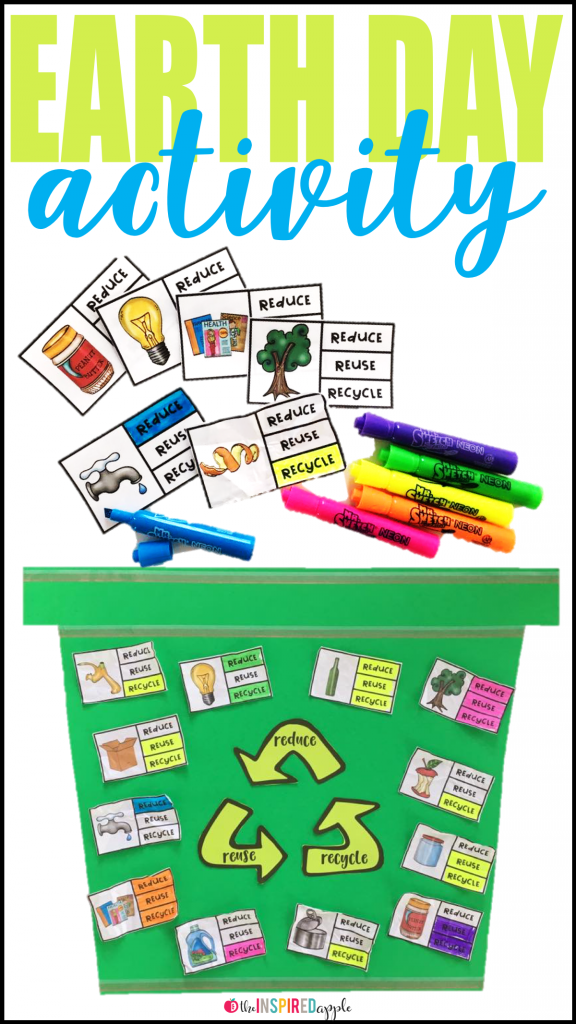 Stay in the know!
These FREE resources are an instant download upon a confirmed subscription.