Do you have a favorite book you like to read aloud to the class at the end of the year? Finding a good book to share with the class is a fun way to wrap up another amazing year. One of my favorite end-of-year books is Charlotte's Web. It's a sweet classic that kids of all ages enjoy reading. Simply reading the story isn't enough, there have to be some fun and interactive activities to make it even more exciting. Keep reading to see some of the ways I keep kids engaged and excited for this book at the end of the year.
Charlotte's Web Novel Study Activities
A fantastic story like Charlotte's Web calls for amazing activities to go with it. This Exciting Novel Study comes with 20 different activities to choose from. Pick and choose the ones you want to implement with your students or use them all. The skill sets involved can be used in any grade but are most closely aligned with end-of-year first grade standards. Students will do some journaling, rhyming, character webs, vocabulary exploration, graphing, and even a craft. They will love the element of fun these activities provide to their end-of-year read aloud.
An Engaging Reading Log
While reading a story, I love to provide students with a reading response log where they can jot down their thoughts and journal about the plot, characters, and setting. These logs can be taken daily, after every chapter or just at the end of the book. I have found that kids really enjoy writing down what they heard because it helps them remember the plot for later activities.
If you wish, add a cover page and bind the log pages together. The kids will love having their own reading response journal to take home when the study is complete.
Charlotte's Web Vocabulary
Use these vocabulary cards to help students keep track of important characters and key words that come up in the story. They may not know how to spell Zuckerman, so having these cards displayed is a great way to help them with their writing as it pertains to Charlotte's Web.
Rat Rhymes
Practice fun rhymes with these Rat Rhymes. Students mix and match the rhymes and record them on their sheet. Place these in your literacy centers or writer's workshop areas for students to practice their skills.
I like to laminate the mice and eggs so the materials can be used year after year. Print them onto colored cardstock to differentiate them a little more, too. They fit nicely into a photo case, ziploc bag, or zippered pouch for safe keeping.
Creating Fun Sentences
Students are also invited to use words to create fun sentences. There are multiple sentences to use. Students put the words in order to create a sentence that makes sense. Then, they write the sentence on their paper with correct capitalization and punctuation. Finally, they illustrate the sentence in the box provided. These are fun activities to display around the room as students practice their writing and drawing skills.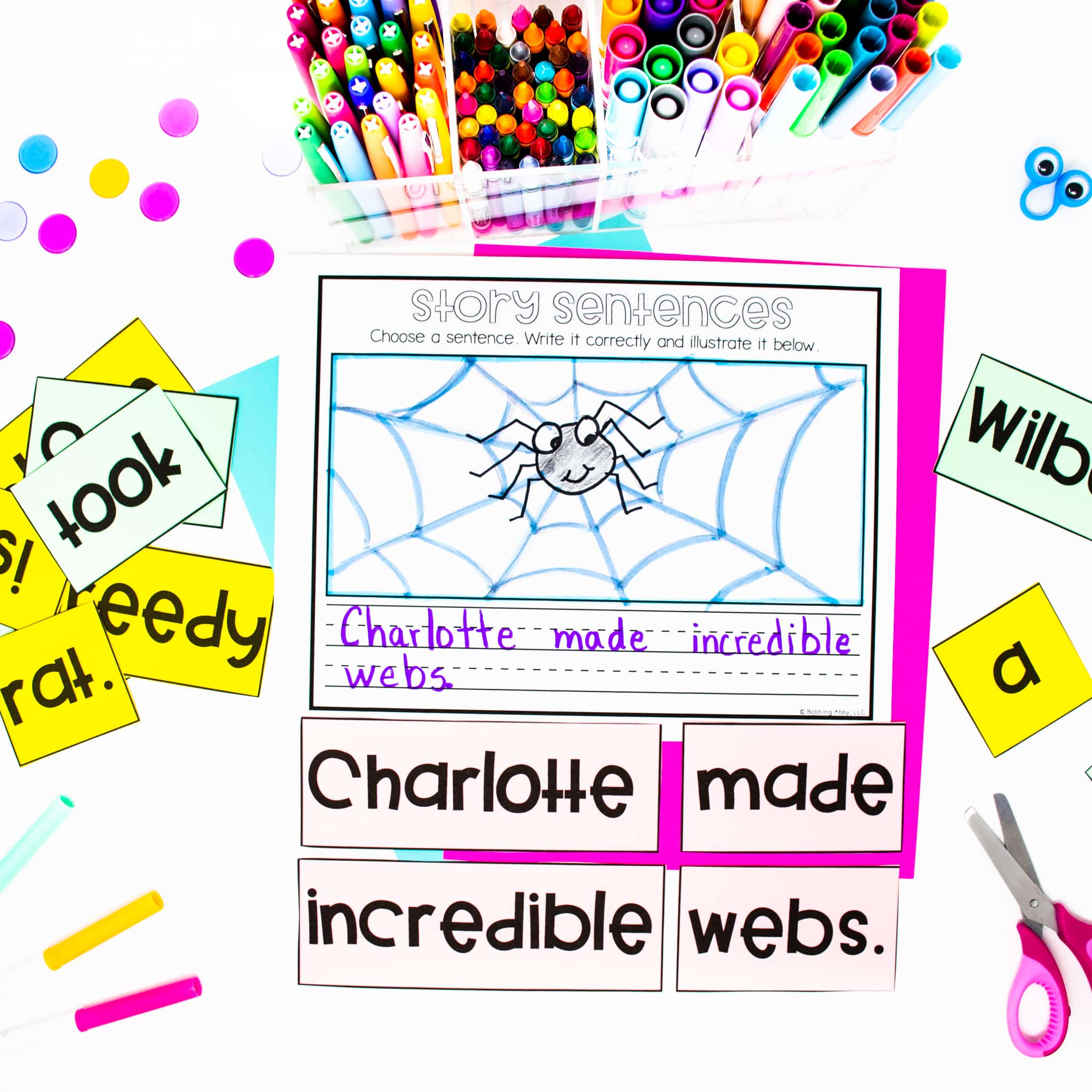 Charlotte's Web Math Centers
Students will enjoy using a little big of graphing to determine who the class's favorite character is. Display the graph at the front of the room and take a vote as the story goes on. Students can also be provided their own graphing sheet to record answers.
Once the votes are in, students using their results sheet to interpret the data. They decide which characters were the favorite and least favorite by marking with tallies. They also write about the data using full sentences. The kids are welcome to use numbers here as well, especially if you are examining this activity during a math block.
Charlotte's Web Craft
One of my favorite parts of this story unit is the craft. We get to create our very own prize pigs using cupcake papers and ribbon!
Simply glue a cupcake liner to a piece of paper. Add a blue circle and then a smaller pink circle. The blue acts as the blue ribbon and the pink acts as the pig's face. Attach paper ears and a nose and draw on eyes, nose, and a mouth. The finishing touch is two strips of ribbon hanging under the blue layer to act as the prized ribbon strings. Kids will love having their own prize ribbons to take home. It's the perfect way to wrap up the novel study.
Add In Some Charlotte's Web STEM Ideas
A few more ideas not included in the resource are some simple STEM ideas. Students love collaborating and coming up with a plan together. Here are a few things they can create or brainstorm using minimal supplies you already have in the classroom:
Create parachutes for Charlotte's baby spiders
Build a pigpen
Create a safe egg drop
I hope you have fun ending the year with these fun Charlotte's Web activities! And, if you'd like to learn more about the activities pictured above (plus MANY more), you can check it out here!
Stay in the know!
These FREE resources are an instant download upon a confirmed subscription.