This post shares Easy and Effective Kindergarten Intervention Activities and Ideas. If you've been trying to figure out how to reach your students who struggle with letter recognition and identification, look no further! This all-inclusive Kindergarten RTI resource is a LIFE SAVER.
Easy and Effective Kindergarten Intervention Activities and Ideas
This intervention curriculum is the perfect program to implement with students who struggle with letter identification. Teachers love this Common Core Standards-based program that focuses on letter identification and recognition in a simple, easy-to-follow format that has proven itself through student success. There are several activities for each letter of the alphabet, with picture samples for easy reference. It's easily stored in a binder to keep your small group time organized and efficient.  Though recommended as an intervention for kindergarten and first grade, it could easily be used in preschool and second grade, too.  It's also great for ELL  and ESL students and a definite must-have for teachers, interventionists, and Title I and reading teachers alike!  Let's take a look!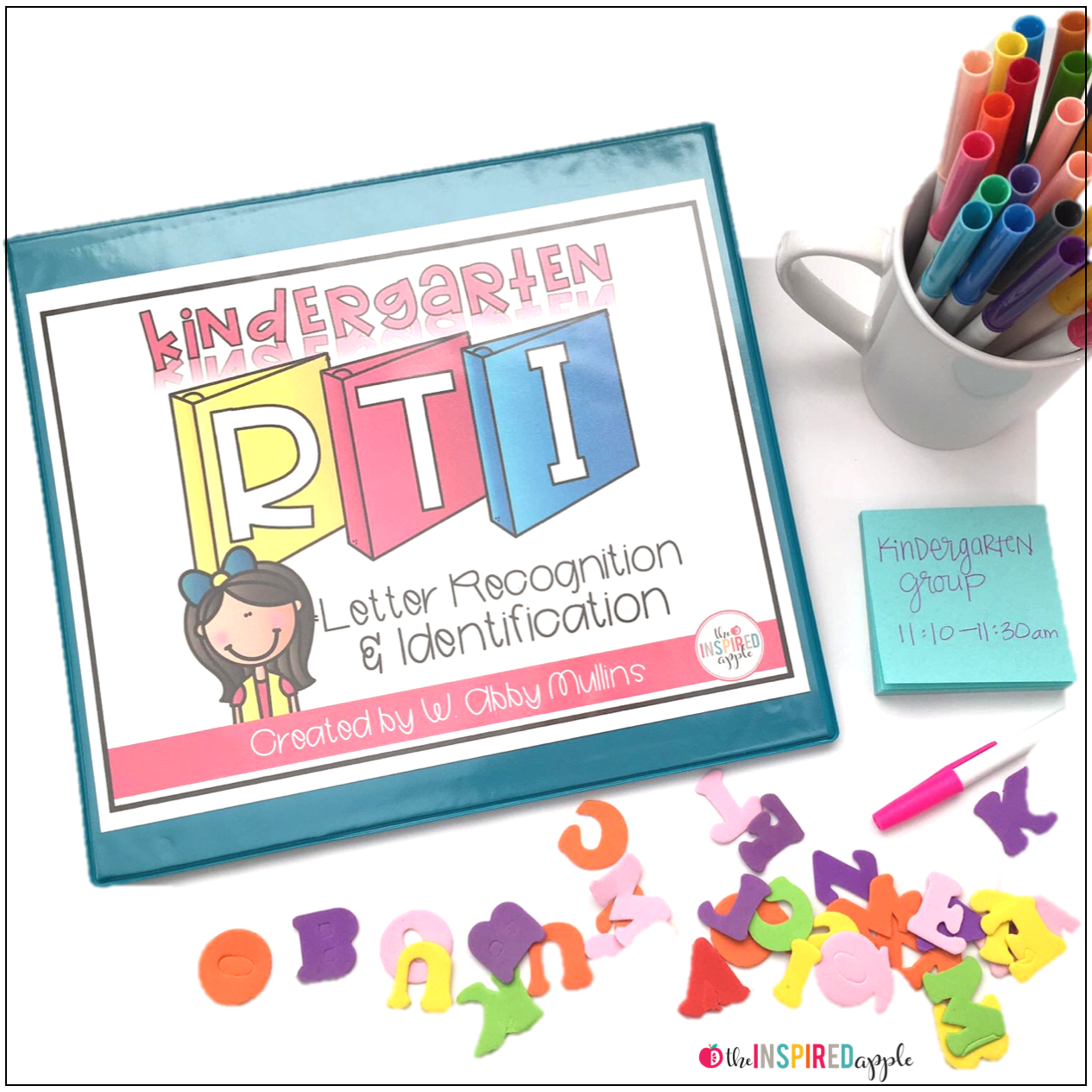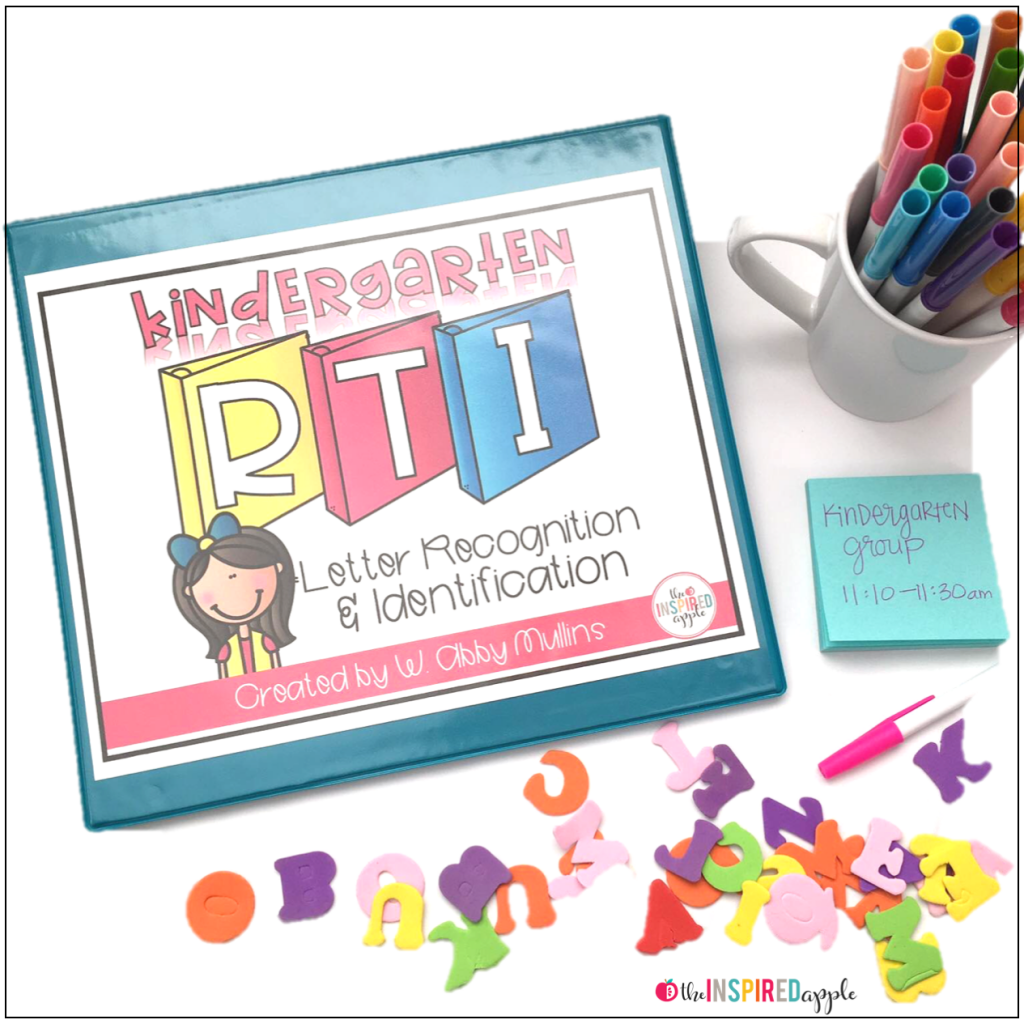 For easy organization and storage, I keep this entire Kindergarten RTI resource in page protectors in a three-ring binder. The page protectors can be easily written on with dry-erase markers and cleaned with little fuss.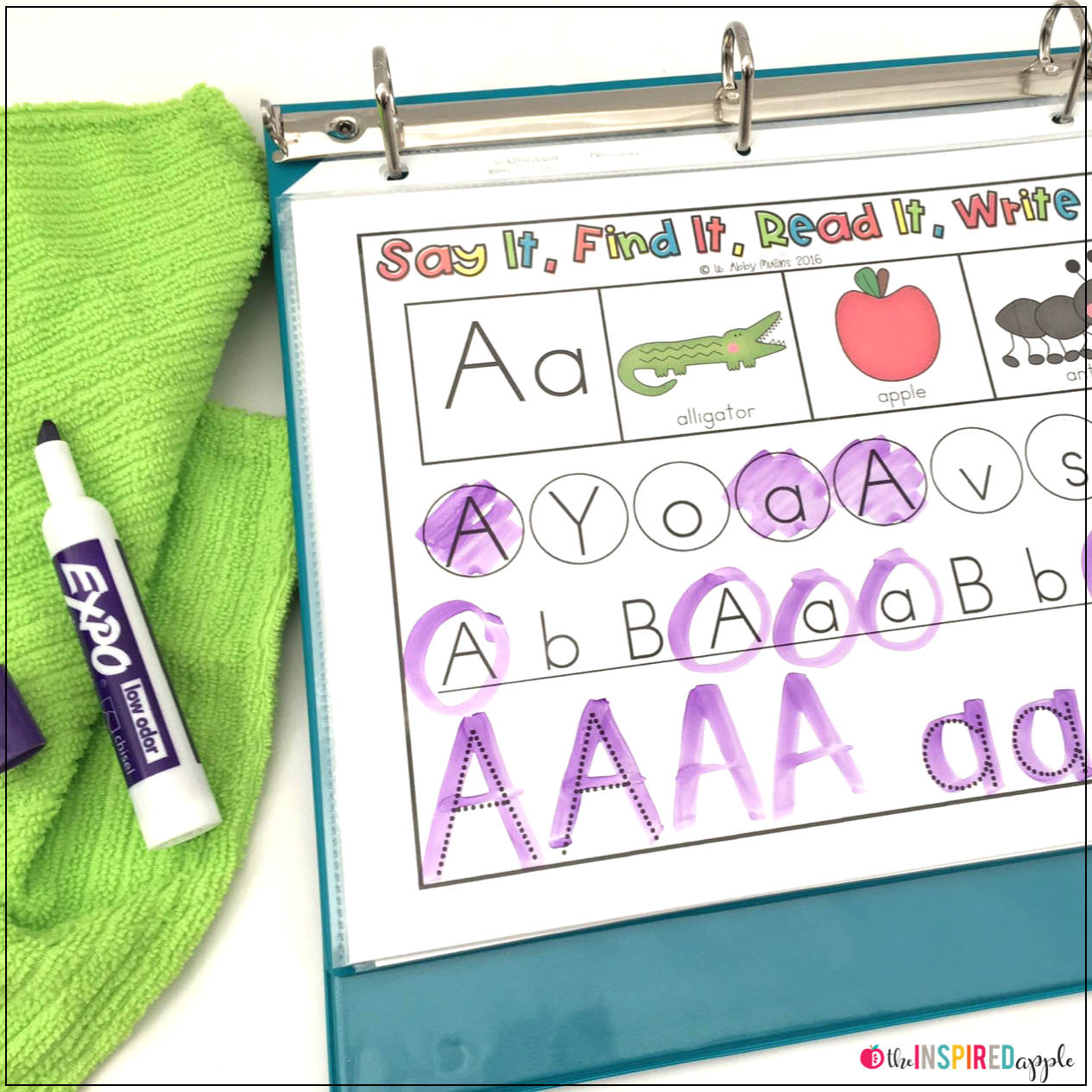 It also includes two focus statements to help direct your instruction. You can print them out on 8.5×11 paper OR shrink them down to for use inside a clear photo frame. (The frame pictured below is a 5×7 and I shrunk the page to 55% before printing.) This is a great way to display the statements and keep them handy for quick reference during a lesson.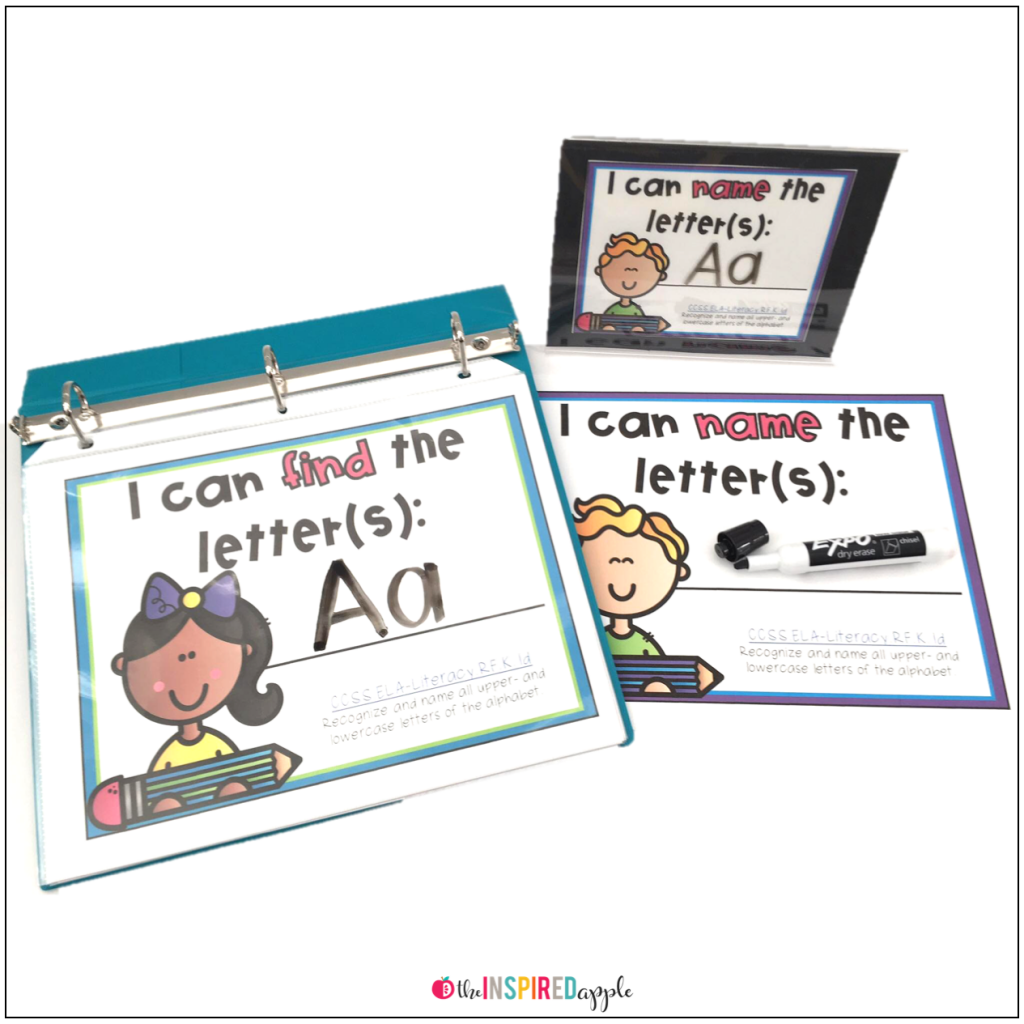 Kindergarten RTI Activity 1: Letter Mat
Use this mat to introduce the letter you are working on. It can be used for a variety of purposes include: tracing the letter with a finger/marker while saying its name, making the letter from play dough, highlighting the letter within the words, saying the names of the pictures and listening for the sound the letter makes, etc.
Kindergarten RTI Activity 2: Letter Recognition Mat
Provide your students with covers or a dry erase marker to locate the focus letter found on each mat.
Kindergarten RTI Activity 3: Fluency Mat
Your students will read the letters on the mat. If they do not know a letter, they simply skip the letter and name the letter(s) they do know. Make this activity engaging by adding a fun pointer!
Kindergarten RTI Activity 4: Handwriting Mat
This activity reinforces letter recognition through the writing of the letter. The focus ins't so much on perfecting handwriting, but on recognizing letters as foundational to print and reading.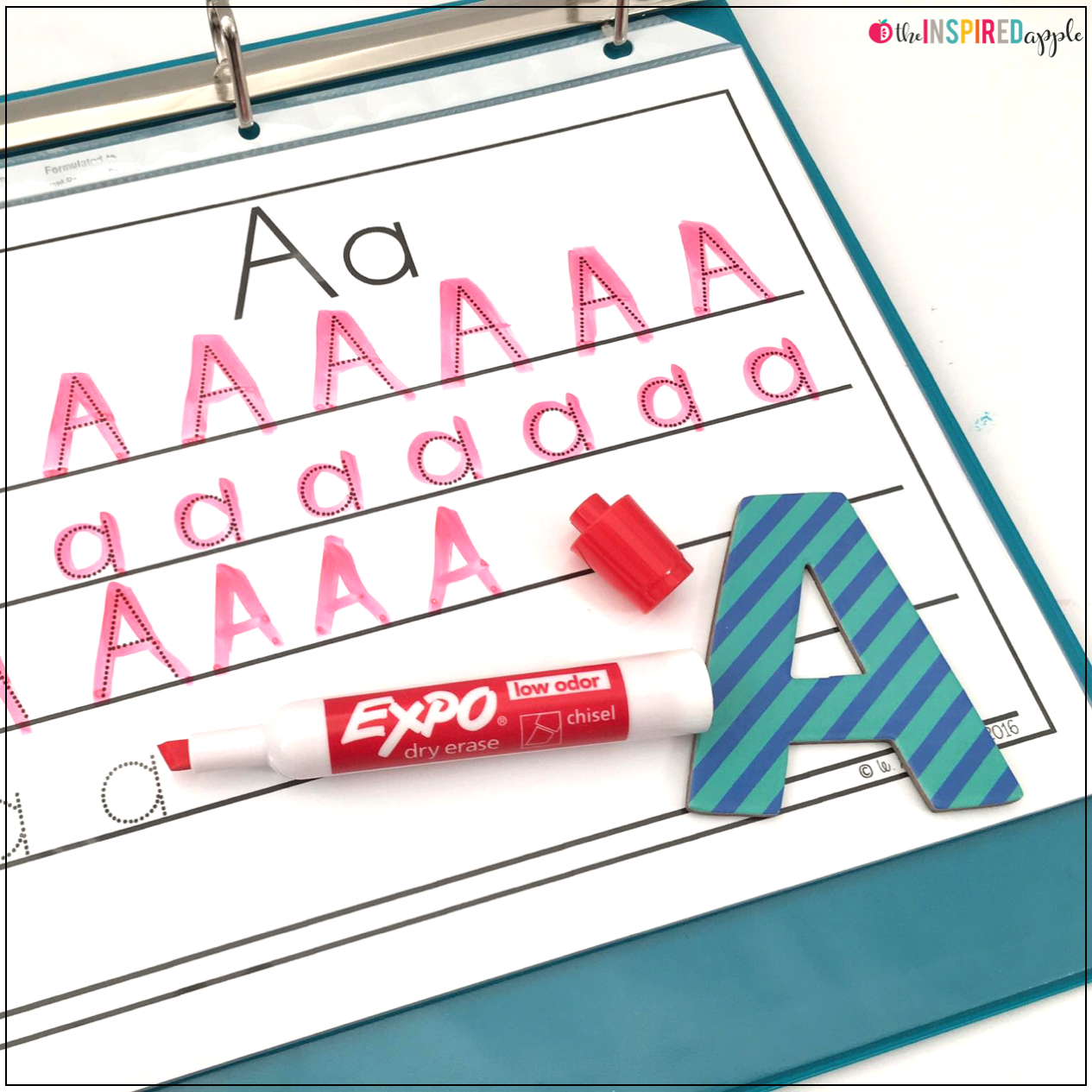 Kindergarten RTI Activity 5: Letter Identification and Recognition Practice Mat
The purpose of this mat is to reinforce previously taught skills, and is a combination of all other activities. There's also a black and white version, that you can print for seat work, morning work, or homework – so many uses!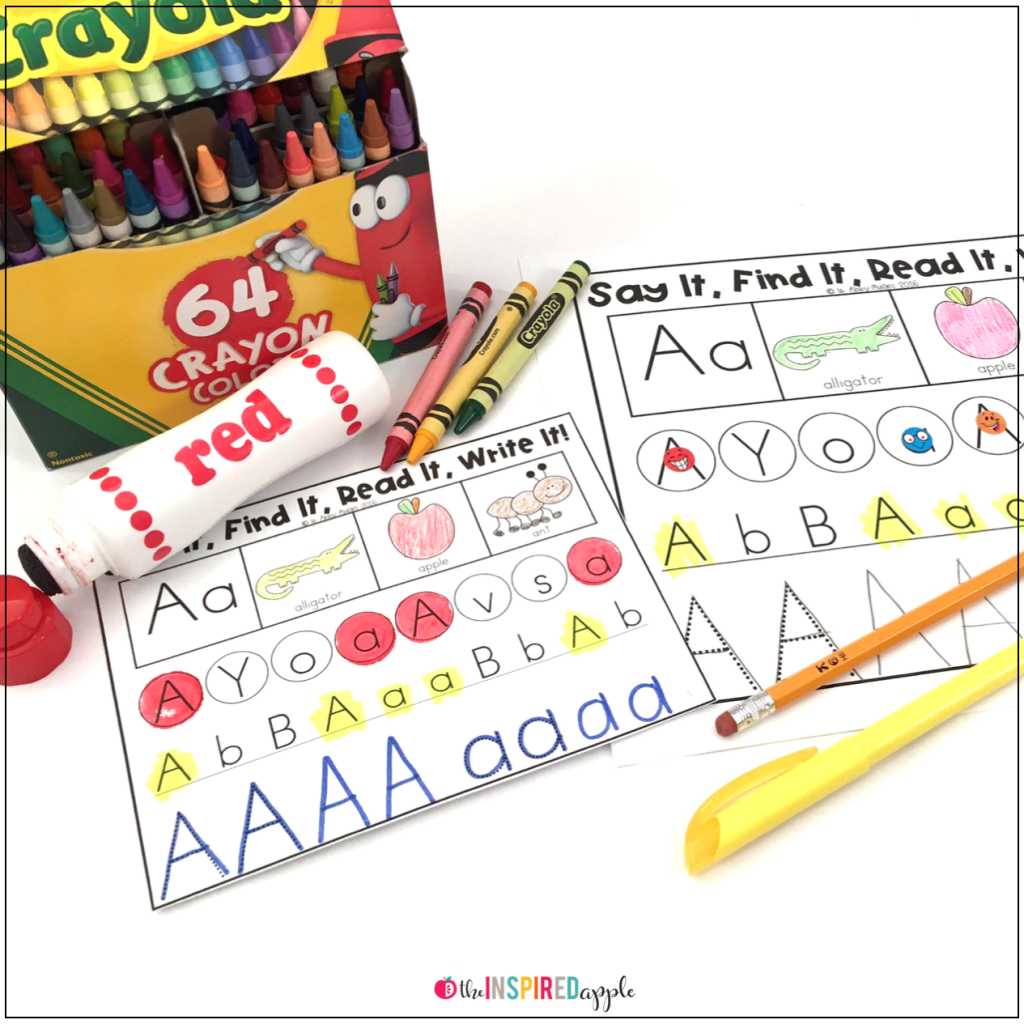 After instruction, I like to give my students this version as a summative assessment –  like a little quiz 🙂 (There are half-sheet versions included for this purpose.) For data collection, I would glue the half sheet into the top half of a notebook after completion. I would use the bottom half for them to do a little extended practice, whether that was telling me words that began with the letter, writing out more letters for them to read or find, or just daubing the letter as shown below. Then, I had a nice student sample to take to intervention meetings, use with student goal setting, or show to other teachers or parents. SUPER easy. SUPER helpful.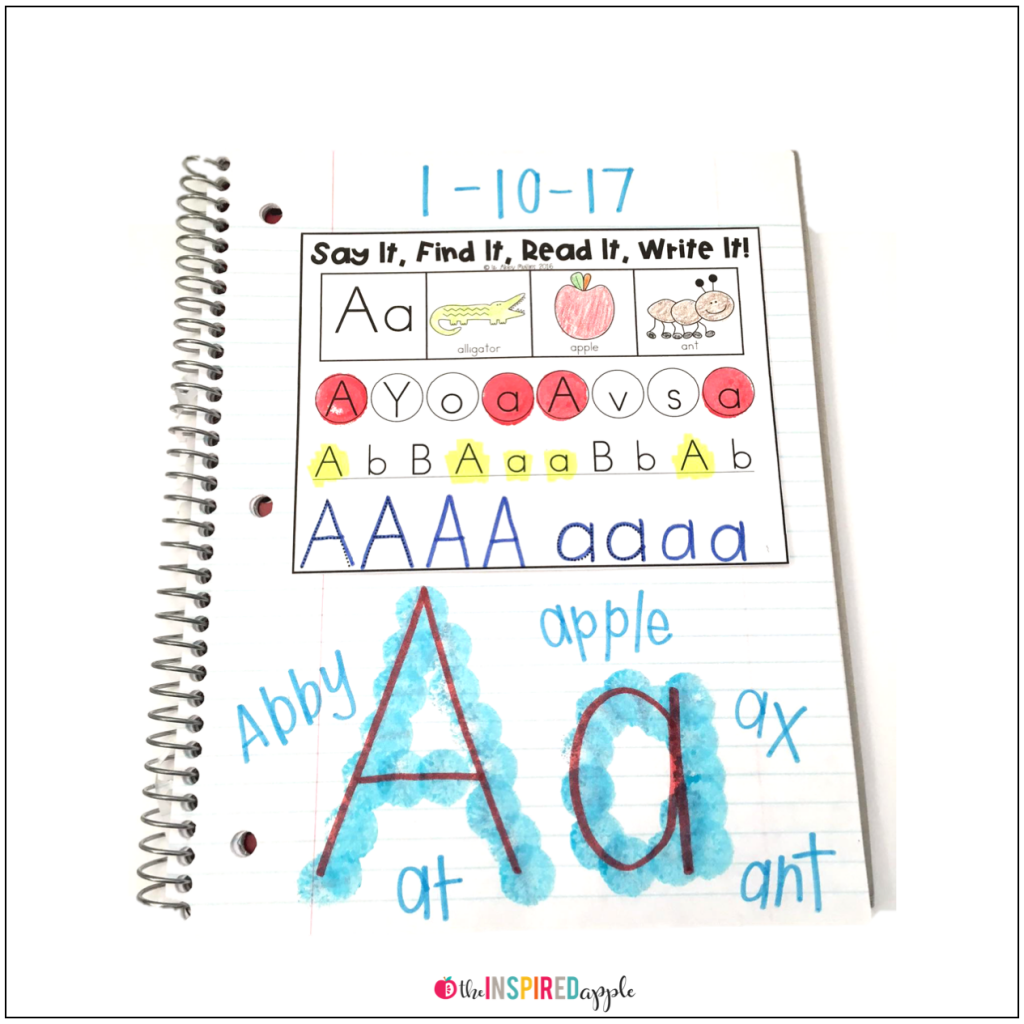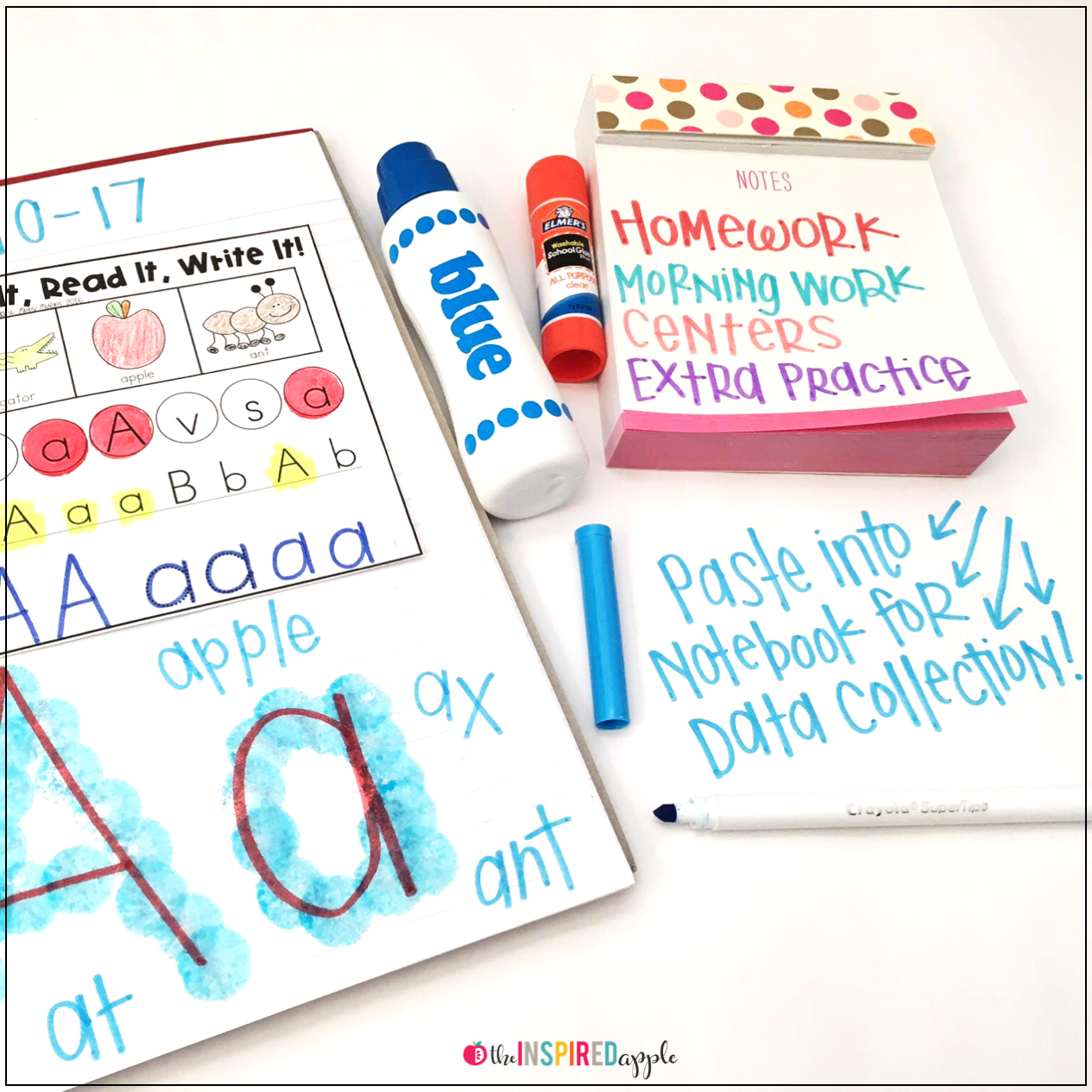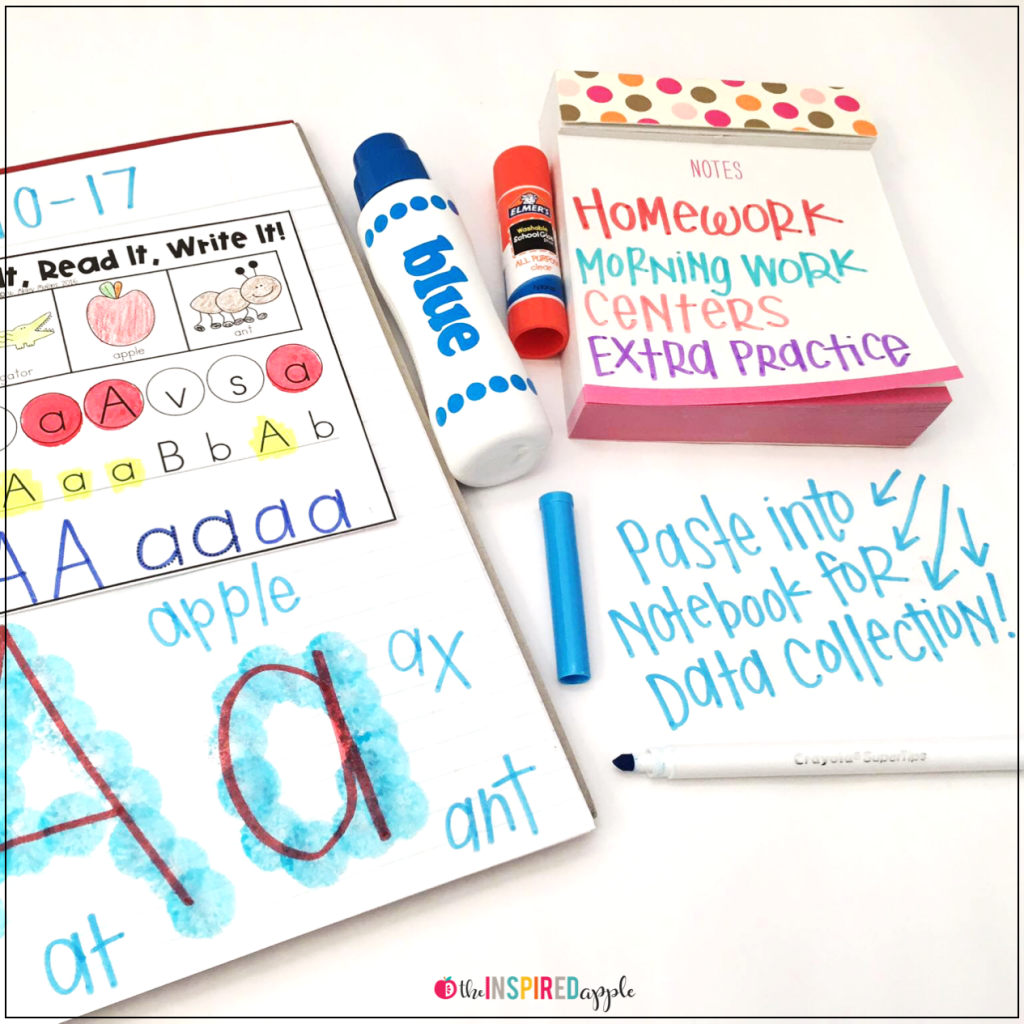 A few things to note…
You do NOT have to print all the pages for every letter! Based on the pre-assessments you're doing with your kiddos, you probably know which letters your students need to work on. To save ink, just print those pages!
You do NOT Have to teach the letters sequentially. Again, you should only be teaching the letters that your students haven't mastered.  The Fluency Mats increase their number of letters as you work through the alphabet (so, A will only include A and B…whereas Z will include a lot more letter diversity).  Just focus on the letter at hand. If a students cannot read the letter, just let them read the letter(s) they do know!
This resource is aesthetically simple on purpose! There are not fancy fonts or overwhelming pictures in order to decrease the distractions for our struggling kiddos. This was an intentional decision when making this resource.
You can learn more about this resource HERE or by clicking the graphic below.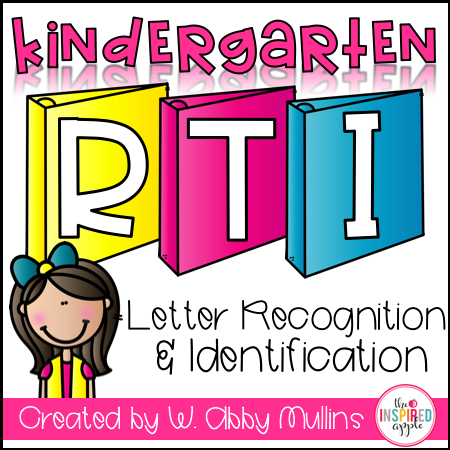 If you want to save this post so you can remember this resource and how to use it at a later date, pin the image below!
Happy Teaching!
Stay in the know!
These FREE resources are an instant download upon a confirmed subscription.