Are your kids working on descriptive writing? Adding adjectives and descriptive words can be a little tricky for some kids. I like to make our first descriptive writing activities fun and memorable! This Pop Rocks Writing Activity is a great way to get students writing more descriptive sentences with adjectives and verbs. All you need are these printables and some Pop Rocks!
What is Included in the Pop Rocks Activity?
To see if this activity will be a good fit for your students, it makes sense to check out what's inside the download. Included are:
5 Daily Lesson Plans (1 week-long descriptive writing unit)
6 Support Posters with definitions for describe, description, descriptive sentence, adjective, detail, and verb.
9 Graphics Organizers and Writing Activities that pair with each day
1 set of craft templates
How I Started the Activity
Before we started any writing, we went over the definitions of a few words, like adjective and verb. We also touched on the words detail, describe, description, and descriptive sentence. I wanted the kids to understand the goal of our activity.
These posters helped students understand the purpose of this type of writing. We hung them up around the room for students to refer to throughout the writing period. I like to put them in the writing center so students can use them then as well.
Starting off the Week
Students were given this worksheet to draw and decorate their own fancy box. After decorating their box, they used descriptive words to talk about the box. Either of these templates can be used. You may even choose to use one and review the activity another day with a new sheet.
On day two, I made a big show of pulling the surprise out of a box to reveal POP ROCKS! I explained that students were going to be observing these amazing candies so they needed to make sure they looked, felt, and smelled the candy before tasting it. I also reminded them that Pop Rocks are loud candies and they should open their mouths to listen to them.
Day three's activity involves students reflecting on what they experienced with the Pop Rocks. This is a great introduction to similes and allows students to use fun descriptive words about how the Pop Rocks felt in their mouth.
Rounding Out the Week
Over the next couple of days we did a variety of adjective and verb worksheets to reflect on our Pop Rock eating experience. We made lists, colored pictures, drew our own pictures, and wrote fun sentences.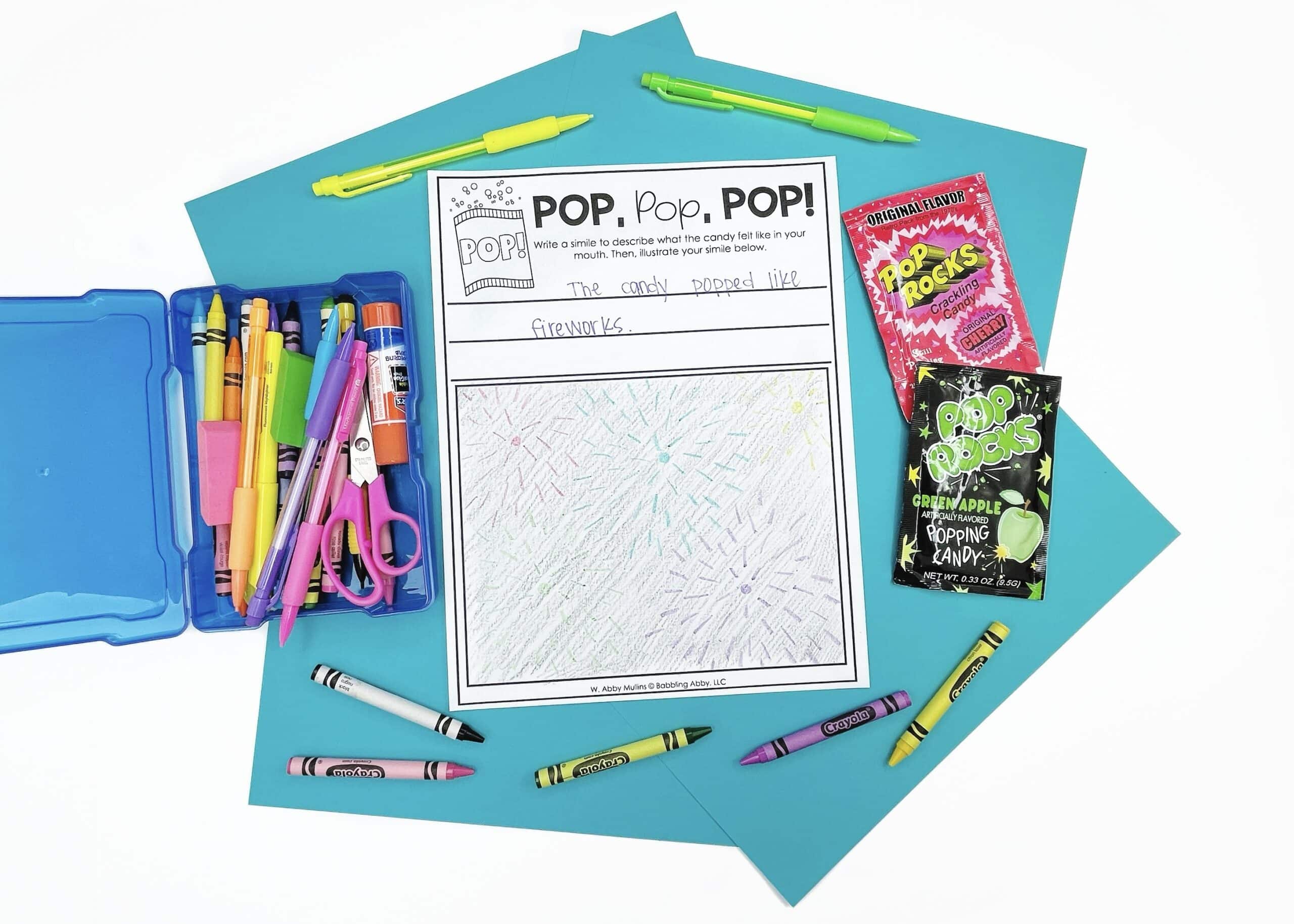 We also completed the included craft which allowed students to make a cute craft of themselves eating Pop Rocks! The template for this is included in the download.
What People Are Saying About This Pop Rock Activity
Curious what people who have used this resource are saying? Check it out:
"My students loved the lessons around pop rocks and getting to use a physical item they enjoy to show their understanding of adjectives and nouns. It was fun to see their excitement to try the candy, describe to friends, then in writing! I like the posters that came in this resource as well to have for my students to refer to during independent work time!"
"I am using this packet to teach my students about descriptive writing this year and my students are obsessed! Not being able to see what was in the bag allowed them to stay engaged with the lesson into day 2 and so on. Will definitely be using again!"
"I cannot describe to you how much the students enjoyed this project! I am pleased, as the teacher, that it is teaching them the process of descriptive writing- and in such a fun way!"
"This resource was so fun to teach. So easy to use and follow. Directions were student-friendly and very clear for students to follow. Best of all was the Pop Rocks!"
I KNOW you will love this Pop Rocks Writing Activity just as much as everyone else!
Want more fun descriptive writing activities? Try this Popcorn Writing Activity. My kids absolutely loved it because who doesn't love popcorn!
Stay in the know!
These FREE resources are an instant download upon a confirmed subscription.