Since we're halfway through November and getting ever closer to Thanksgiving, I thought I'd share a compilation of my November and Thanksgiving resources. Kids enjoy being engaged in a themed activity and some of these could be life savers for you this fall. I have a collection of anchor charts, math and literacy materials, read alouds and more to share below!
November Fun Pack
First up is the November Fun Pack! This bundle has three individual resources put together. There's the Oh So Thankful Activities which have students practicing literacy and reading skills. They use Thanksgiving mini readers, CAN HAVE and ARE organizers, and tons of other activities that help them study fall and all things gratitude. Also included in this pack are Turkey Thematic Unit Supplements. These activities are great for diving into your literacy lessons. Students can use the cut and paste turkeys to write main idea and details of a story read as a class. Finally, students can study all sorts of fall topics such as bats, the Wompanoag, Thanksgiving and more with the November Fact Files. Then, they write their facts in their fact files as they go!
Turkey Measurement
Looking for some fun ways to teach measurement as the holidays approach? These Turkey Measurement Activities are a fun way to reel the kids back in as they become increasingly excited for the fun of the season. Students use the pre-cut turkey feathers to measure objects around the room. Before measuring, we decorate our feathers. Each student gets their own feather. The feathers are about a foot long, making them great for introducing meausurement. Students can compare and record their findings. Then, when the measuring is complete, the turkey feathers get placed on a large turkey body to create one giant Thanksgiving display! The kids love it!
Thanksgiving Parade & Balloons Over Broadway
In November, we like to read Balloons Over Broadway by Melissa Sweet! This story is full of impressive illustrations, a wonderful story and great vocabulary for young readers. These Read Aloud Activity Sets are the perfect pairing for this story. They invite students to dive further into the story read, answer comprehension questions that get their brains thinking and write journal responses to practice critical thinking. The kids really enjoy this story AND these fun activities for small groups and literacy centers.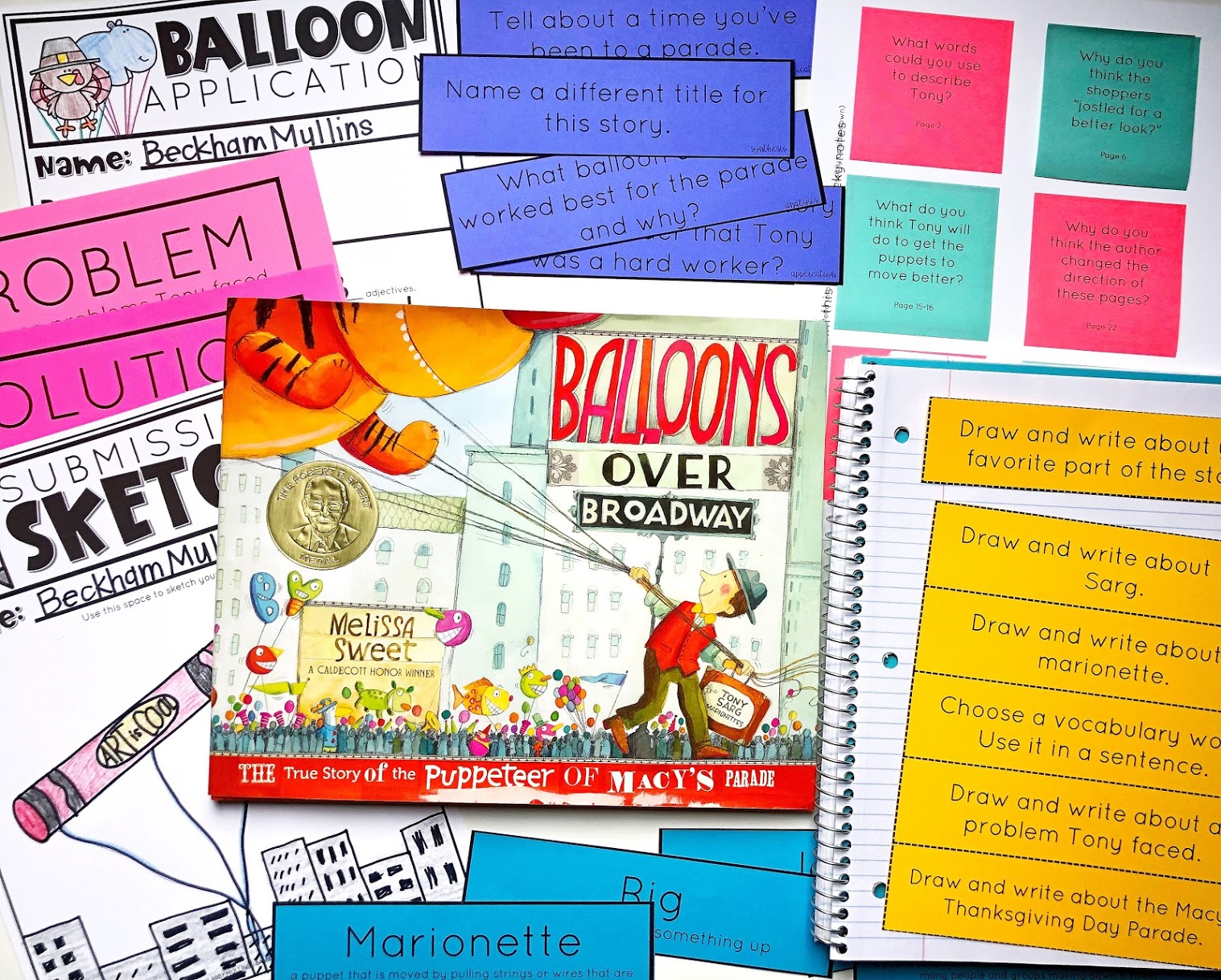 Thanksgiving Books & Activities
Some other books we love to read as Thanksgiving approaches touch on being thankful, the Thanksgiving tradition and silly ways to disguise a turkey. The kids love a variety in our text and the fun activities that can be paired with each read aloud. You can take a peek at my list of favorites HERE, as well as the activities that can be done to enhance your students' learning.
Turkey Freebie
Every year, we read some of our favorite turkey stories! One of our favorites is 10 Fat Turkeys by Tony Johnston. This fun story is a hilarious way to discuss counting and the Thanksgiving holiday. We do charades, number searches, number ordering and more. This freebie comes with some great activities to keep your little ones busy as they get excited for the short Thanksgiving break. They'll love collaborating with peers to hunt for numbers and put them in order and who doesn't love a fun game of charades! Be sure to grab this freebie HERE.
More Turkey Activities
The list doesn't stop there! You can grab five more FREE turkey activities to use this November! Students can answer questions about turkeys, solve some turkey math, write about turkeys, draw a turkey, learn turkey facts and even do some turkey science! Take a look at the Free Turkey Activities and use them in your classroom in the upcoming weeks!
I hope you enjoy using these fun Thanksgiving activities this November. The kids enjoy anything with a theme during the holidays!
GOBBLE, GOBBLE.
Don't be a turkey! Subscribe now!