After I left the classroom and became the Title I teacher for our building, my main focus shifted to ALL THINGS RTI.  My responsibilities regarding RTI included data collection and analysis, helping to identify students at risk, researching and implementing interventions, and scheduling the school-wide RTI program.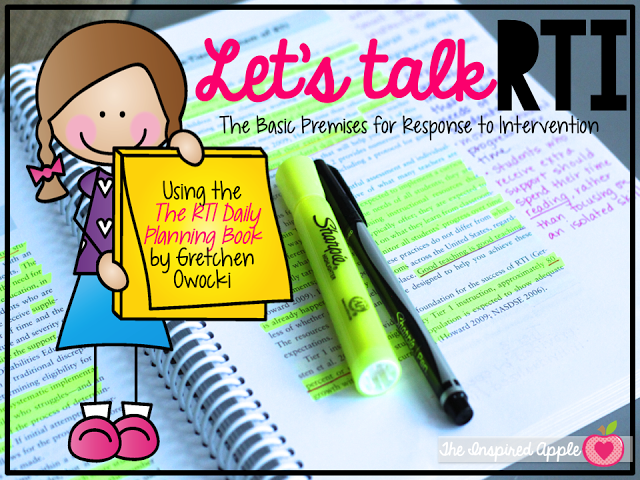 I would never credit myself an RTI expert, but I do have a vested interest in its approach and the benefits for our struggling readers.  One book I've added to my personal collection recently is The RTI Planning Book by Gretchen Owocki.Here are some of the basic premises of the RTI method as described in the book and a good starting point if you're new to this approach:
Hopefully, that gave you a little snapshot of what RTI is all about.  Would I recommend this book? Yes, I do believe that this book could help you or your school set the foundation for a solid RTI model.  And, if having a hardbound resource on hand would help you guide your program, this would certainly be a wise investment.  Not only does it explain the rationale for RTI and each tier, but it also details the different assessments used to guide interventions, along with several blackline printables that you can copy and use in your own room.  The bulk of the book is actually made up of Assessment Practices and Tools and Instructional Practices and Tools – very helpful.  I particularly like the For Students Needing ________ sections that have several idea for how to help students with a specific reading need (i.e. identifying main/key ideas, phonological awareness, etc.).  You can purchase the book on Amazon by clicking the icon below.
I also developed many RTI resources (some with Rebecca at Darlin' Little Learners) to assist teachers when working with struggling students individually or in small groups.  While these resources aren't necessarily research-based they are based off of best practice and are recommended for one-on-one use OR for small group work – both practices that are researched-base.   This is how I justify their use within the RTI framework, particularly at the Tier 2 level when you – as the teacher alone – must provide RTI to students in your classroom.  You can see all of my RTI resources by clicking on the icon below OR check out a specific resource by clicking the product cover pictured below.
I'll be back to discuss some of these resources in further detail!  Have a happy Friday!
Disclaimer: This post contains affiliate links.
ETA: You can now download a copy of the slides above for FREE by clicking the graphic below!
Stay in the know!
These FREE resources are an instant download upon a confirmed subscription.