I have a love-hate with the month of November when it comes to being a teacher.
On the one hand: conferences.  I love getting the chance to tell parents how much I enjoy teaching their children, but dread the extended days and all the planning that goes into it.  Thank goodness they're only once a year!
On the other: Thanksgiving, turkeys, pilgrims, and Native Americans, oh my!  
There is so much rich content to be studied in the month of November, and it makes my teacher-heart happy to impart all of that knowledge on my students.  The activities are endless.  By the time Thanksgiving break rolls around, I'm all Did we really learn all of that in four short weeks?!
First up: The Ugly Pumpkin by Dave Horowitz.  Read it within the first week of November.  It makes the *perfect* transition from Halloween to all things Thanksgiving.
And, while you're learning about The Ugly Pumpkin (who – omigosh – is really a SQUASH!), why not have a squash taste-test with your class?!  This isn't something that's typically eaten by the 10-and-under crowd and was for sure served at the first Thanksgiving, so expand their palettes with a little squash nosh…and get a little math in with data collection and analysis, too!
Another fun math activity we did was measurement with feathers.  Each kiddo designs their own turkey feather that I then laminate.  We use these in measurement activities throughout the week and then add them to a very cute turkey display in the hallway!  Love!
After reading a story about the pilgrim's journey, we have a little Mayflower meal: salted beef (jerky) and biscuits.  After a little data collection and analysis, we record our thoughts on a big poster (see below) and then write a letter to a Pilgrim friend describing our favorite modern meal.  This is a great connection between then and now, too!
 Our centers include Thanksgiving-themed books on tape, and I add this Thanksgiving book response log to the center.  Also, a little mini-book and long a and short a sorting center for review, too.
And, of course, we learn all about the big gobbler himself.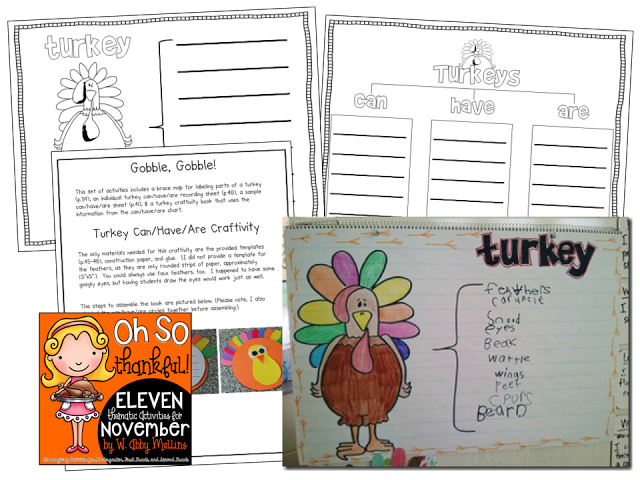 I usually save this activity for our Thanksgiving feast day (because it's fun and messy), but we make a turkey cookie glyph!  The kiddos respond to questions and create their cookie accordingly.  Then they get to eat it of course!
 Here are some other pictures from our Thanksgiving-themed fun!
You can snag all of these activities by clicking >>>
HERE
.
Also, here are clickable affiliate links where you can purchase some of the books we use!
Happy Tuesday! What are your favorite Thanksgiving activities for the primary classroom?
Stay in the know!
These FREE resources are an instant download upon a confirmed subscription.