I am so excited to share the BEST Kentucky Derby activities for kids with you in today's post. As a Kentucky native, the Kentucky Derby is near and dear to my heart. While you can't enjoy mint juleps in the classroom 😜, you can definitely incorporate some of these activities into your week to teach your students about horses and the Derby!
Because the Kentucky Derby is run the first Saturday in May, it often coincides with the end of the school year. This is a GREAT time to do a unit like this with your kids because it's relevant, engaging, and allows them to put the reading and writing skills they've learned throughout the year to use. At a time of year when attention spans are waning, high interest activities are a MUST!
Horse and Kentucky Derby Books
To be honest, the quantity of quality horse and Kentucky Derby Books for kids is slim. Several books I used in the past are now out of print and difficult to find. However, be sure to check your local library, as well as Youtube for reading of dated books.
Click here for a curated list of horse and Derby related books and finds on Amazon. (Affiliate links)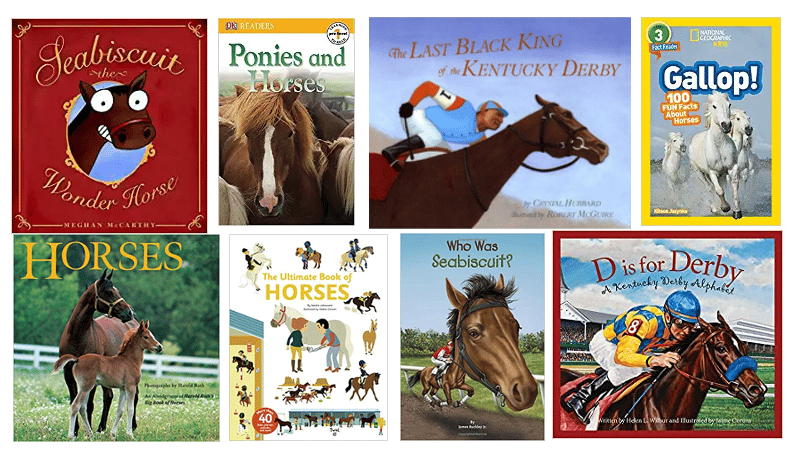 Start with a KWL Chart
It's always nice to do a quick check-in with students to see what they know about a topic before you begin teaching it. I always recommend doing this at the start of new content. Sometimes it's surprising how much knowledge they actually have! Conversely, you may realize a deficit and that also gives you a strong place to start.
So, before you begin learning about horses, take a second to create a whole group KWL Chart. This chart will grow as the students learn more information, so don't forget to reference it and add to it during your study.
Teaching Vocabulary
I love introducing my students to new vocabulary words. These terms are important for use during the unit, and they are also helpful in building your students personal vocabulary. You can focus on horse words, Derby-specific words, or both! I think it's helpful to at least introduce both sets of words since if you're learning about the Derby, naturally horse-related words will be discussed.
Three horse activities
After you've spent some time learning about horses, you might want to complete some of the activities shared below.
This is a super simple activity where your students will label the body parts of a horse. Use this activity to teach about diagrams, labeling, and new terminology.
After learning about horses, the students can fill in this mapping activity where they share:
What horses can do – verbs (i.e. jump, run, trot, race, etc.)
What horses have – nouns (i.e. 4 legs, hooves, mane, etc.)
What horses are – adjectives (i.e. strong, fast, helpful, interesting, etc.)
This activity lets your students share facts that they've learned about horses. There are a lot of interesting ones! For instance, did you know that horses can sleep standing up?! Who knew?! Check out this video all about horses.
Each fact should be written as a complete sentence, so this is a great exercise in using proper grammar and punctuation, too. After filling out the fact pages, cut apart and staple to create a mini book.
Kentucky Derby Activities
Now it's time to learn about the Kentucky Derby and do some fun Derby-themed activities. I created a book that you can print and read to your students or project onto your Smartboard. This book shares general information about the Derby. Don't forget to pair it with the Derby vocabulary, too!
As a follow-up to this book, your students can illustrate their very own copy! Add this activity to a writing center for them to work on throughout the unit of study.
Kentucky Derby Crafts
As a fun way to wrap up your studies of horses and the Kentucky Derby, choose a craft to create with your class!
Sentence strip hats
Horse craft
Personalized racing silks
Keep in mind – all the activities I shared meant to enhance your instruction. You definitely do NOT have to do them all to create a comprehensive unit for your students to enjoy. I hope you've enjoyed all of these Kentucky Derby activities for kids!
All of the activities shared above can be found in this unit.
More End of the Year Fun
If you're looking for other fun activities to help you wrap up the school year, be sure to check out this post. It's all about my favorite end of the year novel study. Can you guess what it is?!
Stay in the know!
These FREE resources are an instant download upon a confirmed subscription.