Are you looking for kindergarten math unit for RTI instruction? Read on to learn how I use my Math Intervention Unit with students struggling with number sense.
If you are new to RTI, check out my post on what Response to Intervention (RTI) is and how it benefits classrooms and students.
This post contains affiliate links.
Kindergarten RTI: Number Sense Packet
By popular request, I've finally created a Kindergarten RTI: Number Sense pack that is modeled after my Kindergarten Letter ID pack! Yay! Keep reading to find out the details of how I used this resource.
How to Store This Kindergarten Math Unit
I like to keep this resource organized in a binder, putting many of the pages into plastic sleeves for durability and so that the students can use dry-erase markers on them.
When it's needed, I just grab the binder and give my student directions for using the chosen worksheet or activity.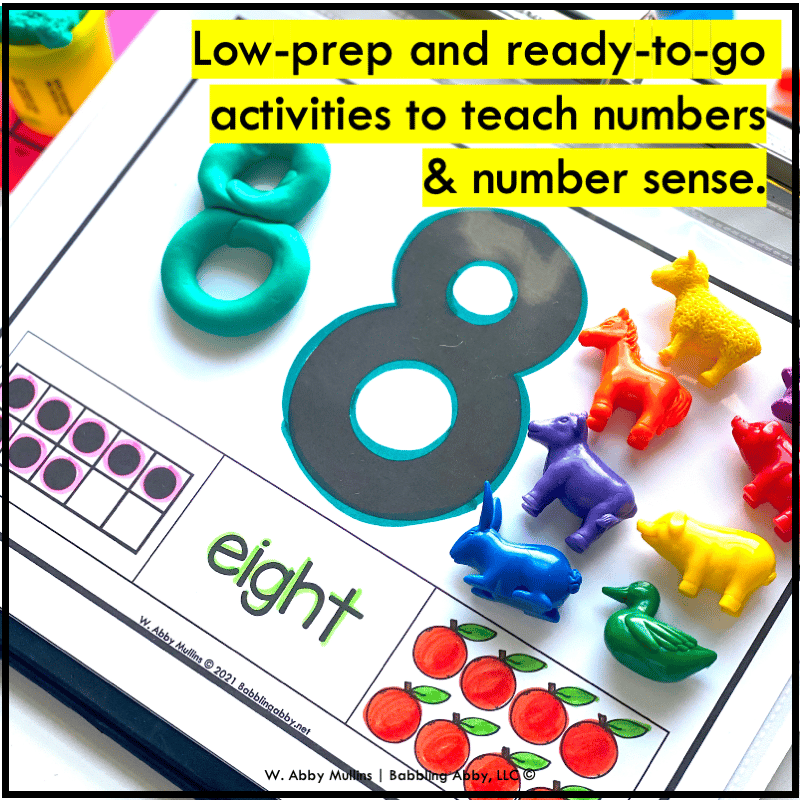 This page is used to represent the focus number. Students can use this as a reference during the lesson, practice tracing the number, and/or to sort objects or tactile numbers on it.
I also have a page that only has two rectangular arrays on it. You can use it throughout your lessons. You can also cut this page in half to show only one rectangular array, instead of two. This would be a good page to laminate and store a few copies in a binder pocket for easy access, so each student can work independently.
Interactive Worksheets
Students use this page to identify the focus number by highlighting it with a dry-erase marker, coloring it with a dot marker, or by covering the number with clear, plastic chips. Then they can practice writing the number and number word below.
Tracing Worksheets
Reinforce number recognition through writing and repetition with this worksheet in which students practice writing the number and the number word.
Print Individual Copies
While you can put this page into a clear, plastic sleeve for reuse, you can also make individual copies for your students so they can actually highlight the spaces. Kids love highlighters!
Plus, you can use it as an assessment, center, or independent activity.
Assessment Activities
This is an assessment tool.
Student reads the focus number in the first box.
Student writes the number or number word.
Student represents the number in the rectangular array.
Student highlights the number in the circles.
Student reads the row of numbers aloud.
Student reads the rows of number words aloud and highlights the focus number.
There is also a smaller version of this activity included.
Other printables in this unit include number word boxes (shown above) and a set of flashcards (one for each number). These are great for using during your lesson or to put at a follow-up center.
How to Use the Number Flashcards
Students can match the number to the correct rectangular array, number word, and pictorial representation.
Students can sequence the numbers or number words.
Students can sequence the numbers and match them to the number word, rectangular array, and pictorial representation.
Supplies for This RTI Unit
Here is a list of the supplies that I used with these activity and assessment pages, in case you are interested.
Don't forget to grab your Kindergarten RTI: Number Sense Packet today! You'll be glad you did.
Stay in the know!
These FREE resources are an instant download upon a confirmed subscription.