Looking for the perfect present to take to a holiday exchange this season? This secret Santa gift guide shares 25+ fun gifts that are all $20 or less. All items can be purchased on Amazon, making this the easiest gift guide to shop ever! Perfect for Secret Sister exchanges, stocking stuffers, and work parties, too!
Let me tell you a secret: when it comes to parties, I am forever forgetful to purchase gifts. I intend to purchase a gift well in advance of the party…but it never happens. This means I'm typically swinging by the store on the way to the party, or throwing a twenty into a self-made card. Yeah, I'm the worst. But, not this year. No, m'am. This year I vow to be ahead of the game!
I have a few upcoming holiday gatherings, one of which includes a Secret Santa gift exchange. The budget is $10 or less, so I need to find a deal. Good news! Amazon to the rescue! Not only can I be spend-savvy, but there are some really great gifting options at that price point.
While I was perusing the site, I found a ton of goodies that would be perfect to present at a girlfriends-only party. Things I would actually put up a fight against being stolen (you know the game!). I decided to put my finds into a Secret Santa Gift Guide so that you, too, can have access to these fun, inexpensive treats.
Secret Santa Gift Guide Criteria
There were a few criteria the items had to meet in order to make the list:
Amazon Prime eligible. The ability to quick ship an item is valuable. That means you can order two days before the party and still have your gift on time.
4+ Star Rating. All items in the guide have 4+ star ratings. Many have hundreds of positive recommendations.
Less than $20. I felt like this was a fair dollar amount for most to spend when shopping for a holiday gift exchange. However, there are P L E N T Y of options $10-15. Something for every budget.
Something I'd enjoy giving and receiving. This is a no-brainer! If it made the list, it's because I'd find value in it personally. The kind of gifts I'd be willing to steal in a White Elephant gift exchange 😉
I organized the guide into four categories: Gift to Wear, Gifts on the Go, Gifts for Glam, and Gifts for Fun. All items within the category are pictured with links to each item underneath.
Gifts to Wear
Obviously it can be hard to interpret someone's personal style, so I opted for a variety of on-trend items in colors that were fashionable and fun. However, many of these items have alternate color choices.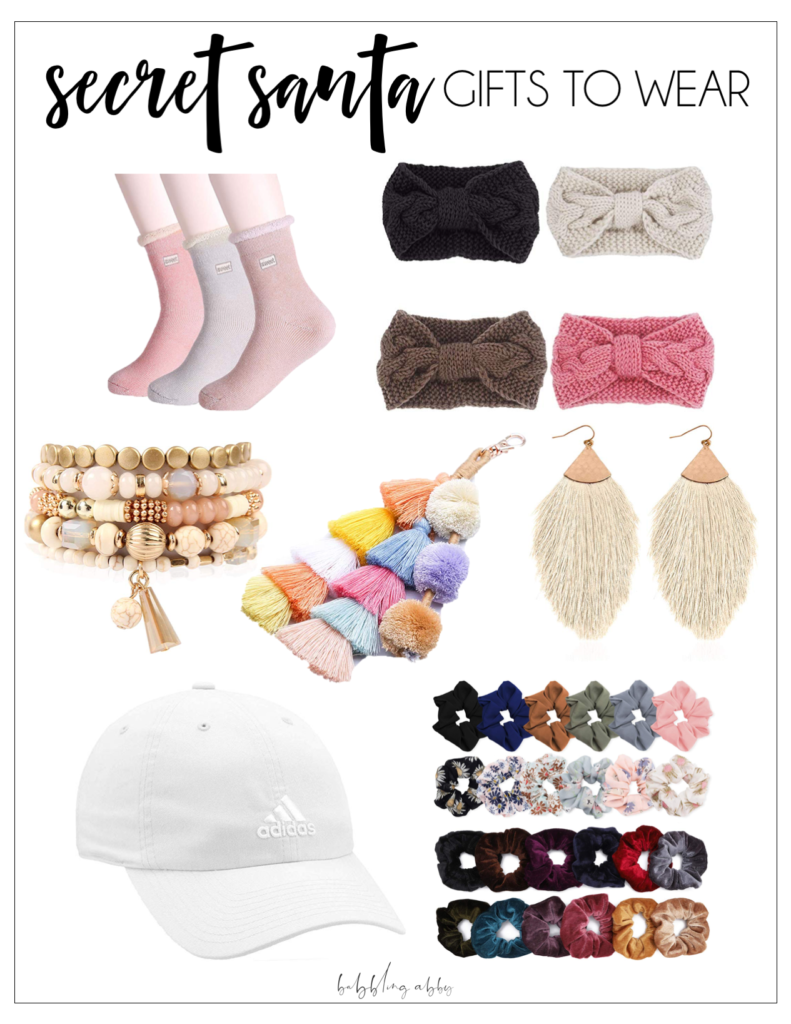 Cozy Socks Set | Head Warmers Set | Bracelet Stack | Tassel Purse Charm | Bohemian Fringe Earrings | Adidas Hat | Scrunchie Set
Gifts on the Go
This list includes practical things that are easy to take with you when you're out and about. An insulated tumbler for less than $15 with metal straws, plus tons of color options? DEAL. I own the travel jewelry case and it's perfect for tossing in your carry-on, too.
Travel Jewelry Case | Striped Lunchbox/Cooler | Tri-Color Wallet | Salad Bento Box | Insulated Tumbler
Gifts for Glam
So many good products in this category! I have my own set of Erase Your Face cloths. They're AMAZING and – truly – erase your face! Like, no makeup left (even eyeliner and mascara) when I use them. I love the neutral eyeshadow palette, too!
Eyeshadow Palette | Erase Your Face Cloths | Mani/Pedi Kit | Makeup Organizer | Jade Roller | Makeup Brush Set
Gifts for Fun
I loved searching for gifts for this all-inclusive category! That meat masher? One of my most-used kitchen gadgets. And, how pretty would that frame be on a shelf at home or your desk at work?! Also, the cozy throw? LESS THAN $15! The portable wireless MP3 speaker has OVER 3000 ratings! Good stuff here, yall.
Portable Wireless MP3 Speaker | Geometric Frame | Prayer Journal | Black Coffee Mug | Cheese Board | Meat Masher | Cozy Throw | Hexagon Coasters
So, there you have it! My Secret Santa Gift Guide at the ready! Now I don't have any excuse for not having a gift on hand for this year's holiday exchange…and you don't either! 😜 Shop the full list HERE.
And, if you need a cookie to bring along with you to the party, my chocolate chip cookie recipe is classic and simple! Oh, it's super delish, too!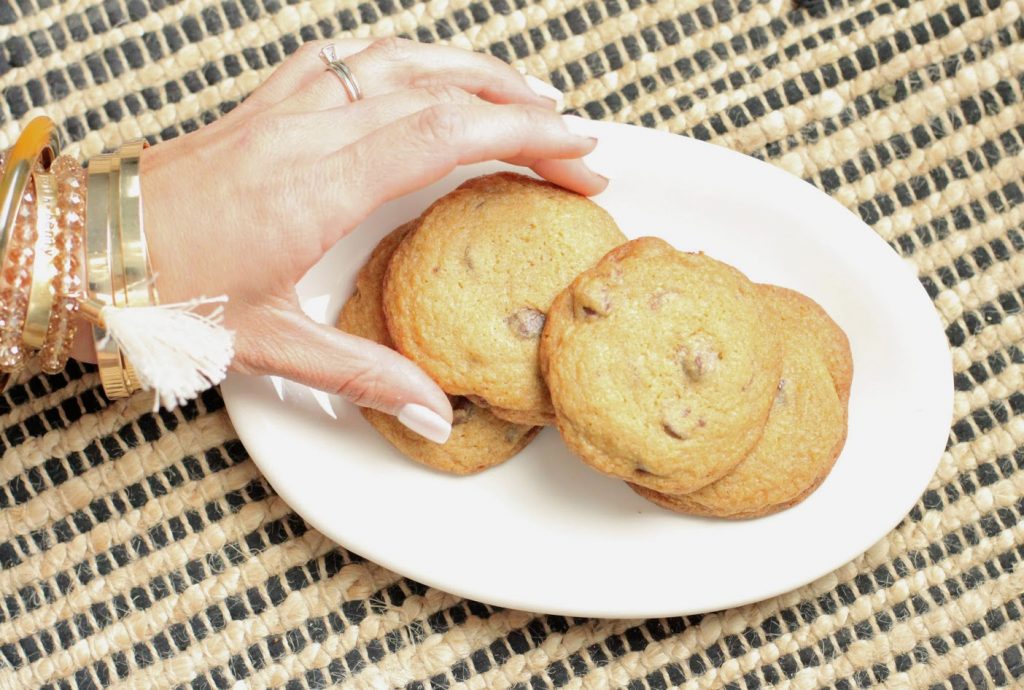 This post includes affiliate links. Should you click on the link and make a purchase, I may receive a small commission. This in no way affects the price of the item for you, but helps keep Babbling Abby blog up and running!
Stay in the know!
These FREE resources are an instant download upon a confirmed subscription.