This post shares a Big Smelly Bear video read-aloud and activities to use alongside the book. Your children or students will love watching the story come to life, in addition to completing several thematic activities.
Please note: I am sharing a lot of activities! I would not expect to do all of them on one day, but to spread them out over the course of a bear-themed unit.
This post contains affiliate links.
Big Smelly Bear by Britta Teckentrup
Big Smelly Bear tells the story of a stinky bear who refuses to take a bath. This not only causes him to have an itch he can't scratch, but he also doesn't have any friends! Thankfully, a fluffy bear befriends him and helps him change his smelly fate.
You can purchase Big Smelly Bear HERE or by clicking on the cover below.
Recorded Video Read-Aloud
I filmed a video reading of Big Smelly Bear for you to share with your students in the even that you cannot access a copy during distance learning. You can share the video link with your students directly or in any virtual classroom setting.
Big Smelly Bear Video Read Aloud and Activities
There are so many different ways to use the Big Smelly Bear video read-aloud and activities. Your children or students will love watching the story come to life, in addition to completing several thematic activities.! Since I used these at home with my own children (preschoolers), most of these activities are geared toward the 6-and-under crowd. However, there are a few things you could use in first and second grade.
Bear Directed Drawing and Artwork
The first day we read this story, I had my little ones color in the big smelly bear and then we made fingerprint flies buzzing all around him.
If you don't have an inkpad on hand, do what we did and use washable black marker to coat your pointer finger. Apply pressure to the paper and add a few loops for wings! They turned out pretty cute!
I also did a step-by-step directed drawing of a bear. This is a VERY easy drawing, and is simple enough for beginner drawers to try.
After I traced their drawings in thick, black marker, they cut them out (fine motor work!). SO proud! Benny decided a tie-dye bear would be a good choice since it is all the rage right now. I definitely approve.
Uppercase and Lowercase Matching
You can practice upper- and lowercase matching any way you like, but it's always fun to throw in some thematic alphabet cards, if you ask me.
First, I had them identify and name the upper- and lowercase letters. Then, I laid out the uppercase alphabet in order and they helped match the lowercase letters.
Bear Shaped Cookies
I'm all about incorporating baking into our homeschool activities! I used a generic oatmeal cookie recipe to create the dough, and then modeled how to create the bear. They followed suit and created their own bear-shaped cookies.
Surprisingly, they turned out tasty and cute! And, I had more than my fair share of dough and warm cookies after.
Ordering Objects Small to Large
Because the Big Smelly Bear tried to scratch his itch unsuccessfully himself, he eventually resorted to using the trunk of a tree to try to do the trick. So, what did we do as a spin-off? Went bark collecting!
I sent them into our yard (which backs up to woods), and they collected a big ol' box of tree bark. Big brother helped them organize it from small to large, and even used the Adidas logo to illustrate! (I thought that was pretty dang clever!) It was a fun way to get outside, move around, and practice a skill.
Bear Ten Frame Activity
This is a super simple bear-themed activity to practice counting out quantities and filling a ten frame. But first, we sorted all of our bear counters by color!
Using the spinner from this post, the kids took turns spinning and counting out the correct quantity of bears.
I usually give them a set number of times that we'll be filling the frame, so they don't think this activity is going to last forever 😉
Matching Numbers to Quanitities
This is another ten frame activity, though it uses flashcards instead. We created a number line from 0-10 and then counted the dots in the frame. Next, we matched the numbers to quantities.
Roll and Count Bear Game
Before playing this game, I had each kiddo color in the bears at the bottom of the graph so that they would know which color word went with the color.
Then, they took turns rolling the die and racing to be the first to have an entire column colored in. If you are a pre-k or kindergarten teacher, this is a GREAT game for teaching color identification and recognition, counting, and following directions. They will have to sustain their attention for at least ten minutes while they fill the column, so it's a good beginner game to introduce (I'm thinking beginning of the year center work!).
Bears and Not Bears
This is a simple sorting task that requires some higher level thinking skills, too! I printed out BEARS and NOT BEARS pages, along with pre-cut descriptions. Then, I read each word and we decided whether or not it could be used to describe a bear or not. To take it a step further, we talked about other animals that would fit the feature instead.
Simple Bear Puzzle
My kids LOVE these simple puzzles, and they've actually improved so much in assembling them. I print out a grey-scale template and then they have to manipulate pre-cut pieces (or they can cut them out themselves) to put together the picture.
You can find more of these FREE simple puzzles by clicking HERE!
Other Free Lessons
I have several FREE activity packs based off of some of my favorite picture books. They all include a video read-aloud, plus several ways you can use the story in your classroom or home.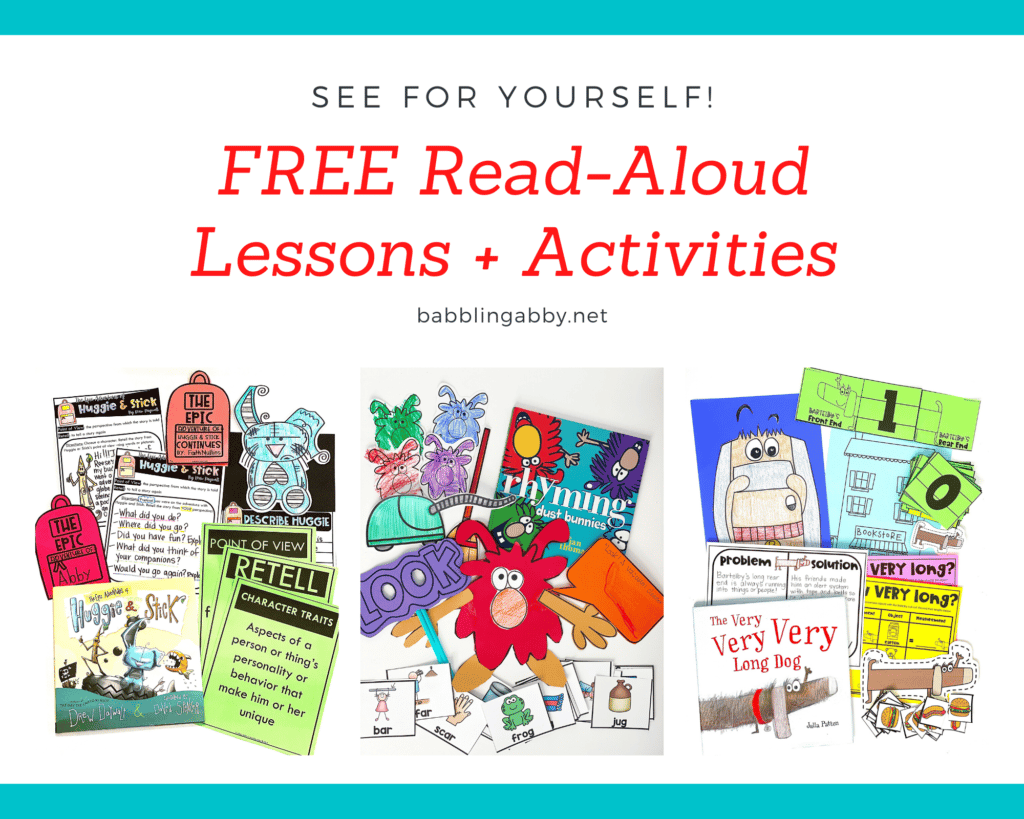 You can click any of the links below to check them out! They're perfect if, say, you need a break from teaching for a bit! I'll step in and do it for you…virtually!
The Legend of Rock, Paper, Scissors ELA Lessom
The Epic Adventures of Huggie & Stick ELA Lesson
The Very Very Very Long Dog activities
Download FREE activities
*****PLEASE READ*******
Use the form below to sign up for my email list to get access to the free Smelly Bear Themed Activities. You MUST confirm your subscription using the email sent as soon as you fill out and submit the form.
If you've previously signed up, no big deal. Once you fill out the form, you'll receive an email with the downloads.
Tip: Be sure to add abby@babblingabby.net to your address book or safe list so that these emails get delivered to your inbox and not spam!
I hope you enjoyed the Big Smelly Bear video read-aloud and activities to use alongside the book! If you use in your classroom or home, please tag me on Instagram @babblingabby!
Stay in the know!
These FREE resources are an instant download upon a confirmed subscription.