If you're looking for preschool activities to do at home, this post is full of them! Whether you homeschool your child or teach in a classroom, there are several free activities to support early childhood education.
The activities in this post are great to use while at home during the COVID-19 Coronavirus outbreak. As a certified K-5 educator who taught kindergarten and first grade, I am sharing what we are doing in our home to stay on top of curriculum while quarantined at home. Of course, you can use them anytime of year in the home or classroom, too!
PLEASE NOTE: Life is busy as a work-at-home / stay-at-home/ homeschooling mama right now, so my directions here will be brief! Please follow me on Instagram @babblingabby where I will be sharing my daily activities and saving them in a story highlight!
Worm Craft
Since we're working on Ww this week, a cute little worm craft seemed fitting. Additionally, it was a great way to fit in some scissor skills. (See our craft from last week, here!)
Dot the Letter of the Week
Since we picked up where my kids' preschool teachers left off, so they're currently on letter Ww. First, they practiced writing in salt trays again. Definitely a favorite activity. And, though the salt can get all over, it's super easy to vacuum!
Afterwards, we did a simple dot-the-letter page and practiced writing the letter. DOWNLOAD DOT-THE-W
This activity is part of a set of twenty activities to use when teaching the letter W. (If you are a teacher looking for an alphabet curriculum, check this out.)
Simple puzzle for preschoolers
Sticking to the Letter of the Week theme, we assembled a simple puzzle. They required a little help with this, but I thought it was so good for them to work through the challenge. We will definitely be doing more!
DOWNLOAD WHALE AND WATERMELON PUZZLE
Painter's Tape Trail
Since we're stuck inside and it's still cold and gloomy often, we dedicated our unfurnished formal dining room to four square and a tape trail!
This picture is awkward because I'm shooting from the landing of my stairs, but all the green tape is a trail for them to follow. They walk heel-to-heel, jump, tip-toe, jump with feet out and in, and finish with hopscotch! Super easy and inexpensive.
Alphabet Hide-n-Seek with Environmental Print
Environmental print is text that you commonly see in your environment, such as: names of restaurants, brand names on packaging, retail stores, etc. Because this type of print is easily recognized, kids can often 'read' it! (Think McDonalds or Chuck E Cheese.) I started cutting out labels from food packaging about a week ago as I threw things out.
I plan to use these for a number of activities, but today we used them for another ABC Hide-n-Seek activity. First, we used pointers to locate letters I called out.
Then, using the same ABC Hide-n-Seek page from yesterday, they'd find letters in the labels and dot them on their sheet.
We only worked on this for about five minutes, so they'll be able to complete the page tomorrow.
Flick and Fill Ten Frame Activity
To wrap up today's homeschool activities, we worked on more ten frames. I always make the kiddos fill their ten frame full in order to start with ten counters. (Today, our counters were Juijy Fruits…we like counting with candy because #motivating.) Then, they used a spinner to determine how many counters to fill their frame with.
As a follow up, we did the same activity, but filled up the frames with stickers instead. And, they only did two frames today because it was all I knew their attention. span could handle. DOWNLOAD SPINNERS AND ACTIVITY PAGE
More fun!
Here's another fun activity that uses toilet paper to help teach counting, non-standard measurement, and writing numerals. Learn more.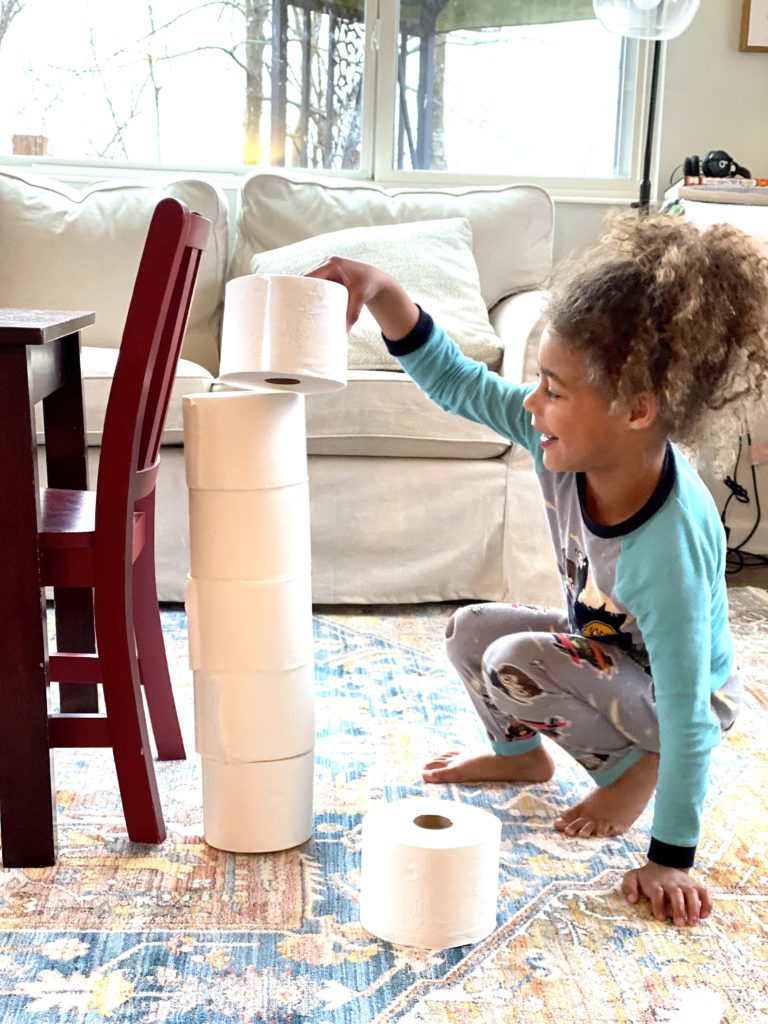 I hope this post was helpful in sharing preschool activities that you can do at home. If you do something at home or in your classroom, please share it with by tagging me @babblingabby on Instagram!
Stay in the know!
These FREE resources are an instant download upon a confirmed subscription.