I can't believe it can you? Back-to-school time is already right around the corner! It's a time of chaos, excitement, and a little bit of anxiety. Whether this is your first year teaching or you are a seasoned teacher, I have some fun BTS ideas that both you and the kids will love. These activities are easy to use in the classroom and at home. Take a look!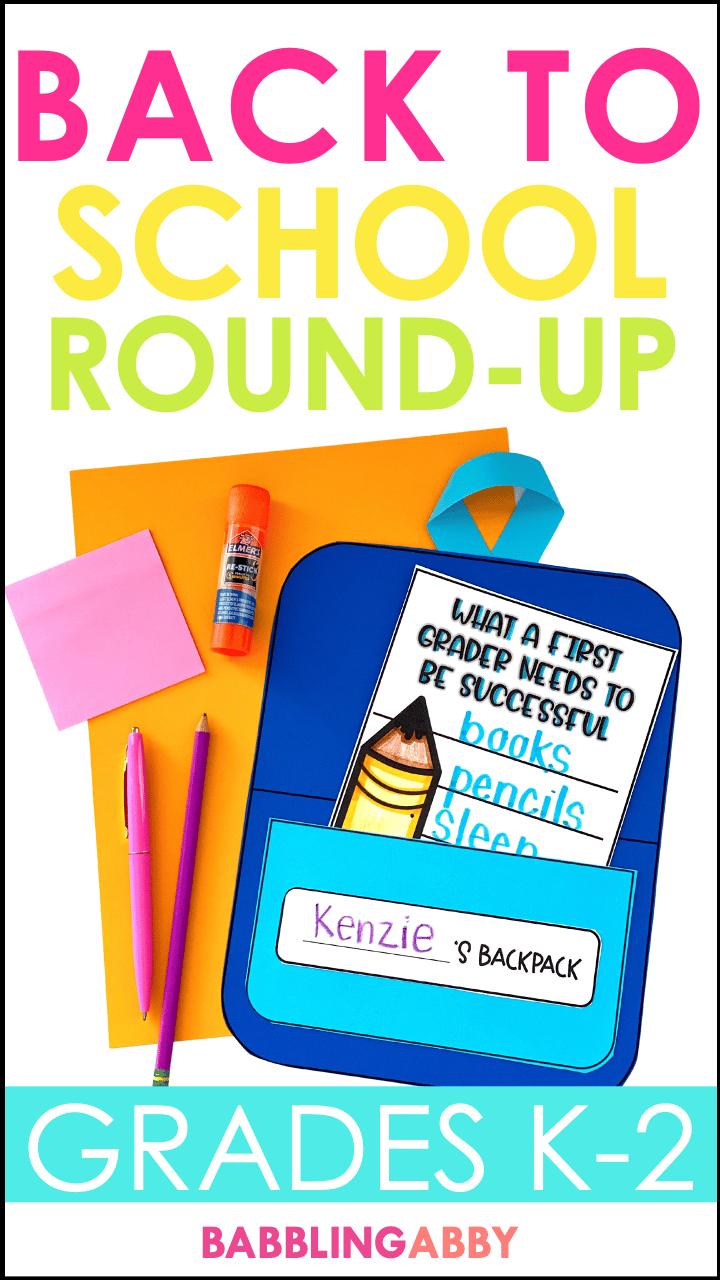 Back to School Read Alouds
Books, books, and more books! If you are anything like me, you love reading a book with EVERY activity that you do and back to school is no exception.
Here are 20 of my favorites for this time of year:
School's First Day of School by Adam Rex
Chrysanthemum by Kevin Henkes
We're All Wonders by R.J. Palacio
First Day Jitters by Julie Danneburg
Wemberly Worried by Kevin Henkes
The Word Collector by Peter H. Reynolds
The Very Very Very Long Dog by Julia Patton
Lilly's Purple Plastic Purse by Kevin Henkes
Rock, Paper, Scissors by Drew Daywalt
A Bad Case of Stripes by David Shannon
The Invisible Boy by Trudy Ludwig
Lacey Walker, Nonstop Talker Christianne Jones
Each Kindness by Jacqueline Woodson
Stand Tall, Molly Lou Melon by Patty Lovell
Enemy Pie by Derek Munson
The Kissing Hand by Audrey Penn
Miss Nelson is Missing by Harry G. Allard & James Marshall
The Day the Crayons Quit
The Recess Queen by Alexis O'Neill
Alexander and the Terrible, Horrible, No Good, Very Bad Day by Judith Viorst
What's even better? I created a Read Aloud Literacy Companion for each of these titles and bundled them all together for you. Each companion has book pockets that go in the back of the books. These allow you to insert text-dependent questions and vocabulary words for students to use while they read.
There is also a read aloud reference guide that you can use while lesson planning. Just prep it ,once and use it year after year when you read the story to your class. Also included are ELA posters, vocabulary words and defitions, text based questions, writing prompts, interactive poster templates, and differentiated comprehension checks. Everything you need to get students thinking about the text.
If you like those 20 titles, I have 20 more for you in my Back to School Read Aloud Bundle #2! Some of these titles include The Good Egg by Adam Rubin, Because by Mo Willems, and My Mouth is a Volcano by Julia Cook.
Learn how to use each of the activities and more about what's included in the packs by reading THIS BLOG POST.
Back to School Activities and Bulletin Board Idea
As students enter the room, they may recognize some familiar faces but many will be brand new. One way to build classroom community and to let kids get to know one another is by completing a partner activity. I like to use this Friendship Puzzle to promote teamwork. It's simple to prep and the kids love coloring the pieces with a partner. When it's complete, their hard work makes a great bulletin board display.
This activity is included in my Back to School Activity pack, along with many other resources. I have one for kindergarten, first grade, and second grade. You will also find:
Jitter Juice Activities
Class Survey
Getting to know you Ice Breaker
New Friends Class Book
Writing Activity
What's In A Backpack Craft
Back to School Paper Crowns (4 designs to choose from)
Paper friendship bracelets
Collaborative Friendship Puzzles (3 designs to choose from)
and other fun activities.
Click on the grade level below to find your activities:
Throw Back to School Activities
The key to creating a positive classroom culture is to have activities that invite students to collaborate and ignite passion while they work. I created a pack of Throw Back to School Activities that incorporate fun games but also work on those important skill sets in the classroom. These include things like setting expectations, modeling behaviors, team-building, supporting individuality, and so much more.
One of the activities in this pack is a team-building Tetris game. The kids will work with a partner to fit all of their Tetris puzzle pieces onto the game board. It's a great way to make new friends during that first week of school and to team-build. I always find that activities like these bring out new friends and a new appreciation for one another in our classroom community. Read more about the games included in this pack in my Throw Back to School Activities post.
Read Aloud Freebies for BTS
Any book told in rhyme is a favorite book of mine. I love the sing-song rhyme scheme of Sounds Like School Spirit by Lucy Ruth Cummins. I like it so much that I created activities to go with it and I want you to have access. Check out the FREE activities that pair with this read-aloud and use them in your classroom during the back-to-school week.
Meet the Teacher Display
I love sharing my life with my students and one of the best ways to do it is by making a reusable poster that I can hang up during those first weeks. I laminate the template and then use a dry erase marker to fill in any fun information about myself that students might like to know.
This pack comes with a variety of topics to choose from and that can even be used to get to know students. Laminate a blank poster and then pick a different student every day to learn about. Also included in this pack are transportation posters, posters about other teachers in the school (music teacher, etc), ways to be a friend poster, and more. Check it all out here.
I know you will have an AMAZING back-to-school season with your students. Using the fun activities listed in this post, your classroom will be a-buzz with community and motivation to succeed.