Grab a set of free Rhyming Dust Bunnies activities! This post not only includes a video read-aloud, but also several free printables to use right alongside the book. You can use these ideas and activities for distance learning with preschoolers, kindergarteners, or even first graders.
This post included affiliate links.
Rhyming Dust Bunnies by Jan Thomas
I was introduced to Rhyming Dust Bunnies when I taught first grade ages ago. A parent was a book-buyer for a local library and she read it aloud to my class. The story was so simple, but the kids were captivated. Why? Because it's funny! Cute little kid humor. There's a sequel to the original, too!
Video Read-Aloud
In the event you cannot get ahold of this story during distance learning, I recorded a video read-aloud! It's a quick read – less than three minutes – so it will even hold the attention of little ones!
Free Rhyming Dust Bunnies Activities: Retelling
Today's homeschool activities for my 4- and 6-year-old were based around this story. First, we read the book. Then, we created some retelling pieces.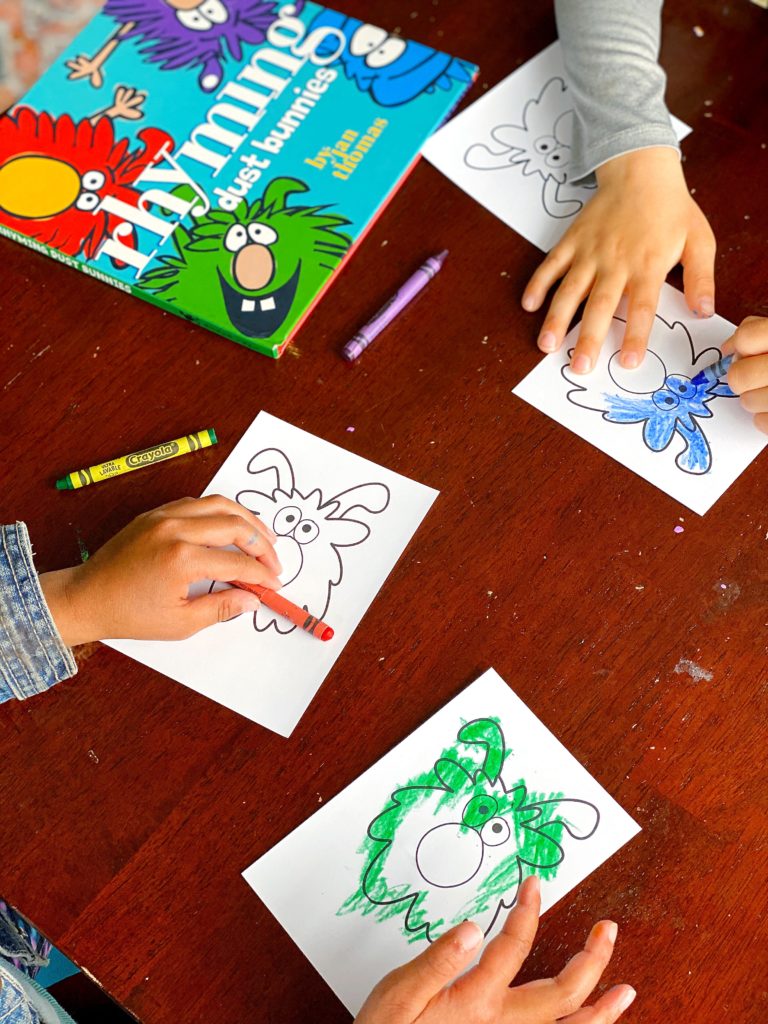 Each kiddo colored a dust bunny. I helped with the vacuum and broom. Afterwards, I reread the story and we acted it out using the pieces. They loved this! The story is so simple that it's a great story to retell for preschoolers.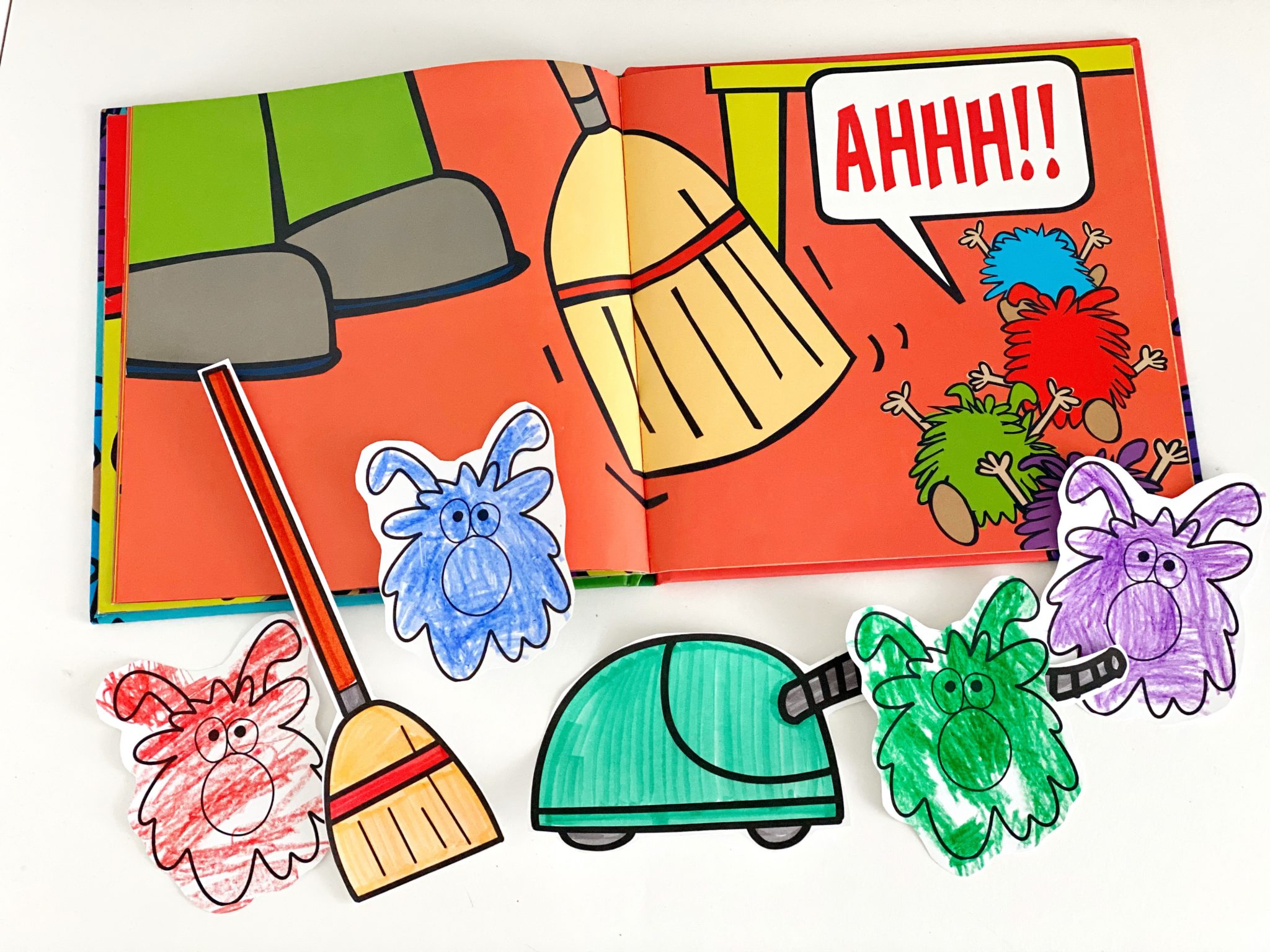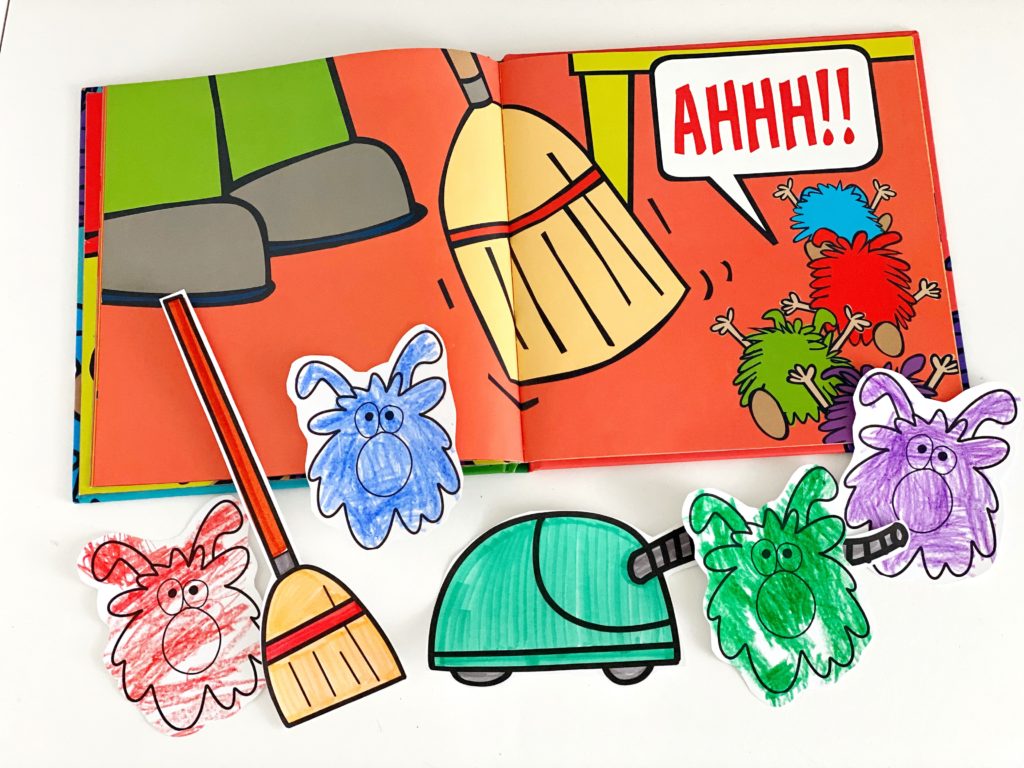 Rhyming Words Activity
Next, we used some of the rhyming words form the story and sorted words according to rhyme.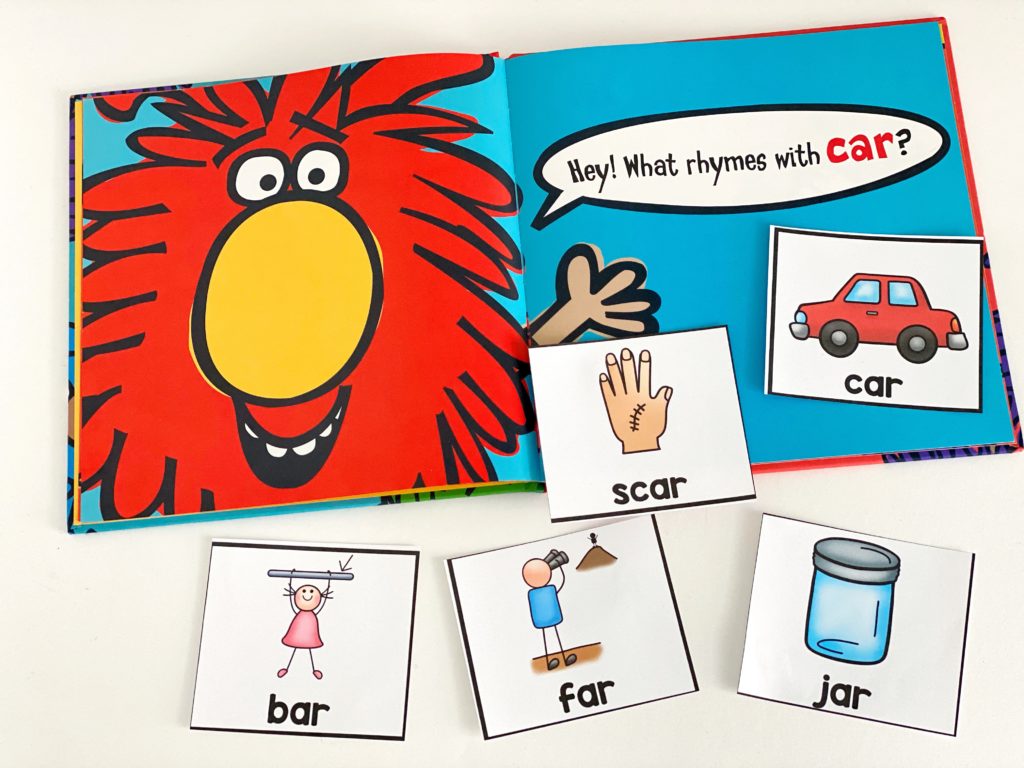 We made three columns based on the main rhyming word from the story: car, bug and dog. This was not easy for them! Moving forward, we will for sure be working with rhymes! Playing with rhyming words is such a great way to encourage phonemic awareness (the ability to hear and manipulate sounds).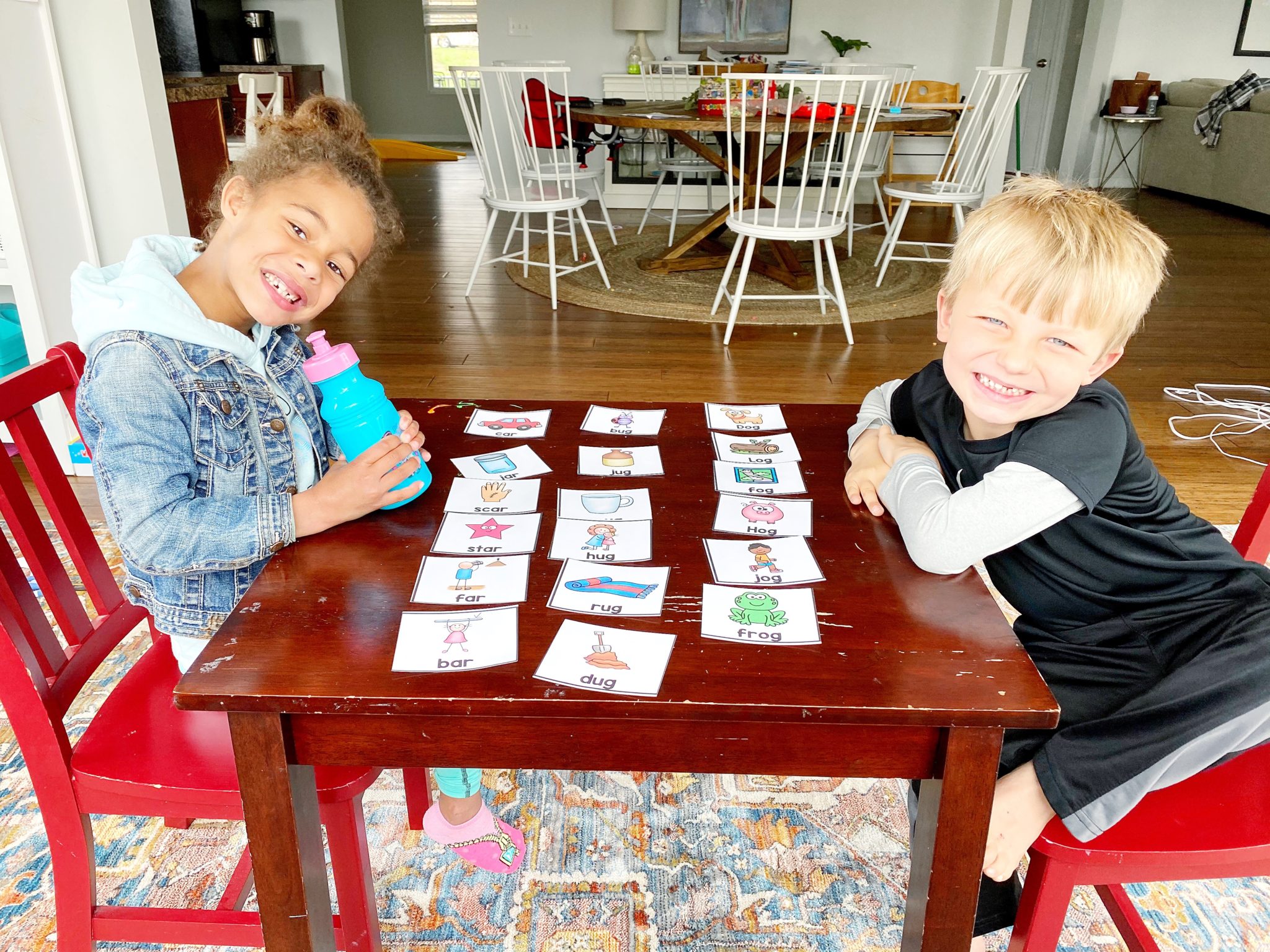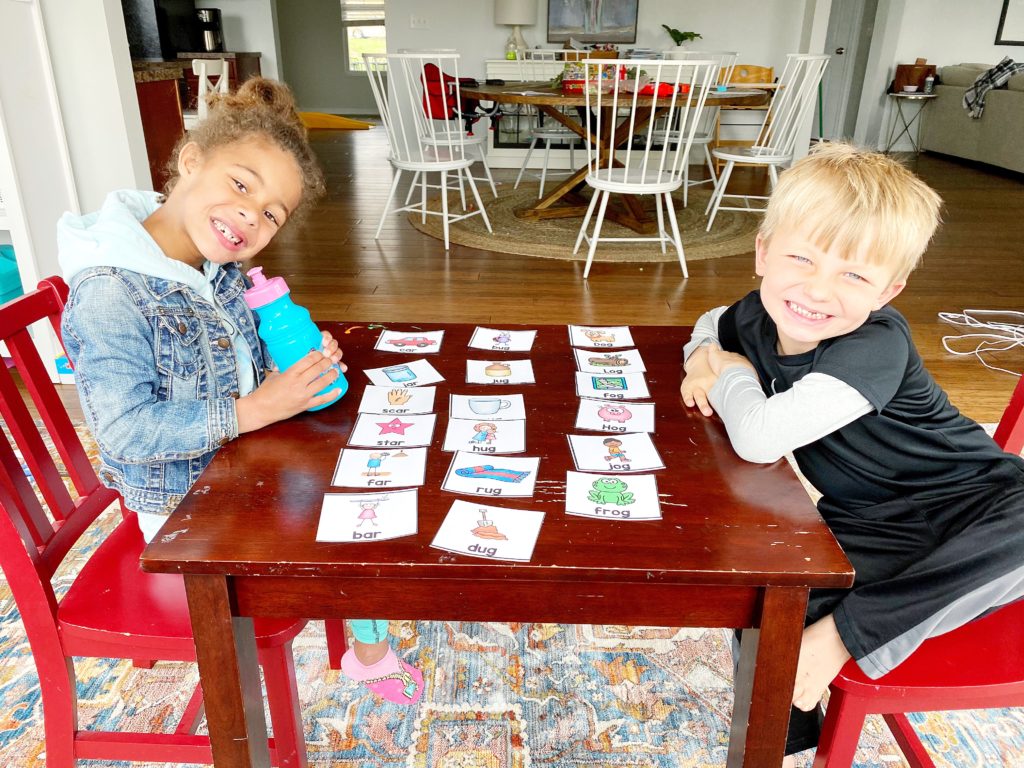 Look Sight Word Mini Book
To be honest, I was running on fumes during school work today, so we didn't get to this activity. (My 7-month-old was up for TWO HOURS overnight! #teething) This mini-book includes the sight word LOOK, since it's so prevalent in the story, Rhyming Dust Bunnies. Additionally, I used Y words since we're working on the letter Y this week.
When we do these mini-books (I have a whole set available), I always make them highlight the focus word first. You can do this by highlighting it or underlining it. These books are great because they're small, personal and the text is predictable. Perfect for emerging readers.
In addition to this, we made LOOKing Glasses! This was a fun way to focus on the sight word LOOK, and incorporate some movement into our morning. We walked around the house, exclaiming, "Look! A __________!"
After I cut out the template, I taped two straws together and then taped them to the back of the glasses. Very easy to make!
Rhyming Dust Bunnies Craft
We wrapped up our day with a Rhyming Dust Bunnies craft. Admittedly, there were a LOT of pieces to this craft, but the result is pretty cute. I printed out the templates on colored Astrobrights paper, so that we didn't have to do any tracing or coloring.
Just cutting and pasting today. However, I like to do a more involved craft every now and then because it requires sustained attention, multi-step directions, and lots of fine motor work! The result is a pretty cute dust bunny!
Letter Work
We did do some tracing work for the Letter Y using this free handwriting resource. You can download the whole set for the entire alphabet.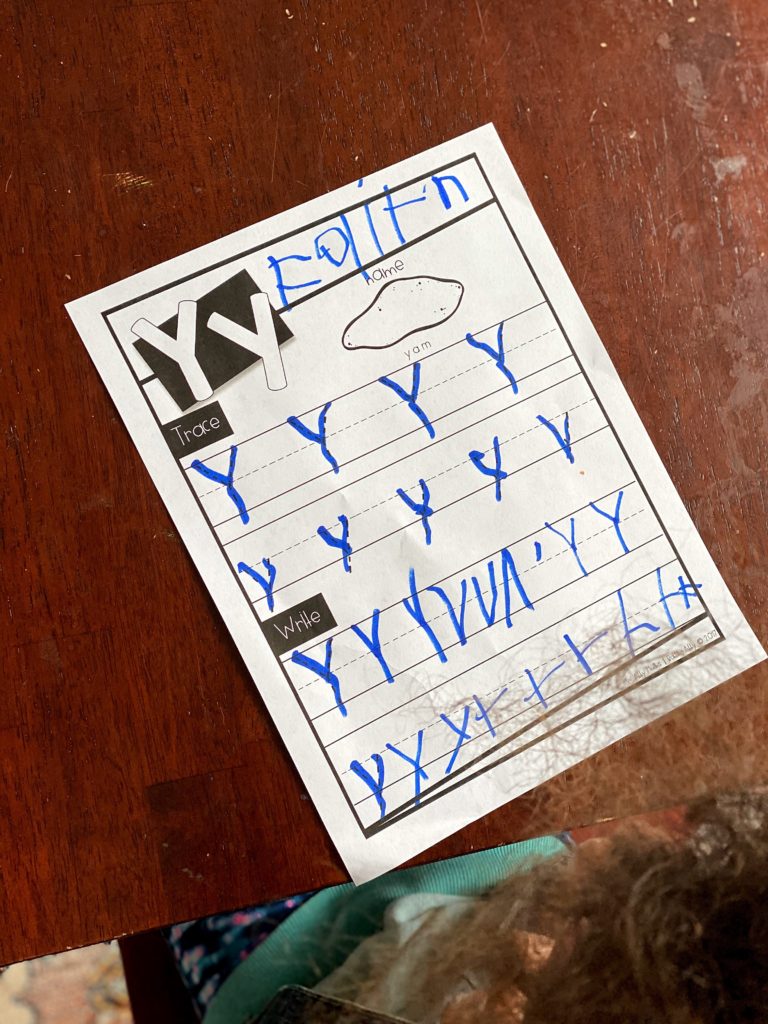 Other Video Lessons
I've done several read-alouds and think you and your students or children would enjoy them, too! Every one includes multiple free printables to use alongside the book.
The Legend of Rock, Paper, Scissors ELA Lessom
The Epic Adventures of Huggie & Stick ELA Lesson
Don't Blink! Storytime Read-Aloud
Download FREE Rhyming Dust Bunnies Activities
Use the form below to sign up for my email list to get access to the free Rhyming Dust Bunnies activities. You MUST confirm your subscription using the email sent as soon as you fill out and submit the form.
If you've previously signed up, no big deal. Once you fill out the form, you'll receive an email with the downloads.
Tip: Be sure to add abby@babblingabby.net to your address book or safe list so that these emails get delivered to your inbox and not spam!