I compiled a quick list of reading tips for parents and caregivers. I think it's important to read with our children daily, and while reading for enjoyment is the number one reason to read, here are a few different ways to maximize the benefits of a good book!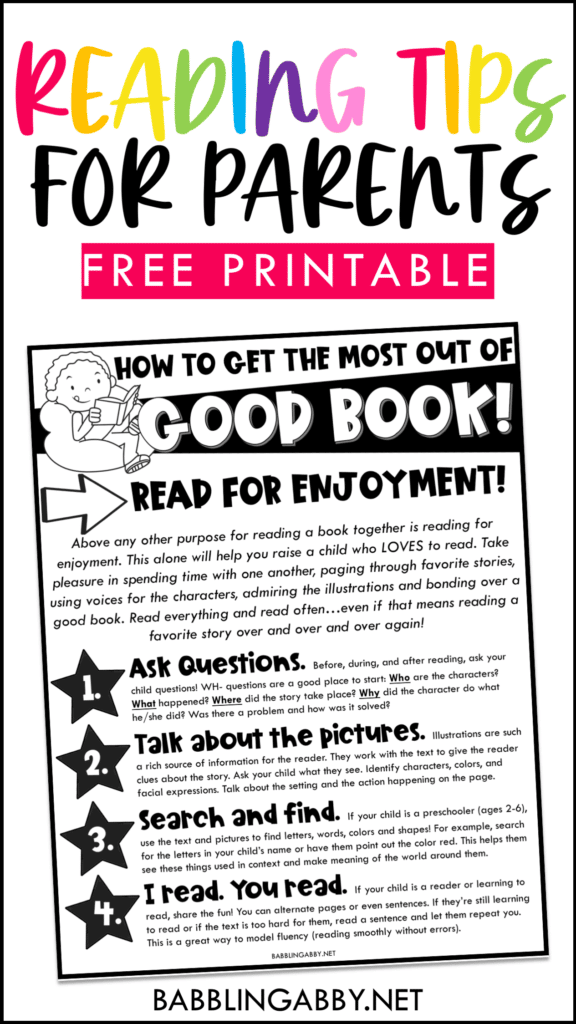 Reading Tips for Parents
This video shares four (well, FIVE) reading tips for parents. Teachers, please feel free to share a link with fellow teachers and school families. No permission from me needed. You have it 🙂
Read for Enjoyment
Above any other purpose for reading a book together is reading for enjoyment. This alone will help you raise a child who LOVES to read. Take pleasure in spending time with one another, paging through favorite stories, using voices for the characters, admiring the illustrations and bonding over a good book. Read everything and read often…even if that means reading a favorite story over and over and over again!
Ask Questions
Before, during, and after reading, ask your child questions! WH- questions are a good place to start: Who are the characters? What happened? Where did the story take place? Why did the character do what he/she did? Was there a problem and how was it solved?
Talk About the Pictures
Illustrations are such a rich source of information for the reader. They work with the text to give the reader clues about the story. Ask your child what they see. Identify characters, colors, and facial expressions. Talk about the setting and the action happening on the page.
Search and Find
If your child is a preschooler (ages 2-6), use the text and pictures to find letters, words, colors and shapes! For example, search for the letters in your child's name or have them point out the color red. This helps them see these things used in context and make meaning of the world around them.
I read. You Read.
If your child is a reader or learning to read, share the fun! You can alternate pages or even sentences. If they're still learning to read or if the text is too hard for them, read a sentence and let them repeat you. This is a great way to model fluency (reading smoothly without errors).
Video Read Alouds
I have several videos uploaded of fun read-alouds for kids. All include multiple activities or lessons to use with each story.
​Potato Pants Lesson focus on lesson and summarizing
​The Legend of Rock, Paper, Scissors focus on problem/solution
​The Epic Adventures of Huggie & Stick focus on point of view
​Don't Blink! multiple ELA companion activities
​Rhyming Dust Bunnies multiple ELA companion activities
Download this Free Printable List
Use the form below to sign up for my email list to get access to the free Reading Tips for Parents printable. You MUST confirm your subscription using the email sent as soon as you fill out and submit the form.
If you've previously signed up, no big deal. Once you fill out the form, you'll receive an email with the downloads.
Tip: Be sure to add abby@babblingabby.net to your address book or safe list so that these emails get delivered to your inbox and not spam!